10 Questions With… Two Point Zero's Junho Choi
According to Korean-born designer Junho Choi, founder of Two Point Zero in New York, the interiors industry faces a staunch new competitor: Netflix. In order to lure contemporary society off their sofas and into even the most beautifully adorned interiors, Choi believes that designers ought to offer something the streaming behemoth cannot—a feeling of community. Choi's focus on hospitality design and adaptive reuse, born from his days as a graduate student at the Rhode Island School of Design, aligns with his experiential approach and belief that interiors accumulate memories. Here, Choi explains how past and present converge in his recent restaurant interiors, why he dreams of establishing his own hotel, and why launching his own practice made him a better listener.
Interior Design: How did your studio come to focus on adaptive reuse?
Junho Choi: It's been a focus since my days as a student at RISD—the entire curriculum was programmed around adaptive reuse theories and practices. After moving to New York, I couldn't help but observe the city as a large architectural manuscript where time and space are superimposed onto one another. It's like I can glimpse into what people would have experienced at any given moment in history. My favorite part of each project is walking through an existing space and imagining what happened there and what will be happening there, all in the same breath. The most minute detail to the most prominent elements are equally awe inspiring.
ID: What moved you to launch your own practice? Any big surprises in the process?
JC: I am sure this is a familiar storyline! I was helping some friends with the design of a small venue and that led to me taking off on my own. I'm very much inspired by people outside of my own design discipline, whether they're restaurateurs, chefs, start-up owners, or artists. I'm deeply motivated by their passion, creativity, and inclination to do something larger than serving the individual. When I worked for other offices previously, I believed that in my own future practice, I would finally be able to speak with a louder voice. But now, I've come to realize that having my own practice is more about listening to others—the client, the team, and other collaborators—more attentively than before.
ID: You recently completed Mew Flushing, a restaurant in Queens. What was your design intention there?
JC: We found Queens to be very vibrant and dynamic, and we wanted the space to bounce off that same energy. Mew Flushing offers an open and airy vintage-industrial space with a liveliness akin to the izakayas found throughout Japan. The existing building was constructed of brick walls and wooden ceilings; this is juxtaposed by an addition of cinder bricks, polycarbonate panels, columns clad in concrete, and reclaimed oak tabletops.
ID: The resin feature wall brings a touch of elegance to the otherwise industrial-feeling interior. How did you settle on that?
JC: We wanted to visually extend the building structure and create a dialogue between the inside and outside. The resin panel allows light to flow into the main space but also distinguishes the separation. Resin was a desirable material for the feature picture window as it could preserve objects within it to produce the mountainous landscape.
ID: You've also just completed o:n restaurant in Koreatown. How did that project come together?
JC: o:n is a special project because it reinforced my belief that space is always evolving just as people and their memories do. There is no perfect set of conditions, but there is a certain beauty in imperfection and process. We worked collaboratively with Hand Hospitality in a reductionist approach towards the interior architecture and the experience simultaneously bears an honesty as the preparation process is revealed—the guest is engaged from beginning to end as each ingredient is brought to their table and introduced to the bowl of broth and the rice is cooked before their eyes. As a result, the space is intentionally under designed, but considers each detail without imposing on what was already there. A fluid dialogue weaves both old and new.
ID: What is influencing or informing your work the most right now?
JC: I think about 'hospitality' when I design a space and the philosophy that stands behind it. As I frequent restaurants, stores, or other offices I am moved by small, impactful moments and we try to gesture at that kind of expression in our own design. For me, it's about the relationship between host and guest. Our responsibility in the interior designing process is about preparing for the people who occupy the space. A thoughtful approach and attention to detail can have the opportunity to leave the most memorable experience. At Two Point Zero, we strive to excel in design but also try to imagine the guest's experience.
ID: How much do design trends factor into your work, or your clients' perspectives?
JC: I think keeping up with trends is important to stay relevant. However, the nature of space is different than products or fashions. Especially in this rapidly changing world, it might be easy to overlook an important element if we are just chasing the trend. That is one of the reasons why we try to speak to narratives within existing constructs than create unique ones in our adaptive reuse projects.
ID: What were some of your biggest takeaways from working as Design Director at Studio GAIA?
JC: Besides gaining a diverse experience in hospitality projects around the world, I've learned that interior design does not simply mean drawing a beautiful space on the drafting desk or on the screen. There are many other aspects involved, such as relationships with clients, managing teams, and day-to-day operations.
ID: What would be your dream project right now?
JC: A dream of mine is to establish my own hotel where I would host guests, with the idea of creating a spatially and experientially memorable place. I love staying at hotels because I think the hotel is the epitome of an all-encompassing hospitality.
ID: We've just entered the third decade of the 21st century. How are you feeling about the state of the design industry right now?
JC: I think our day-to-day activities relating to spaces have changed dramatically. For example, we used to go to the movie theater, and now we can binge watch Netflix. We used to go to restaurants regularly, and now meals are a couple of touches away via our smartphones. It means our competition is no longer with other beautifully designed spaces. The design industry ought to offer something that Netflix can't—such as the feeling of community, memories to be shared, and real-life stories to be told.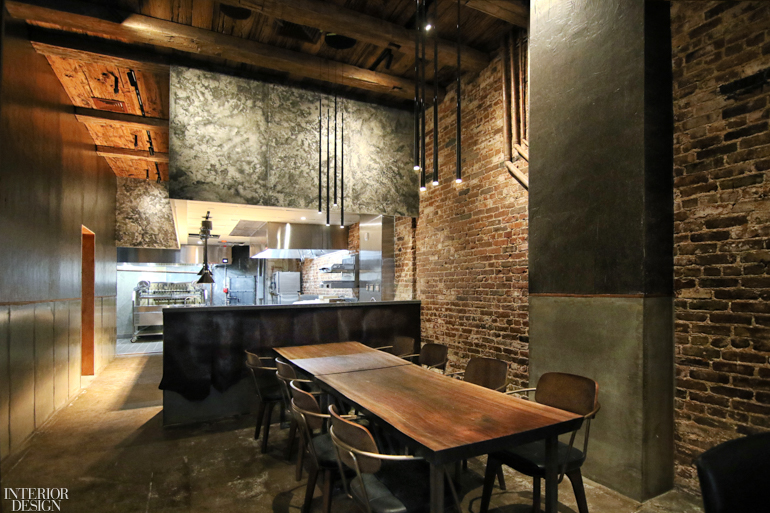 Read more: 10 Questions With… Naoko Takenouchi and Marc Webb