10 Questions With… Verena Haller, Chief Design Officer for Standard Hotels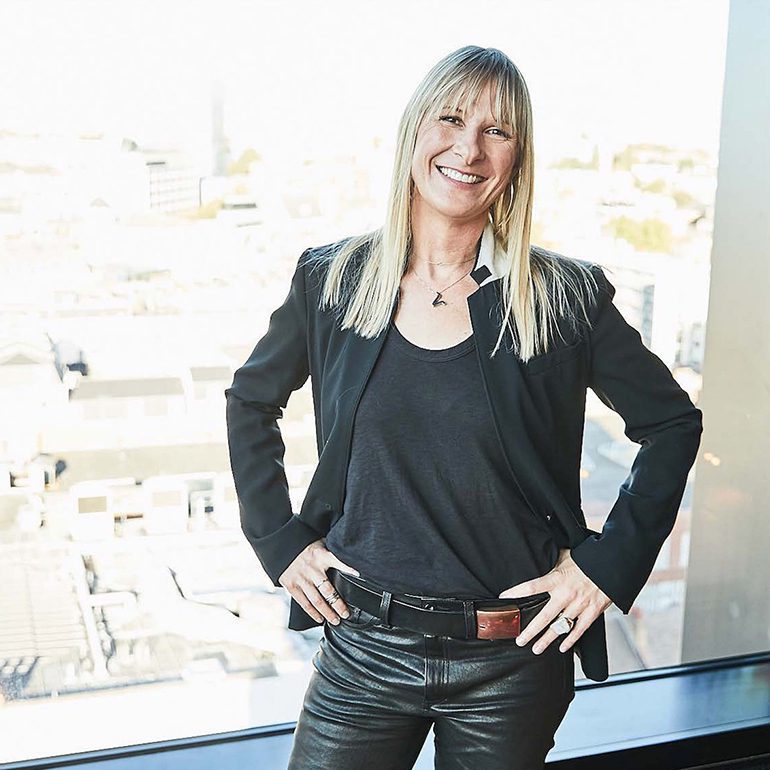 "Designers and architects who approach projects in an unconventional way, are not afraid to do so, and don't take themselves too seriously are the ones that really inspire me," reveals Verena Haller. A Skidmore, Owings & Merrill and Equinox Hotel alum who worked with hospitality guru Ian Schrager, Haller got her start in Europe before becoming chief design officer of Standard International, the company behind The Standard Hotels.
In 2019, after the brand landed an exclusive 194,000-square-foot island nestled between the Raa and Baa Atolls, Haller oversaw the opening of Standard International's first island escape. A tropical retreat capturing the breathtaking natural beauty of the island nation's turquoise waters and white sand beaches, The Standard, Huruvalhi Maldives consists of six food and beverage options and 115 overwater and beach villas, the result of a design collaboration between Standard's in-house design team, local Maldivian architecture firm Gedor Consulting, and interior designer Matthew Goodrich. (Following the January closure of The Standard, Hollywood, Standard International has six hotel properties—with London, the Maldives property is the second outside the U.S.)
Temporarily shuttered due to COVID-19, The Standard, Maldives opened once more this past December and now draws guests that benefit from the country's strict health guidelines yet relaxed travel restrictions based on vaccinations and negative tests.
Here, Haller shares with Interior Design how the Standard brand is bouncing back from a global pandemic, what attracts single travelers, and the unexpected importance of savvy political awareness when it comes to color palette.
Interior Design: How is Standard International adapting to these new times following COVID-19?
Verena Haller: With new and creative ways to use space [and] with initiatives such as short term pop-ups for businesses, some of our meetings and public spaces have supported local communities.
We recently kicked off the "Make It Your Standard" campaign, where we allow guests to take a room from one of our hotels and repurpose it to their needs. Creative playgrounds have ranged from workstation to studio, themed sleepover, and naughty fantasy.
We are also adapting facilities in all our properties to accommodate this new era of working remotely. Guests are offered special packages for longer stays. At the Maldives property for example, we offer packages catering to 14- or 28-day stays through December 23, 2021.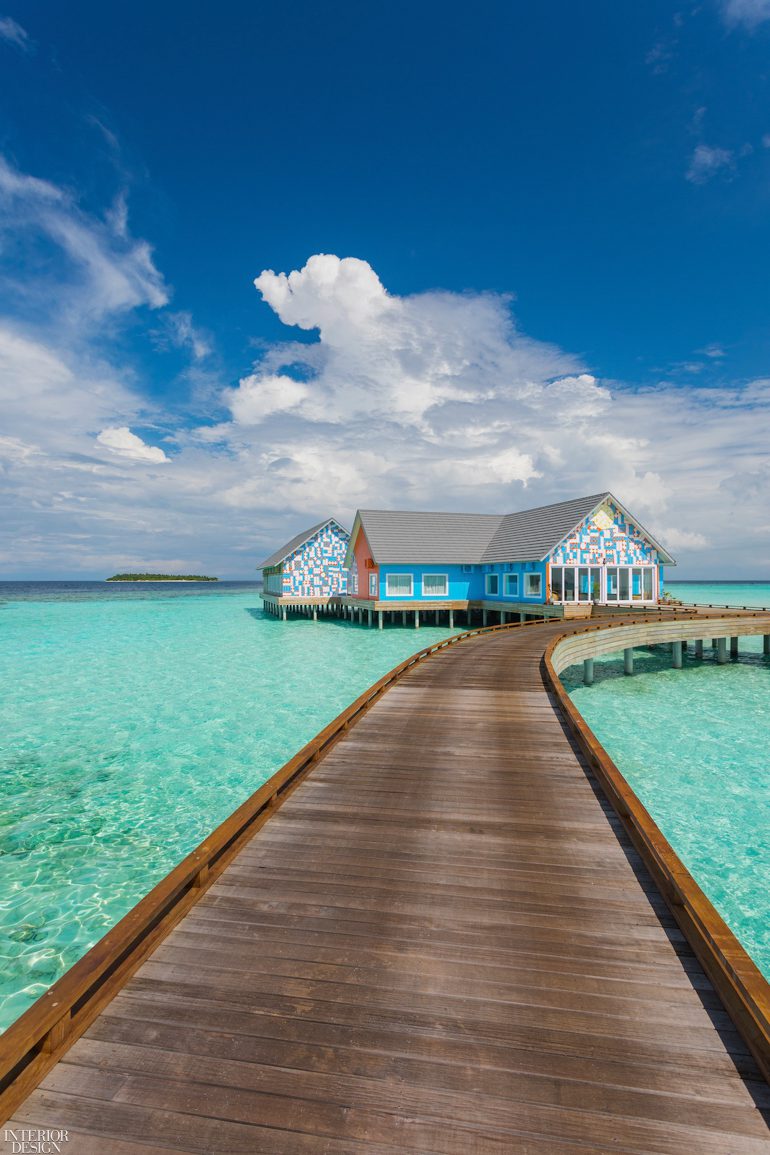 ID: How do you approach a hotel project?
VH: For all our projects, we reduce the overall design process down to the basics. At headquarters, we spend quite a lot of time figuring out what the specific project actually needs from a brand point of view, as well as for the location and its surroundings. That's portrayed in mood boards and a location-specific design pillar with a general kind of quote. The entire package is then generally given to the interior designer we consult with as a basis to build off their design interpretation. The interior designer—for The Standard, Maldives that was Matthew Goodrich who I have a longstanding relationship with—then adds in his or her own layers.
ID: What drove the design for The Standard, Maldives?
VH: A magical place that's both an escape and an opportunity for adventure. We called it 'The Week in Paradise.' The goal was a new outlook and a vibrant and fresh take on existing property on the island. When we did our research, we realized that built structures in the Maldives are mostly green, white, and gray—and that's about it. Examining the different resorts, you'll see they all kind of blend into each other. We wanted ours to stand out, with unexpected moments really celebrating what is actually behind the country.
For example, in the over-water Guduguda, where we prepare a traditional Maldivian dinner, we kept it very simple. Everyone sits on floor cushions pulled up to low tables.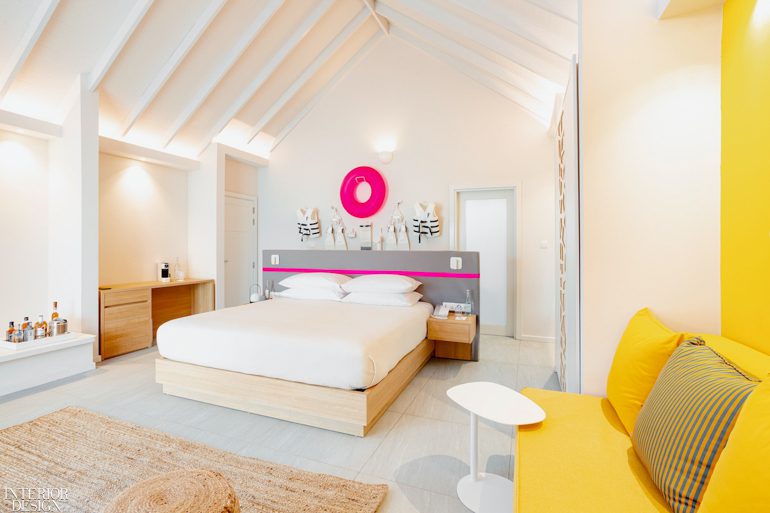 ID: How do you think The Standard, Maldives meets current demands in the hospitality market?
VH: Whether you come with a group of friends or come alone, this property is really geared towards socializing and not so much focused on couples, which is incredibly important. It's meant to be a place that is an amazing time because you're part of an entire community, a concept very much part of The Standard brand. Honeymooners are always welcome, but other resorts are usually a little bit quieter and more about romance. Here, everyone truly feels welcomed as a guest, as if at a remarkable vacation home owned by an eccentric family.
With a 360-degree approach to our food and beverage concept, it's not just about the food, but about the entire experience. People who stay for a while kind of fall into a routine as they go throughout their day.
Like our Miami property, the spa has a lot of do-it-yourself components and we look at some treatments in a completely unique way.
Most furnishings are custom, and we stuck to a range of natural materials, such as wood, and elements which are easy to replenish. Around the pool and terrace, we created a large social gathering area where everybody can kind of hang out together. Laid out in three sites around the pool, the daybeds—custom-built from leftover materials from the construction site with mattresses and fabrics we shipped in—are really large and shaded.
An incredibly unique feature for us is the disco balls over the tubs in guestrooms. Every bathroom has a disco ball, custom-made by a company in Bangkok which also built the round table tennis tubes in the reception area. The biggest disco ball—over eight feet in diameter—is in Beru Bar, above the over-water glass dance floor. In the main dining area, there are wood seating benches, fabricated and painted on the island and upholstered in beautiful colors and patterns such as Melusine, a pattern of lush vegetation by Jim Thompson. Some of the rugs we ordered from Bangkok, but in Guduguda, our Maldivian restaurant, we have some hand-painted by Maldivians.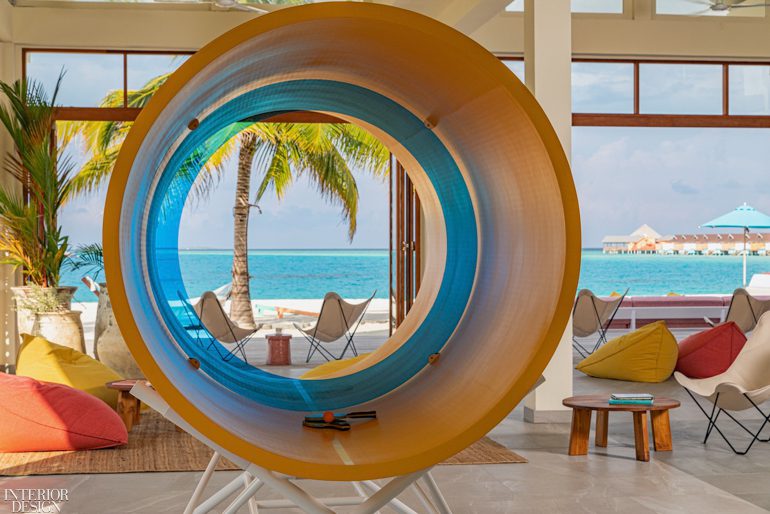 ID: The bold color concept for the Maldives is quite striking. How did that develop?
VH: The concept is that parts of the island almost disappear and other parts come out really strong when you're flying over. We first thought we'd paint all of the roofs in different colors…but that would have meant too much upkeep, so they're natural wood. Then we thought, let's stick with rainbow colors. However, apparently there was an orange color that had a very clear political direction we didn't want to take. We decided upon a warm amber palette, from yellow to a darker red orange, that captures the sunset and sunrise. There's also a much cooler approach, with shades of blue and green. When you disembark from a long journey on multiple airplanes, landing in the water, and go into the check-in area, there's a strong green-turquoise color. It's a bit like being under water, in a lush, quiet, and calming environment.
ID: What else have you completed recently?
VH: In mid-2019, we completed The Standard, London, our first project outside of the United States. It's housed in the former Camden Town Hall Annexe, a 1974 Brutalist structure that overlooks the bustling King's Cross area. The property was meticulously designed by our in-house Standard design team in partnership with the company's longtime collaborator Shawn Hausman, with interior architecture by Archer Humphryes. The property pays homage to both its location and its building, while recognizing the remarkable transformation taking hold of this neighborhood.
ID: What's upcoming for Standard International?
VH: We are well underway with our first flagship in Asia. The Standard, Bangkok Mahanakhon—a 155 room hotel in the iconic King Power Mahanakhon building in the heart of Bangkok, Thailand—is expected to open by the end of the year. We have also secured a flagship property in Singapore.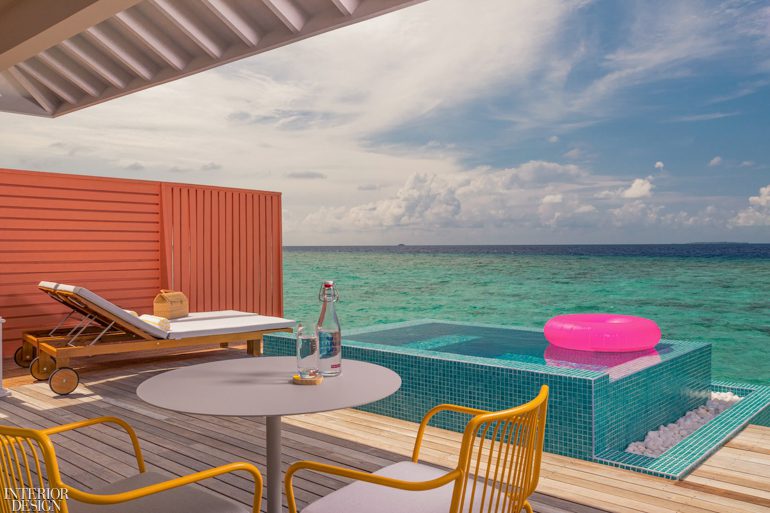 ID: In what kind of home do you live?
VH: I live in the middle of Manhattan in a new modern yet simple New York City high-rise. My apartment is quite high up, allowing me to see the beautiful city skyline with its city lights and golden sunsets.
In my home, my favorite item would have to be my oversized and extremely-comfortable custom sofa by Montauk Sofa. It's surrounded by classics like a table by Eero Saarinen and chairs by Charles and Ray Eames. Each piece is perfectly positioned and has purpose. I love simplicity and like to layer in style and texture, while allowing a room to be filled with sunlight and shadows.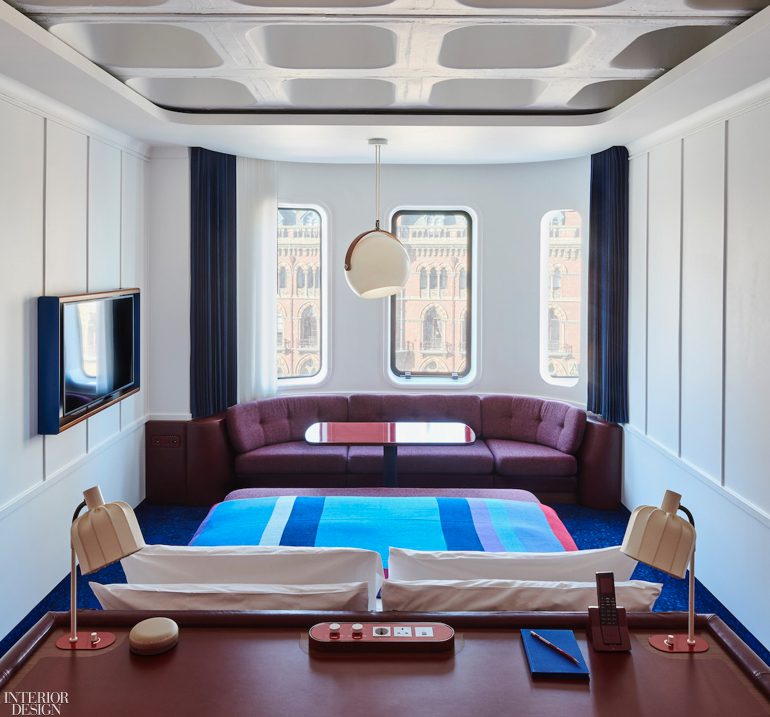 ID: What are you reading?
VH: Usually three books at a time: One biography (currently A Long Walk to Freedom: The Autobiography of Nelson Mandela), one light read for fun, like a crime or romance novel ("The Uncommon Reader: A Novella" by Alan Bennett), and last but not least, one that pushes or challenges me spiritually ("You are a Rainbow: Essential Auras" by Emma Lucy Knowles).
ID: Have a secret you can share?
VH: My favorite restaurant (food, wine, atmosphere, view, energy, memories) is Ristorante Boccon DiVino Montalcino in Montalcino, Italy—sitting outside at this spot allows me to relax and get right back to the basics.