10 Questions With… Weiss–heiten
"We became interior designers the moment we did Aesop's first store in Germany," says Tobias Kohlhaas, referring to the global skincare brand. "It's actually graphic design that we studied," adds Birgit Kohlhaas. Not that this would stop the two founders of Berlin-based design studio Weiss–heiten—partners in life and work. Since completing Aesop's moss-green tiled flagship store in Berlin in 2013, they've gone on to create bold and distinctive interiors for clients including European optician chain Ace & Tate and German porcelain manufacturer Meissen, also drawing from a resume rich on branding and visual communication.
Most recently, the duo completed The Office Group – Kontorhaus, Berlin, the inaugural co-working space in Germany for flexible workspace company The Office Group. Interior Design sat down with the husband-and-wife team to learn more about combining two buildings, two eras, and two different floor heights; how to encourage customer interaction with fragile porcelain; and why embracing the Bauhaus ideology opens career doors.
Interior Design: What was the overall design goal for Kontorhaus, your co-working space for The Office Group in Berlin?
Tobias Kohlhaas: Kontorhaus is the first entry into the German market for The Office Group, which began offering its flexible workspace in the U.K. We were inspired by the opulent and vibrant history of Friedrichstraße, the Berlin street the building is on, as well as the gloominess of the city on winter days. Our aim was to inject warmth and light into the space in order to create an inspirational and unique working environment, one you'd look forward to being at on a Monday.
The interior consists of two distinct previously joined buildings, one from the 19th century and one from the 1990s. The older building has five levels, and the new—an addition by architect Paul Kleihues—six. As with Berlin and its many dualities, our design aimed to merge diverse elements, to create a balance and dialogue between opposites. In this interior, old meets new, elegance meets industry, urbanity meets nature, and luxury meets mindfulness.
Birgit Kohlhaas: Reception is usually on the first or second floor, but in this case, we placed it on the fourth floor where the floors of the old and new buildings are nearly the same height. You probably don't immediately realize it, but the reception desk, simple in shape, has the same terrazzo used for flooring in the building's entrance hall. It's a remake of the original.
ID: How you think Kontorhaus stands out from other co-working spaces?
TK: With a bespoke and site-specific interior concept that reads the true nature of the building and people-centric design-thinking. We strongly believe in the energy and spirit every space owns. By examining the history of the building and its neighborhood, reading the walls with all senses, we have a lot to build upon.
ID: What else have you completed recently?
TK: A flagship store for German porcelain manufacturer Meissen in Dresden, Germany. We first suggested they open up a fancy restaurant, one where you'd invite one of the best chefs in the world every few weeks or so, and use Meissen porcelain for a beautiful dinner. Guests would eat and then experience the product—instead of looking at it and not daring to touch it. This could be a future project. What we ended up doing is creating a space that looks a bit like a living room, something with accessories and visual clues that make people feel comfortable.
There's a long table and a really thick rose-colored carpet covers 80 percent of the space. When talking to Meissen customers, one of the things we realized is the psychology of it all. You're not going to touch a vase that costs 700,000 euros if you are standing on a granite floor! A thick carpet makes you feel comfortable because you think, well, if I drop it, it might not break.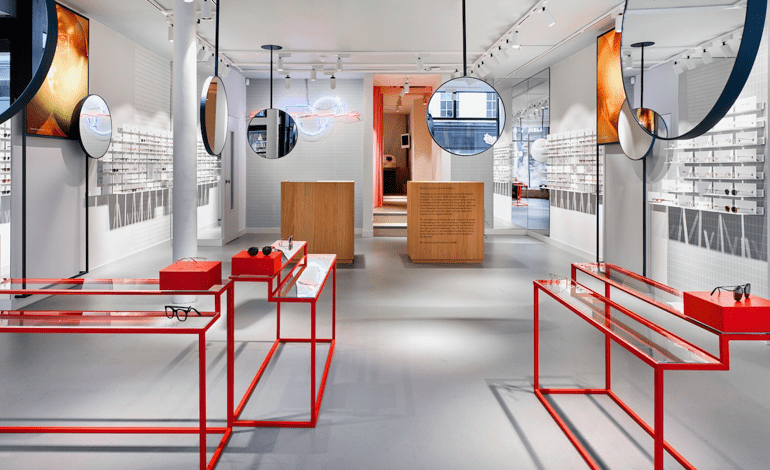 ID: What's upcoming for you?
TK: A premium coffee shop in Düsseldorf that will bring the whole coffee culture to the next level. The concept is a bit like what founder Dennis Paphitis used for Aesop skincare, but for coffee. These days, the product isn't the star anymore, it's more the community and conscious lifestyle. We'll combine the spirit of wellbeing and a community-driven environment with a premium product.
In Shanghai, we're creating the flagship store for a bathroom manufacturer known for its smart washlet toilet. We're aiming for a very lifestyle-driven, cool environment, one that is less product and more experience.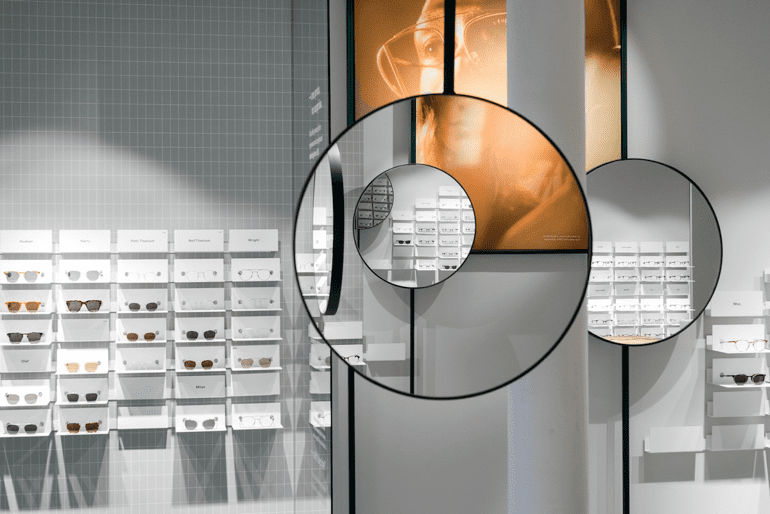 ID: How do you think your future interior projects will respond to Covid-19?
BK: Covid is an accelerator, but offices have already been shifting from 'getting-the-work-done-spaces' to much more social and creative hubs for meeting colleagues, sharing ideas, and creating a sense of cohesion or togetherness. Some might think working from home makes offices redundant, but the opposite is the case.
TK: Retail will be more important than ever before, with a combination of bricks and clicks, excellent service, inspiring spirit, and, most importantly, a mindset that provides a way to create true community with customers. Retail spaces will not be stuffed with products anymore, they will allow you to experience the brand and its values, to be inspired. Then you'll shop from home.
ID: In what kind of home do you live?
TK: We live in an apartment with our two boys in an Art Deco building from 1908 right on Berlin's Spree River. New buildings always demand at least some historical references for a sense of well-being, but the history and the architecture of this building has such strong character, you don't have to do much to feel at home. We kept the interior quite minimal with art and pieces from our travels and Midcentury Modern Danish furniture and lamps.
BK: We have these Egon Eiermann chairs with the original Bauhaus stamp beneath the seat. We're taking care of them, but they're here for use. Furniture in your home shouldn't be part of an exhibition—you have to live with it.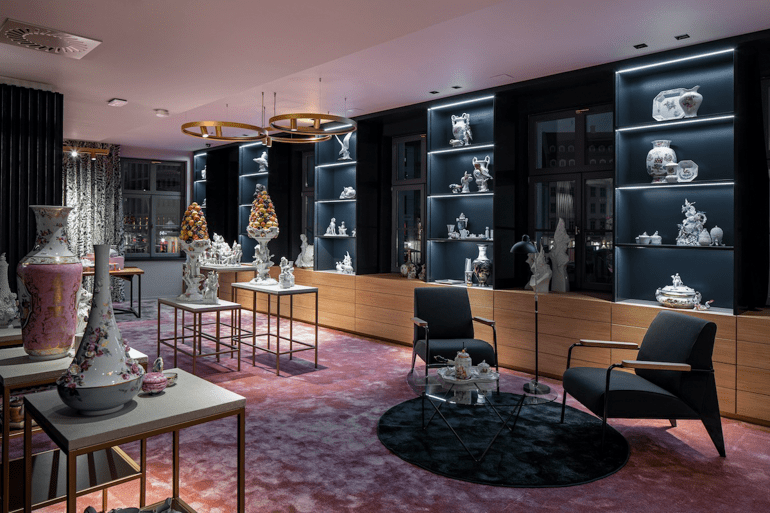 ID: Where do you draw inspiration?
BK: We need traveling: Cultural and professional exchange always pushes us forward. Last year, we visited a couple of creative studios in Kuala Lumpur, such as Studio Bikin. There's no better way for us to recharge and get inspired. And we love music: broadcaster, DJ, and record label owner Gilles Peterson has always has been a big influence.
ID: How do you think your childhood or formative years influenced your design thinking?
TK: My dad, Friedrich Wilhelm Kohlhaas, was an architect and that obviously had some influence. He was mostly doing private medical practices and hospitals and always took me to the construction sites, so I grew up in this environment and it made me feel comfortable. He didn't work with computers and everything was drawn by hand, something that also had quite an impact on me.
BK: I grew up in an ordinary, medium-sized town in southern Germany and was very curious about the world and really wanted more. My main motivation at school was…the holidays. These were often adventure trips with my family. At age 16, I made my first solo trip as an au pair to the South of France. At age 18, I moved to London. I was addicted to the far away and foreign, and until now it has remained the passion and engine in my work.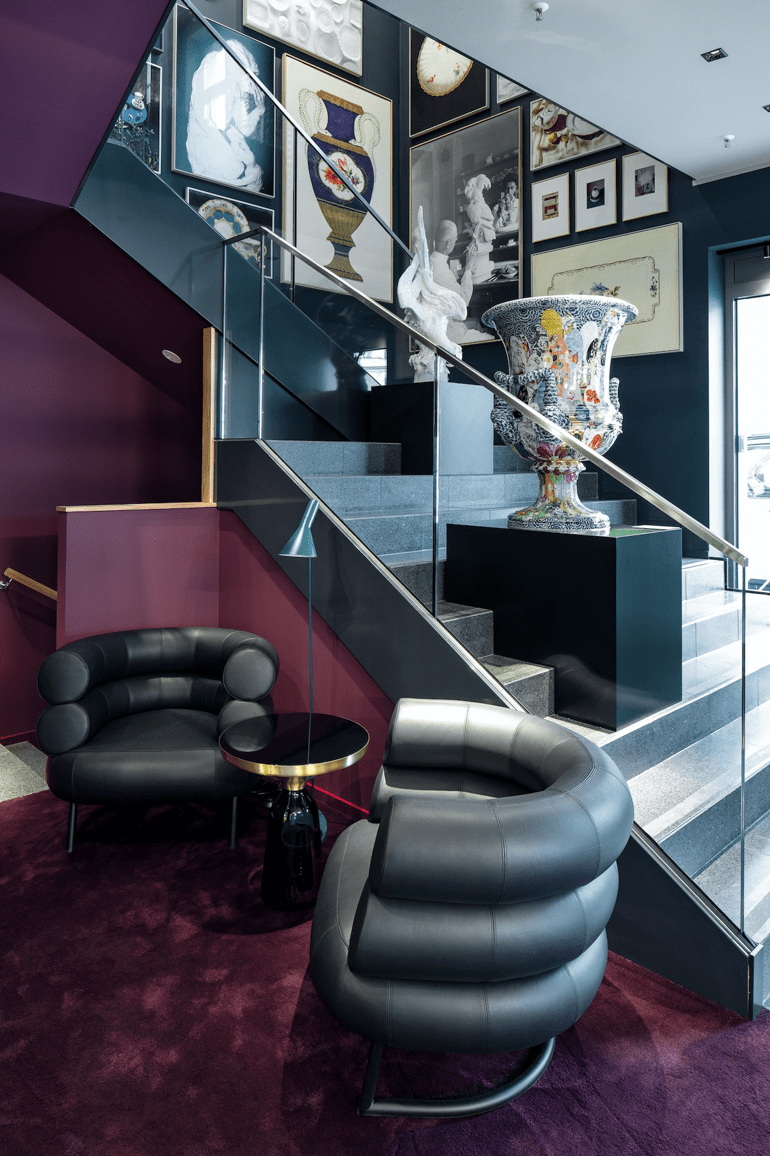 ID: Who in the industry do you particularly admire?
TK: Can we say a movement? Bauhaus, and it's not because we are Germans and this is the only thing we can rely on. Members of the Bauhaus school understood their work as part of society, as something that can encourage people to live a better lifestyle. They understood themselves as form-givers rather than specialists. You can do anything and it doesn't have to stick to a certain media—so from a chair to typography, from wallpaper to planning a city.
BK: I like strong women, and one of those is Faye Toogood who I admire for her freedom to design experimentally. We recently used her Roly Poly chair and sofa for a project in Berlin, and these pieces look great yet are really distinctive.
ID: What are you reading?
TK: My dad used to collect all these old German architectural magazines, so we have a huge collection going back to 1970. During the first lockdown in Germany, we were cleaning up as everyone did, and we put these all in order—and then we actually had time to read them.