10 Questions with… Wendy Feuer of NYC DOT
As Assistant Commissioner for Urban Design & Art at the

New York City Department of Transportation

, Wendy Feuer has been on the frontlines in the push to make the five boroughs an engaging, beautifully designed, consistent, well-oiled machine. From asphalt art and artist engagement in programs such as the pedestrian-centric "Summer Streets," to contributions to the

NYC Street Design Manual

and involvement in

Under the Elevated

—which aims to "revive and animate" the 100 million-plus square feet of public space beneath the city's elevated transit infrastructure—Feuer has impacted New York's citizens and visitors beyond measure.

Here, she offers insight into some of her office's significant projects, explains the groundwork that promotes strong design ethics, and highlights the progress that's leading towards a well-designed future.






Interior Design: Your office at DOT is working with the

Design Trust for Public Space

to bring the "Under the Elevated: Reclaiming Space, Connecting Communities" program to life. What are the opportunities of this initiative?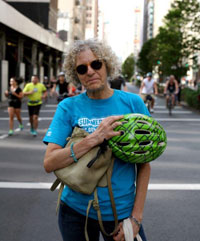 Wendy Feuer: Susan Chin of the Design Trust for Public Space contacted us about working together, as the Design Trust often partners with the City on timely and relevant projects. The idea had come up before, so we thought about it and DOT's Director of Design Review, Neil Gagliardi, started working closely with the Trust and their amazing team. "Under the Elevated" encompasses many different projects citywide, and we're breaking things down into broader categories. Certain bridges, for instance, serve as gateways to different sections of the city. We're now focusing on Chinatown, particularly at Division Street and the spaces beneath and surrounding the as we have the Manhattan Bridge. We're working on Forsyth Plaza [the triangle adjacent to the Manhattan Bridge], where there is now a skate park. We're still at the beginning of this initiative, and a lot of creative thinking has been going on.


ID: Does it take you aback, the scope and significance of these types of projects?


WF: Certainly, especially that we get to create design opportunities in places they have never been before. Mayor Michael Bloomberg's sustainability blueprint,

PlaNYC

, formed a framework for this type of creative thinking by outlining goals to build a greener, greater New York City by 2030. DOT's strategic plan, Sustainable Streets, and its World Class Streets initiative, both spearheaded by DOT Commissioner Sadik-Khan, further shaped DOT's mission to help New Yorkers think differently about their streets and to rediscover things like underpasses and bridges as public spaces hidden in plain sight.


Recently, my staff worked on the "Summer Streets" program, and our Urban Art Project Manager Emily Colasacco was able to bring a strong art perspective to that program. A member of our Special Events Unit saw the Park Avenue Tunnel as a potential site for art, and it turned into a multimedia installation by the artist Rafael Lozano-Hemmer. Had Urban Design & Art unit—created by Commissioner Janette Sadik-Khan—not existed, I don't believe such a thing would have happened. It's a pleasure that between 10,000 and 13,000 people got to see this installation. In a larger sense, it's amazing to see our streets improve through better technology, better paving, bike lines, and so forth.


ID: The NYC Street Design Manual, for which you served as one of the team leaders, was introduced in 2009 and championed the cause of consistency and design-forward thinking on the city's streets. How has the city met these guidelines, and what still needs to be done?




WF: For a long time, the DOT was primarily trying to deal with managing the 6,000 miles of streets; fixing the 200,000 potholes annually; the safety of sidewalks citywide, 789 bridges, the stoplights, the moving traffic. It took everything the department had to keep operations going. The Street Design Manual came about early on in Commissioner Sadik-Khan's tenure—and the final product truly reflects the collaboration between various City agencies that play any role, large or small, on city streets. The Street Design Manual opened up the door to discussions such as continuity in elements and overall streetscape designs. Now, every time our staff reviews the plans for streetscape projects, we critique it from a design standpoint using the Street Design Manual as a basis. We're coming out with the second edition of the Street Design Manual this fall, and I'm pleased to say there's an entire chapter about landscape on the public right of way. We've worked with the Parks Department and the new edition gives even more  consideration to sustainable practices. The biggest key with the Design Manual it that is truly is a living document. It serves as a template that all communities can continue to use for generations to come.





ID: Part of the Street Design Manual's mission was to promote this concept of "world-class streets." Has that aim been achieved?




WF: There's that notion of "build it and they will come." Of course, the flip side of that is: if you don't build it, they won't come. If we aren't really proactive in trying to achieve greener streets and have programs like bike share and technology-forward facilities, people—especially younger ones—will go to other cities. The manual has been a big part of changing the paradigm of what open spaces in New York can be. It creates the cornerstone for building and maintaining the type of infrastructure that supports sustainability and our city's future growth and prosperity.


ID: What are the overarching goals of your office, given New York's incredible amount of visitor traffic and foot traffic?




WF: The overarching goal is to continue working internally and externally to make NYC streets more inviting, more welcoming. New York, like all great cities, is a street city. That means good open spaces, interesting streets, places to sit. My office contributes to the interesting and inviting part of the equation. For example, the design staff worked closely with the

Columbus Avenue Business Improvement District

to create a "model" sidewalk on Columbus Avenue between 75th and 76th streets. Another recent project I'm proud of was done with

ARO [the Architectural Research Office]

. They designed art display cases for plazas being developed through DOT's Public Space unit. The cases allow for changeable exhibits, and are also movable—which is very exciting. We just ordered ten more, which are going to be on Water Street—a photo group from Brooklyn is bringing in different artists representing each borough.


ID: Are the other arms of the DOT eager to involve themselves with yours?




WF: Yes, and it's nice to have urban design and art considered together. When Neil Gagliardi thinks about a project—such as the streetscape improvements on Water Street—he thinks about how art will be integrated into the design and, in fact, suggested that the art display cases be included in the project. Additionally, staff who work on the bike share program thought of an art installation on the asphalt where an underutilized street was repurposed for a bike share station. People in the agency can now consider, Is this a site for art? because there is a unit to turn to.


ID: In addition to your work on public art, you work with the city's wayfinding group, which provides universally understanding visuals and graphics to aid pedestrians. What are WalkNYC's guiding principals?




WF:

WalkNYC

, our wayfinding program, came out of DOT's review of streetscape projects and the findings of the Public Design Commission. We also knew about the success of London's wayfinding program called Legible London. It was agreed that there should be a citywide pedestrian orientation, or wayfinding, program, as people, even residents, were getting lost in New York. After a master plan was completed by

Two Twelve

of New York and

Applied Information Group of London

, a second very accomplished international team was assembled—City ID from the UK wayfinding specialists,

T-Kartor

mapping specialists from Copenhagen,

Billings Jackson

industrial designers,

Pentagram

graphic designers and the

RBA Group

for engineering—to develop a strategy for implementation as well as design the structures and maps for the City's pedestrian orientation program. The first phase is rolling out now, in Chinatown and parts of Midtown as well as in Long Island City and parts of Brooklyn. They'll be in Lower Manhattan by the end of the year.


ID: The best firms must really be excited about putting their stamps on the streets of New York City, yes?




WF: We get a lot of interest in the work we do. And yes, there is always a lot of excitement. A big part of that is because of New York City's reputation as an innovator in every field, and especially in street safety, engineering and design.


ID: New York is so dense, and the world's population is set to grow so exponentially in the coming decades. How is your office looking ahead?




WF: The best thing we can do, mundane as it may sound, is to get systems in place—for example standards for streetscape design included in the Street Design Manual, contracts and parameters for public art installations—so we're not forced to keep reinventing the wheel. We're thinking about what should be consistent in a streetscape—such as bus shelters, which offer the semiotic message of "you can get a bus here"—and what can and should be different based on the traits of a neighborhood. In addition to the beautifully designed bus shelters there is the CityBench, the CityRack, and the parking meter rack, which repurposes decommissioned single-space parking meters as bike racks. These are all transforming our streets. I am very proud of the agency's efforts to bring consistent elements, made with quality design to the streets.


ID: How did you start down this career path, and what brought you to this place?




WF: After getting my Master's Degree in art history, I went to work in the legislature in Albany, New York. This was the late 70s, early 1980s. I got this great job as a staff person, concentrating on art, tourism, and sports, including historic preservation. Then I read an article about how Paris was having art and performance in their subway system, and I thought, I can do this in a different way for New York. I phoned up a friend of mine who was with the transit system and asked if I could volunteer to put together a performing art program for the MTA. Eventually they said  "OK," so I worked with others and went about to do it. Little did I know what I was getting into—after all this was not the high point in the subway's history!

Soon after, I was offered a job with a group called the Parks Council, and moved down to New York City. Luckily for me, a job wound up being created at the MTA, to run an art program in 1985. In part because I was already working on a project, the job went to me. During my time at the MTA, I was "loaned" to the Federal Transit Administration to work on the art in transportation policy. Then, I went on to freelance, for about eleven years. When Janette Sadik-Khan came on as Commissioner, she approached me about working for DOT with this new position. All along, I knew I had to follow my instincts. I'm not the type to sit in libraries; I'm a public person and love the back and forth of the public arena. I have a very rewarding job. I feel challenged and gratified to know that I'm part of improving the infrastructure of the city.