10 Questions With… William Sofield

For thoroughly modern luxury, discerning clients—Tom Ford, Harry Winston, Brian Atwood, and Helen and Brice Marden, and the like—turn to bicoastal superstar

William Sofield

for spaces that are inviting, unexpected, elegant, and rooted in tomorrow. In a recent sit down with

Interior Design

, the interiors expert and furniture designer (Bill Sofield for Baker) talks early design loves, street vendors, and creative satisfaction.


INTERIOR DESIGN

: What were some of the earliest instances when you found yourself engaged by good design?


WILLIAM SOFIELD

: My grandmother had a prototype Big Ben alarm clock designed by Henry Dreyfuss, a protégé of Norman Bel Geddes, from 1931. I was obsessed with the austerity of the design. She said she would know when she was dead… Everything would be exactly the same except for the ticking of that clock.


ID

: What is the bottom line when it comes to taking on a new project, the essential elements that must take precedence?


WS

: Chemistry with my collaborator. Also a sense of humor is important. It's going to be a long relationship.


ID

: Are there any widely accepted rules that you love to dispense with?


WS:

I haven't started mixing plaids, paisleys and stripes yet, but following that question I'm tempted to.


ID:

What are some of spaces that have always visually inspired you, and continue to stand out for you today?


WS:

I must confess I regularly draw most of my inspiration from time spent in nature rather than the built environment. That said, I'm fascinated by street culture, sidewalk vendors, food markets, and typography.


ID:

How have your aesthetic choices changed since you began your career?


WS:

Boredom is a great emotion. I get bored very easily and love the opportunity to expose myself to new sources of visual stimulation. My process is a remarkably rational one based on utility. It has not changed greatly over the course of my career.


ID:

What qualities do you like to be present in your own residence?


WS

: I embrace the accidental. I can't exist in an environment in which every surface appears styled.


ID:

What is the most satisfying moment of a project?


WS:

When I am posed with a problem that stands to ruin the design and solve it.


ID:

What kind of private clients are the most fun for you to work with?


WS:

I tend to be drawn to very strong personalities and creative thinkers. As all of my projects are intense collaborations, this energy fuels a dialogue and pushes me to go places that I might ordinarily not venture.


ID:

What are the most exciting projects on your plate these days?


WS:

A fairly large residential building in New York is underway, which is both an architectural and interior project. A new flagship for Harry Winston in Shanghai, in the Xiantandi neighborhood, which will be our first major architectural project in China. We've also been working with Harry Slatkin and his team developing a fantastic new concept for the Belstaff brand worldwide. Last but not least, some great new designs for our collections for Baker, Kallista, and McGuire. Stay tuned!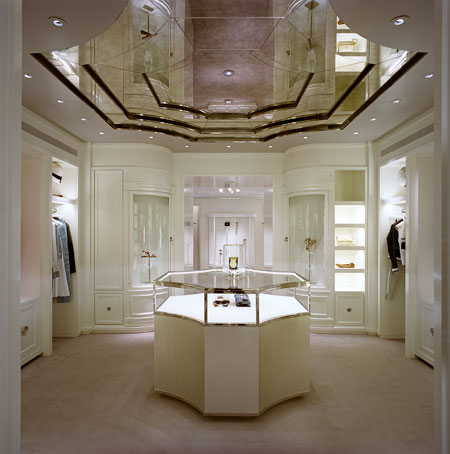 The Santa Eulalia boutique in Barcelona was designed by William Sofield.