10 Simply Amazing Game Rooms and Play Areas
10 spaces that the kids can call their own.
1. Washington D.C. Residence by NADAAA
As part of a renovation of this Washington D.C. residence, architecture firm NADAAA added a designated playroom, staying consistent with the design style of the rest of the house.
2. TriBeCa Apartment by Damon Liss Design and Wunderground Architecture + Design
Years after it was originally decorated, the owners returned to Damon Liss Design and Wunderground Architecture + Design to convert the apartment above into a private space for their children. There would be bedrooms for their daughter and two sons, as well as a shared playroom with a loft tucked under the slanted roof's skylight. Liss created a fun-loving vibe with cluster chandeliers that resemble satellites in orbit, colorful glass sconces, round target-motif rugs and patterned wall coverings.
3. Hamptons Weekend House by MODE Interior Designs and CCS Architecture
In a child's room at this MODE Interior Designs and CCS Architecture Hamptons weekend house, a painted wood ladder leads to a play loft above.
4. Los Angeles House by Belzberg Architects and Curated
Hagy Belzberg was tasked with creating a Los Angeles home with plenty of space for the whole family. "The house needed to be a place where the kids want to be. And want to stay," Belzberg said. Eventually, Belzberg created three hangout spaces: a family room off the kitchen, a playroom upstairs with a custom hexagonal rug and a sophisticated game room, complete with billiards table, in the basement.
5. New York Apartment by Sara Story Design
A playroom in the New York apartment renovation by Sara Story features strategically sited shelving to keep the chaos of toys out of sight. Looking down the enfilade, Story said, "You just see the beautiful white woodwork." The playroom's custom table combines a quartz-composite top and a powder-coated base that the kids aren't able to destroy with markers or toys.
6. Chelsea Loft by Bryan Min and 2Michaels
2Michaels Design focused on making this Chelsea loft a family-friendly space. "The loft is really about the kids," Joan Michaels said. A large open area was designated as a playroom, and a second one is perched, in tree-house fashion, on top of the freestanding volume that contains the study, a bathroom and an office.
7. Los Feliz House by Chet Callahan and Ghislaine Viñas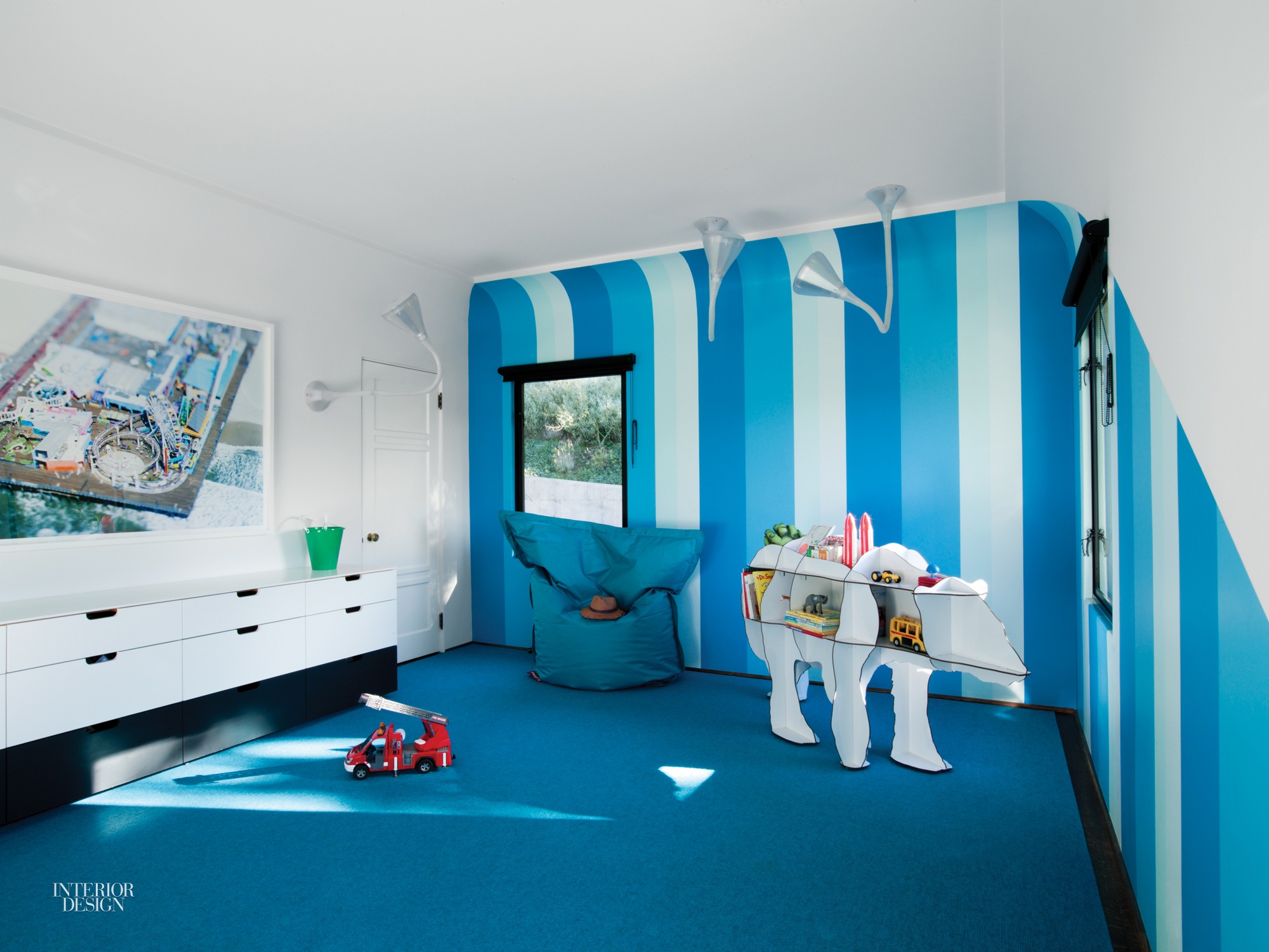 When Ghislaine Viñas first heard Chet Callahan's plan to renovate his Los Angeles home, she thought it would be a fun project to tackle. "I walked into the house and found the architecture immaculate. Proportions were perfect. Counters were the right thickness. I was super-excited," Viñas said. "My big idea was color blocking, to add a graphic element." Quarters for Callahan's young sons now boast bold stripes. Deep-orange horizontal ones were added in their shared bedroom and blue vertical ones were painted in the playroom.
8. 1880s Colonial House by Elizabeth Steimberg Architects
Inside this 1800s colonial home renovation by Elizabeth Steimberg Architects, there is a designated billiard room. As a weekend house, Steimberg added pops of color and simple furnishings to create a casual, beach vibe throughout the 8,900-square-foot home in suburban Glen Head, New York.
9. Triplex Apartment by Ghislaine Viñas Interior Design
Ghislaine Viñas likes to use a generous amount of color in her projects, and the playroom of this New York City triplex certainly features plenty of bold colors, resembling a bright rainbow throughout the kids space. Viñas's 11-year-old daughter cartwheels across the playroom's white-oak floor, which leads to custom-painted cabinets that echo the rainbow.
10. Ten Thousand Apartment Building by Shamir Shah Design
Shamir Shah was enlisted to design the holistic interior of the 40-story Ten Thousand apartment building in Los Angeles to seamlessly integrate sculpture, painting and photography into the design. Characteristic of Shah's style, inspired by the simplicity of European mid-century modernists, the presence of art impresses without overwhelming. In the game room, equipped with a billard table and a bar, a black-and-white photomural of the Mojave Desert stretches across one side.