10 Simply Amazing Outdoor Pools
As summer dwindles to a close, we reminisce on the season past with a roundup of standout outdoor pools from the Interior Design archives. For more inspiration, check out our swimming pools board on Pinterest.
1. 1951 House by Marcel Breuer.
An Alexander Calder mural graces the backyard of this Mondrian-inspired mid-century modern residence from 1951 by Marcel Breuer. Along with the mural, exterior restorations involved adding a balcony above the pool.
2. Weekend Home by Andreas Martin-Löf
Traditionally, Swedes favor rustic summer retreats, and Andreas Martin-Löf concedes that he usually dislikes "luxury" architecture both personally and in his work at Andreas Martin-Löf Architects. Yet he was intrigued by the possibility of an infinity pool as a mirror for his weekend home's pine trees and expansive water views. "The pool is a crucial part of the success of the house," he says. "You have to be a bit playful and take a few risks." While the vinyl-lined pool was not expensive, it was tricky to add the stainless-steel plates for the two infinity edges.

3. Sobreiras-Alentejo Country Hotel by FAT—Future Thinking Architecture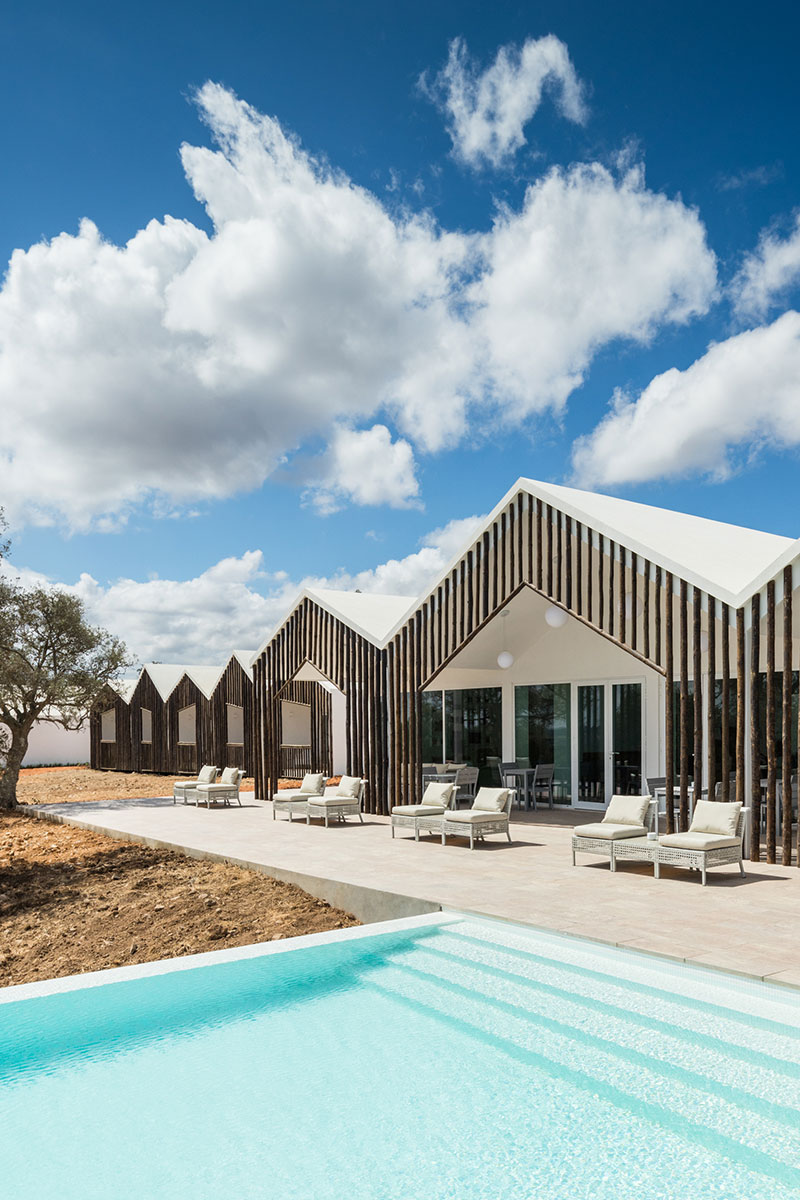 Aside from its sober architecture that draws from the Portuguese vernacular, the surrounding savanna-like wilderness is this hotel's main sell. In addition to the private guest porches, founding principal Miguel Correia added a ceramic-tiled terrace that flows from the lounge and restaurant to the pool, which tops a 1,000 square-foot events space below. Neat walking paths bring order to the restrained landscaping, making clear the domain of the developed versus the natural.

4. Sharon Bonnemazou's Weekend House by CCS Architecture and MODE Interior Designs
Raised bicoastal, Cass Calder Smith of CCS Architecture infused relaxed West Coast sensibilities into this secluded Hamptons retreat for a Los Angeles native planting roots in the opposite coast. The retreat's open dining area, kitchen, and den spill outward into a porch, sheltered by an upstairs balcony, and the pool beyond. Chaise longues by Matthew Hilton line the ipe pool deck.
5. The Asbury Hotel by Anda Andrei and Bonetti/Kozerski Architecture and Design
A 2016 Hall of Fame inductee, hospitality legend Anda Andrei teamed up with Bonetti/Kozerski Architecture and Design for the 110-room Asbury Park Hotel, one of the many projects underway to help resuscitate the New Jersey waterfront town's historic charm. To deliver smart, casual beauty on a budget, the team utilized construction scaffolding to fashion the poolside pergola, topped with reed matting.

6. Hotel Seamarq by Richard Meier & Partners Architects
Professionally speaking, Interior Design Hall of Famer Richard Meier might be hard-pressed to come up with things he's never done before, but South Korea's Hotel Seamarq presented uncharted territory for the legendary architect as his first project to encompass both architecture and interiors. Gracing a building base's rooftop deck is a sleek infinity pool which anchors a teak-decked space that also serves as a venue for social gatherings. A whirlpool tub, slightly elevated, sits alongside.

7. Alex May's Pool Pavilion by ICRAVE
Perfectly in tune with the Hamptons beach vernacular, this Edenic site sprung to life from a collaboration between ICRAVE principal Lionel Ohayon and close friend, Alex May. A 60-foot pool—the centerpiece inspired by May's sketches—sits at the property's rear. The accompanying pavilion offers a spa concept, complete with a sauna and a hammam in addition to a shower. Chilled rosé, anyone?
8. Guarúja House by Studio MK27
Pushing the notion of indoor-outdoor living to the extreme, this rustic retreat near São Paulo by Studio MK27 features a pair of chaise longues perched on pine decking—an ideal atmosphere to enjoy the house's lush location within a dense forest.

9. Hôtel Molitor Paris by Alain Derbesse Architects and Agence Nuel
Inaugurated in 1929 (and birthing the bikini 17 years later), this historic Paris landmark fell into disrepair in the late '80s, becoming a graffiti mecca and all-night rave venue at the turn of the century. The new Hôtel Molitor Paris now occupies a building substantially reinvented by Alain Derbesse Architects that features an Olympic-size open-air pool, almost evoking luxury liners.

10. 1 Hotel Miami by Meyer Davis Studio
For many guests, luxury means choice—and that's exactly what Meyer Davis Studio's 1 Hotel on the Miami coast promises by offering four separate swimming pools. Visitors can relish in the summer sun while relaxing on the groups of teak chaises that overlook the expansive Atlantic Ocean.