10 Tactile LAUNCH Products Chosen by the Editors
From reimagined classic forms to new design products all together, our editors' picks from the September edition of LAUNCH certainly elevate the aesthetics—and in some cases functions—of a space.
1. Room Divider by Dutch Invertuals
Establish boundaries with custom mobile partitions—for offices, restaurants, and health facilities—designed by Wendy Plomp's Eindhoven-based studio.
Standouts: Coming in four shapes with three material options, designers can also take advantage of custom powder-coats to match brand colors.
2. Strings by Scarlet Splendour
Full disclosure: Slovenian designer Nika Zupanc's see-through cabinet for the Indian brand is stronger than it appears, crafted as it is of soothing blue steel.
Standouts: The collection includes vanity, sofa, and pouf options with gold and gold/silver color alternatives.
3. 116 by Model No.
Hang low with a stout coffee table, its integrated storage compartment printed in ombré mauve or black eco-friendly plant resin and topped with sustainably sourced hardwood.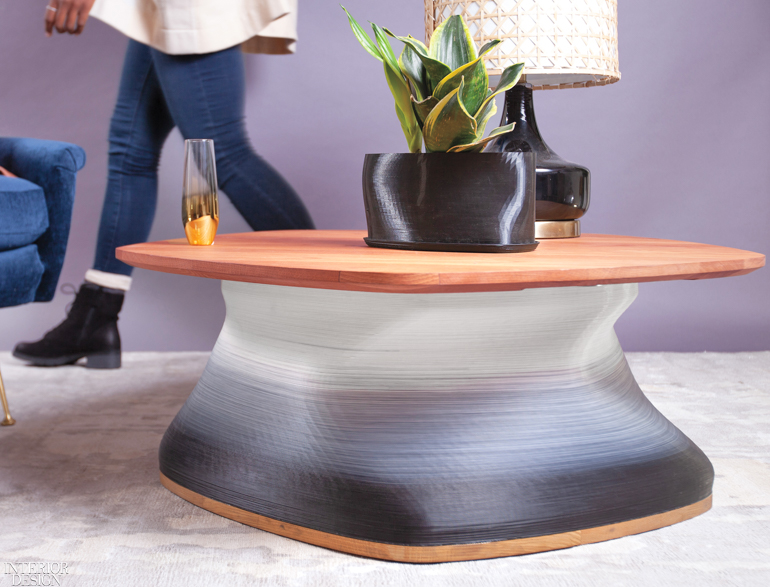 Standouts: Each table is individually crafted which allows for customization. There are seven body color options and four top shapes offered.
4. Ruff by Morso
Take a seat on Hall of Fame member Patricia Urquiola's perfectly balanced armchair, a tribute to the late Spanish sculptor Eduardo Chillida, known for his monumental abstractions.
Standouts: Suited for contract and hospitality spaces, the chair attaches to the all-in-one arm and back rest via a single joint. The interior is made of flame-retardant polyurethane foam.
5. Lines by CC-Tapis
Wax crayon sketches of varied-width lines sparked Philippe Malouin's irregular rug pattern—its intentional waver the result of switching weavers midway through the process.
Standouts: Handmade in Nepal out of dip-dyed Himalayan wool, no two rugs are the same.
6. Beice by Merve Kahraman Products & Interiors
According to the New York– and Istanbul-based designer, this three-seater and matching armchair upholstered in pastel hues (mint green, pink, etc.) feel like sitting on cotton candy clouds.
Standouts: The base and feet are made from American walnut and the upholstery is courtesy of Kvadrat or by the client's own material.
7. Sky by Savoir Beds
The bed's headboard and base are upholstered in dyed leather by British hide specialist Bill Amberg, who harnessed an advanced digital printing technique that enables deeper dye penetration.
Standouts: The bespoke piece of furniture with brass legs is available in blue, gold, or black colorways.
8. Circular by Wisse Trooster
The Dutch designer transforms recycled materials including sustainable acrylics and plastic sheets (repurposed from discarded cutting boards and yogurt cups) into playful wall lamps.
Standouts: The components the make up the lamp can be reused or recycled. Each size edition—small, large, and double—use LED filament tubes.
9. Caminos by Tacto
Embroidered lines take us on a journey across the pleasingly tactile beige or green rug—named after the Spanish word for "paths"—by Valencia-based design duo Yonoh.
Standouts: Made from 100 percent wool using the kilim technique, the rugs are available in 67 x 94.5"
and 79 x 118" dimensions.
10. Arc by Ana Volante Studio
From the Venezuelan designer's Moon collection, a handcrafted side table inspired by Brutalism sports double-arc base components representing lunar shadows.
Standouts: Measuring 35″ across, the table is made from baltic birch plywood, quarter-sawn white oak veneer, and stainless-steel and brass inlays.