12 Simply Amazing Patterned Wall Coverings
12 patterned wall coverings that add some pizazz to the walls.
1. San Francisco Pad by CCS Architecture and Subject to Change
When CCS Architecture and Subject to Change transformed this 4,000-square-foot San Francisco apartment, the plan was to create a completely customized hangout. "The client was looking for a sense of simplicity and freshness, as well as fun and delight," Akemi Tamaribuchi said. As a result, rooms are punctuated by exuberant bursts of color and strong expressions of materiality, like the colorful geometric print wall covering by Sarah Morris in the powder room.
2. Stuttgart Home by Ippolito Fleitz Group
Architect Peter Ippolito and his partner Stefan Gabel transformed their two-story Stuttgart home into a three-dimensional diary of their joint adventures. Outfitted in Timorous Beasties' hand-printed Merian Palm wallpaper, the "jungle" room has original parquet flooring and a colorful staircase leading up to the study and TV lounge.
3. TriBeCa Apartment by Damon Liss Design and Wunderground Architecture + Design
To create a fun-loving vibe for the children's area in this TriBeCa apartment, Damon Liss Design and Wunderground Architecture + Design added a colorful wall covering to each son's bedroom. In one bedroom, a canvas wall covering is graffiti-inspired. In the younger boy's room, the cellulose-blend wall covering reproduces a blue-green pattern by 2×4.
4. New York Apartment by 2Michaels

2Michaels perked up a developer-issued powder room with a wall covering by Patrice Marraud des Grottes in this Upper West Side apartment.
5. Oxnard House by Robert Kerr Architecture and Hungary Louis
Robert Kerr of Robert Kerr Architecture and Hailey Soren of Hungary Louis collaborated on a home for Soren's parents in the surf town of Oxnard, California. Downstairs is more kid-friendly, so their four grandchildren to have a space to play when they visit. In the den, custom wallpaper spells out "Que Sera Sera Whatever Will Be Will Be" in abstracted letters. In the grandchildren's bathroom, black-and-white printed wallpaper with baby whales stands out on the wall.
6. Greenwich Village Apartment by Revamp
Revamp used wall coverings throughout this Greenwich Village townhouse to add some much-needed warmth to the apartment. A deep gray Venetian plaster with a shimmery metallic finish takes the dining room from bland to bold, a lustrous blue silk adds a calming feeling to the master bedroom, and prints of a soccer player and pastel-colored butterflies add interest to the children's bedrooms. For the kitchen, an elaborate graphic pattern was customized to fade gradually, creating a softer transition to the hall.
7. Upper East Side Apartment by Christoff Finio Architecture and Victoria Kirk Interiors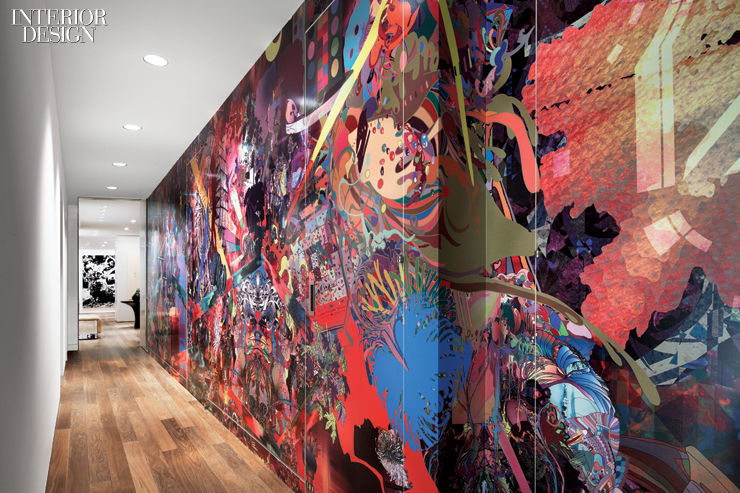 A colorful vinyl mural by Assume Vivid Astro Focus dominates the corridor to the bedrooms in this 4,000-square-foot Upper East Side apartment.
8. Palo Alto House by Alison Damonte Design and YamaMar Design
To celebrate the home's disco-era roots and integrate the kids' colorful belongings, Alison Damonte Design and YamaMar Design were tasked with adding more bright hues to the house. To do so, they added a pink and silver printed Mylar wall covering in the powder room and a Given Campbell printed yellow wallpaper in a child's bedroom.
9. TriBeCa Loft by Sara Story Design
Designer Sara Story likes to use wallpaper in her projects, and so, for this TriBeCa loft, she lined the den's hidden office niche with a lighthearted wallpaper pattern that she describes as "doodles of people's faces."
10. Warsaw Apartment by Widawscy Studio Architektury
Widawscy Studio Architektury tends to favor minimalistic white interiors, but their clients, a married couple with two young children, asked for a bright color palette in their 970-square-foot Warsaw apartment. Graphic wallpaper prints help create a happy medium between the monotone and polychrome for both client and designer. A wall separating the entry hall from the kitchen is covered in wallpaper with English words to help the client's kids learn English. A subtle gray damask pattern lines the walls in the master bedroom, while wallpaper in the children's rooms incorporate more colorful patterns.
11. Triplex Apartment by Ghislaine Viñas
In the master bedroom of this New York triplex by Ghislaine Viñas Interior Design, lamps by Rich Brilliant Willing cast light on graphic wallpaper by Vivienne Westwood and photographs by Coke Wisdom O'Neal.
12. Hamptons Summer House by Ghislaine Viñas
Known for using bright colors, Ghislaine Viñas brings her signature flair to this Hamptons summer home, adding colorful wallpaper patterns in several rooms. One of the lower-level guest rooms features Rex Ray surfboard wallpaper, while the master suite is covered in Classic Martinique palm-leaf wallpaper. Other bedrooms inspired by sliced oranges and pineapples find wallpapers to match, and graphic patterns are used in the living room and the bathrooms.