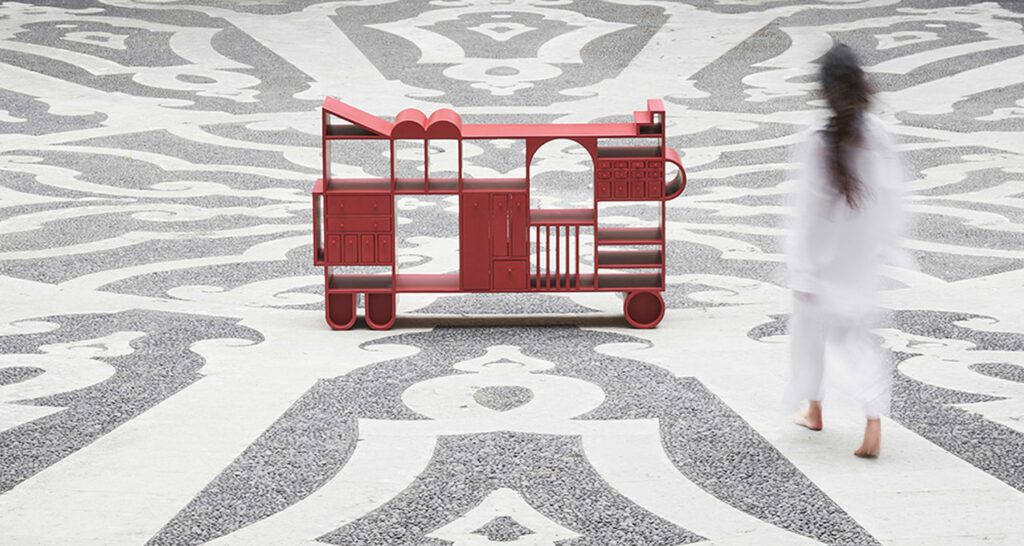 14 Furnishing Highlights from Edit Napoli 2021
Independent designers once again had their day in the sun at Edit Napoli 2021. From the limited-edition to the one-off, this compact furniture fair is the place for collectors to glean unique furnishings for a carefully curated interior design style unlikely to be imitated.
The third edition of the fair, curated by Domitilla Dardi, took place October 29-31 on the grounds of the Monumental Complex of San Domenico Maggiore, a 13th-century historic site, and locations around the southern Italian city. Established manufacturers as well as independent designers and brands—with a particular focus on the Mediterranean—were among the over 80 exhibitors hailing from Italy and beyond. From a coffee table with an abundance of legs to a sculptural tower that celebrates yet tucks away your laptop to a stationary bike that isn't an eyesore, here are 14 of our favorite finds.
Bodgan by Studiointervallo
Blue detailing and an abundance of legs—rendered in sturdy solid linden wood—distinguish the Bodgan coffee table by Studiointervallo.
Script by Stéphanie Moussallem
Flush with the barely-there American walnut frame of the Script desk designed by Stéphanie Moussallem for House of Today, burgundy leather adds texture and brass adds detailing.
Offline by Aufgabe Null
With the steel Offline notebook holder by Aufgabe Null, a tech object most likely in your home, is celebrated while tucked away—a commentary on screen time.
Fuoripista by Adriano Design
Aesthetically-pleasing fitness equipment is a rare find, yet object d'art and the morning workout go hand-in-hand with the Fuoripista stationary bike by Adriano Design for Elite. Two colors and various sizes are available for the ash wood, tempered glass, aluminum, steel, and leather frame, engineered to support good posture.
Rolled Up by Malak Workshop
Foam and leather in the form of a cylindrical backrest and thick seat padding add sculptural comfort to the powder-coated steel frame of the Rolled Up chair by Malak Workshop.
Piscina by Caterina Frongia
"I couldn't create anything without a tale to tell," says Caterina Frongia on her attraction to incorporating narrative in her design objects. Her wool and cotton Piscina rug relays the story of a fleeting romance.
Meditation in an Emergency by Diego Cibelli
A throne of fired clay, organic plants, and textile, Meditation in an Emergency by Diego Cibelli provides a retreat for conscious reflection on a crisis.
Legno by Andrea Bouquet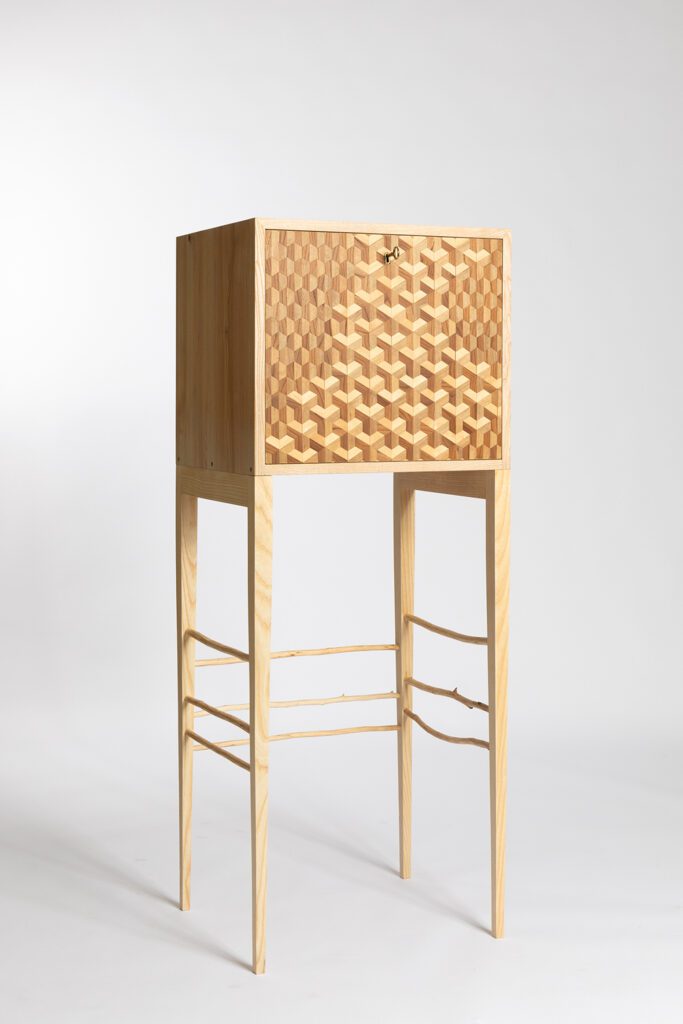 To achieve the inlaid veneer pattern in his wood bar Legno—rendered in ash with walnut, brass, and maple accents—Andrea Bouquet tapped the traditional furniture-making technique of marquetry.
Equilibrista by Giovanni Botticelli
The limited-edition glass, mirror, and iron Equilibrista collection of mirrors by Giovanni Botticelli for Swing Design Gallery consists of spheres in various hues stacked 20 inches high.
Twirl by Lenny Stöpp
A study of the traditional construction technique employed to create plaster ornamentation or molding gave rise to the Twirl collection of reversible bowls by Lenny Stöpp. Instead of plaster, acrylic composite was used in a hollow mold.
Calafato by Elena Salmistraro
In tribute to Byzantine art, Elena Salmistraro inserted emerald-hued malachite in brass jewelry-like settings, creating a vertical bas-relief for her Calafato side table for Lithea. Table tops (two in total) are Calacatta marble and Pietra pece stone, while the frame is iron.
Filo by Monogramma
A lean tubular metal frame is minimalistic pedestal for the drawers that embody Filo, a collection of bedroom dressers by Monogramma for Mab Home. A smoked wood and a matte lacquer in a near-black anthracite are among 16 wood and matte finishes.
Minuti by Livia Stacchini
A sideboard for housing and preserving small or large treasures, Minuti by Livia Stacchini for Orografie is inspired by the designer's desire to store collected keepsakes after four years living abroad.
Turchino by Ccontinua and Mamt
Folk tales and the act of story-telling over a meal piqued the whimsical drawings that illustrate the Turchino collection of ceramic plates by Ccontinua + Mamt.