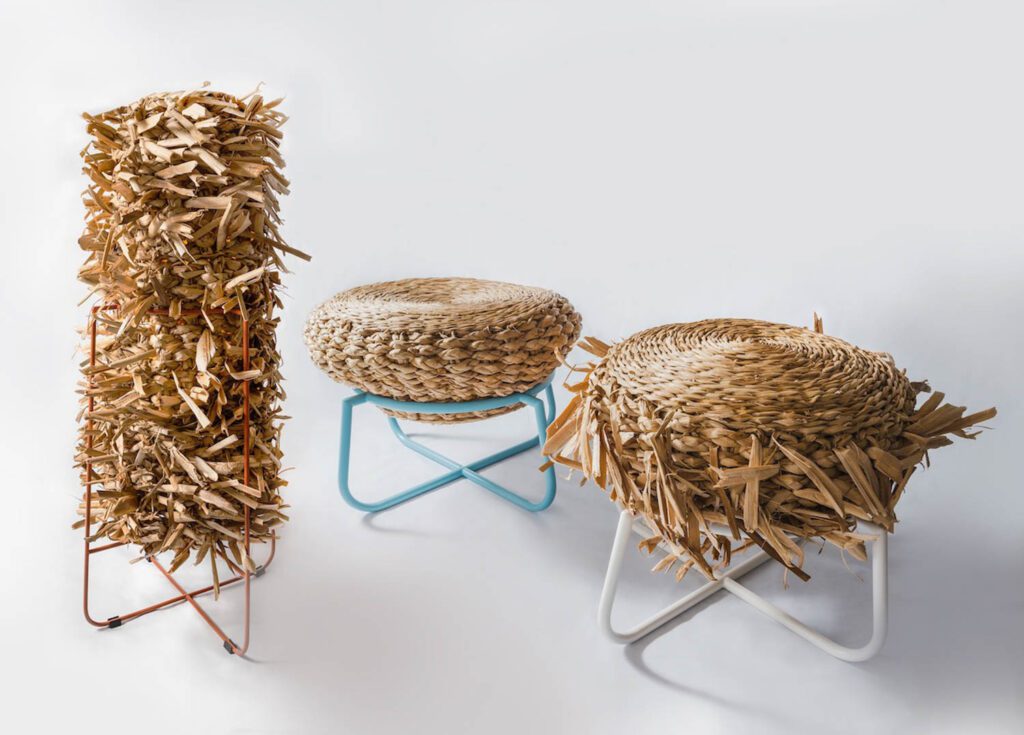 15 Brazilian Product Highlights from Salone del Mobile
At this year's Salone del Mobile in Milan, Brazilian designers seized an opportunity to shine. The country grew its presence at the fair, which bounced back from the smaller Supersalone last year, thanks to a big push on Brazilian furniture, culture, materials, and design from the Brazilian Association of the Furniture Industry (Abimóvel). "Design Transforma," an exhibition presented through the Brazilian Furniture Project by Abimóvel and The Brazilian Trade and Investment Promotion Agency (Apex-Brasil), showcased 12 Brazilian designers and 21 Brazilian furniture manufacturers at Milan's Piazza Santo Stefano.
Brazilian designers also could be spotted at SaloneSatellite, Salone del Mobile's celebration of rising stars under 35, and EuroCucina, the fair's biennial segment on international products for the kitchen.
Given the furniture fair's 2022 spotlight on sustainability, many products revealed socially- and environmentally-conscious decisions. Furniture that easily transitions from indoor to out and vice-versa, also shined, reflecting the South American country's climate. From chairs designed in tribute to indigenous Brazilian tribes and trees to furnishings incorporating native sustainable plantings and recycled Brazilian cardboard, here are 15 of our favorite finds.
1. Cocar by Estúdio Galho for Cabanna Moveis
In tribute to indigenous Brazilian tribes, the noble Cocar—or headdress—outdoor armchair by Estúdio Galho recreates nature's elegant feather with metal frames strung with hand-woven nautical rope.
2. Typology of a Second Life by Rodrigo Silveira
A reminder that "wood comes from a living tree," according to the designer the Tipologia de uma Segunda Vida (Typology of a Second Life) chair is composed of five planes of Itaúba wood. The chair was one of six works demonstrating the journey from raw timber plank to chair featured in an exhibit by the same name at Casa de Vidro, Italian-Brazilian architect Lina Bo Bardi's iconic Mid-Century house in São Paulo.
3. Âmago by Domingos Tótora
Âmago, a series of vessels by Domingos Tótora, are created from cardboard boxes the artist collected from his home town in Brazil. Mixed with water to form a pulp, the cardboard is then hand-molded, dyed with natural pigments, and dried in the sun. The finished result is a nod to the wood the material originates from—hence the name which means 'essence' or 'soul' in Portuguese.
4. Lanati by Zon Design for Tramontina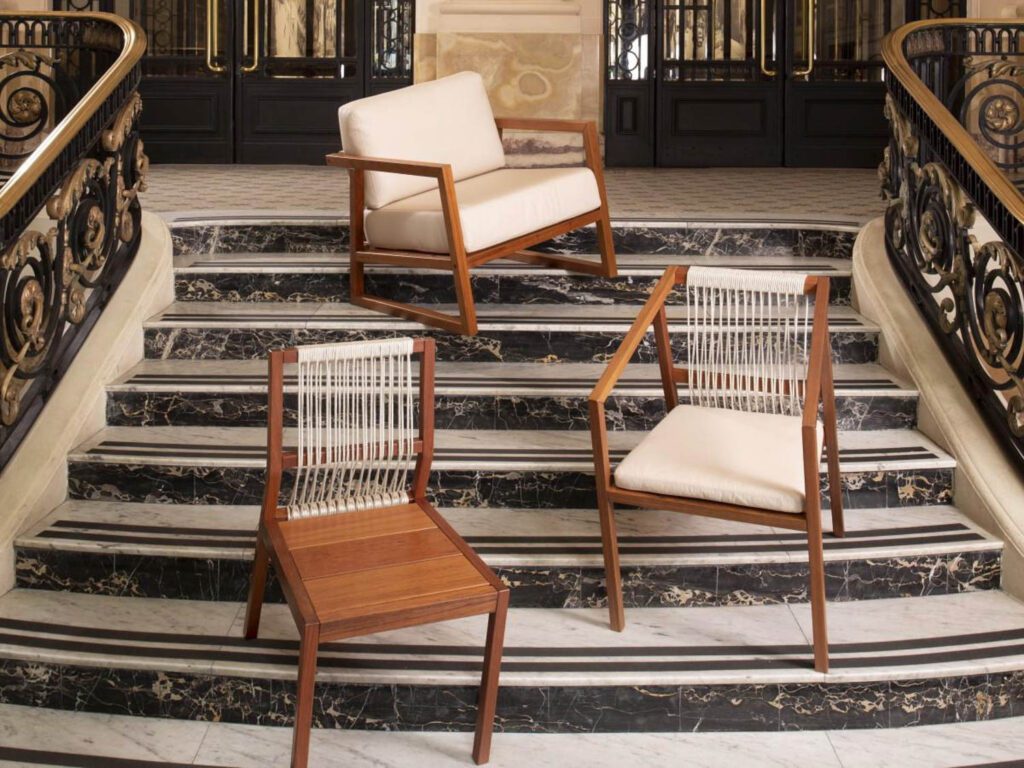 A hand-woven rope adds backrest—and artisanal merit—to the Lanati ('nature' in Portuguese) armchair by Zon Design. Its resin-finished wood frame is a FSC-certified Brazilian hardwood, the resilient jatobá. The collection also includes a two-seater sofa with a wood backrest.
5. CIÇA by Tavinho Camerino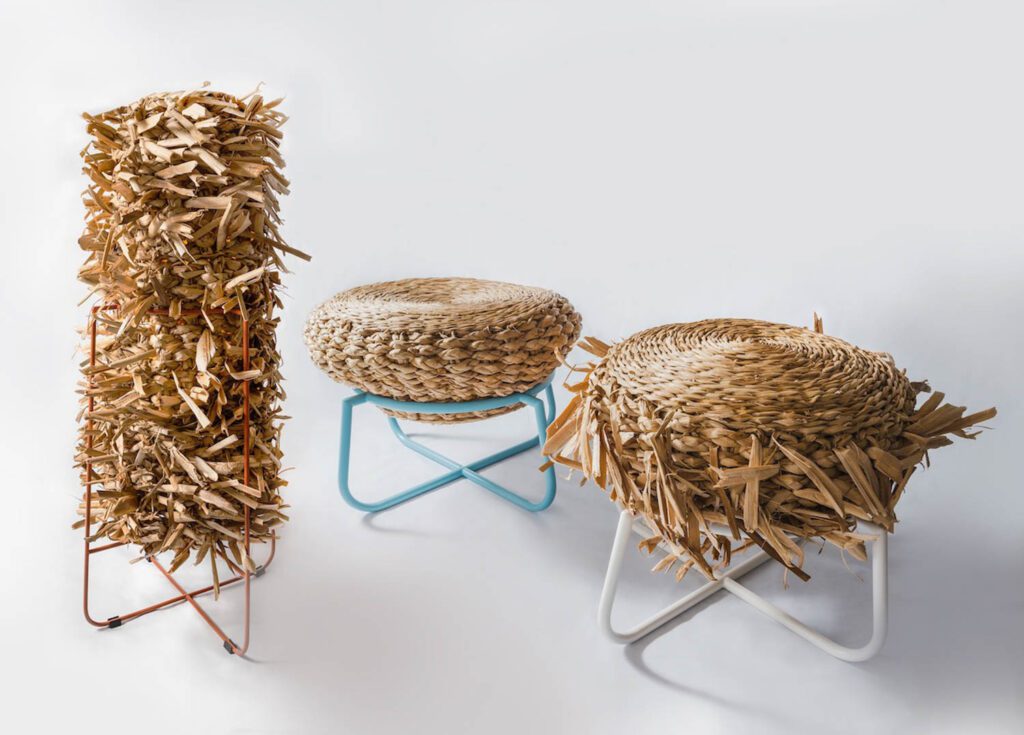 Traditional craftworkers from Brazil's northeastern Alagoas region wove the seats of the aluminum and Taboa straw fiber CIÇA seating collection by Tavinho Camerino, featured in SaloneSatellite. Upon harvesting the native plant—and rapidly renewable sustainable material—from the banks of the river, women in the coastal city of Feliz Deserto then dry and braid them for baskets, bags, and other everyday household items.
6. Roots by Pedro Franco for A Lot of Brasil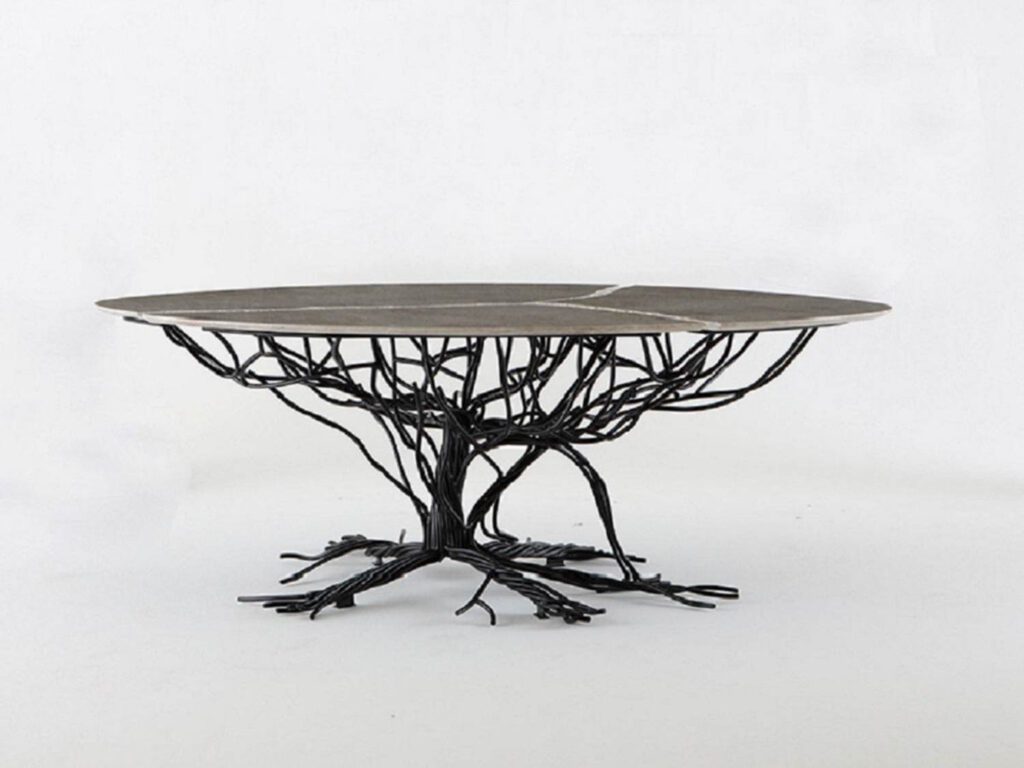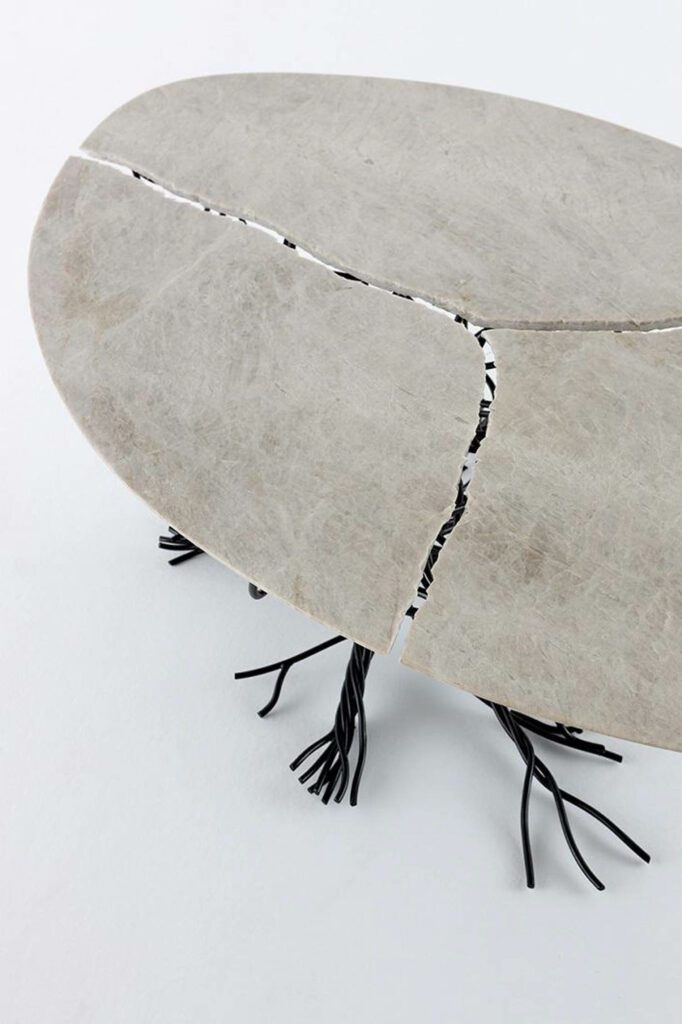 Rock formations dating back some 600,000 years are visible in the three segments of the hand-cut Brazilian stone top of the Roots dining table by Pedro Franco, which rests on a base of braided wire. Inspired by the beauty of imperfection, celebrated in the Wabi Sabi philosophy, the table is part of the Kintsugi collection, which also includes chairs, sideboards, and rugs.
7. Smooth by Matteo Cibic for St. James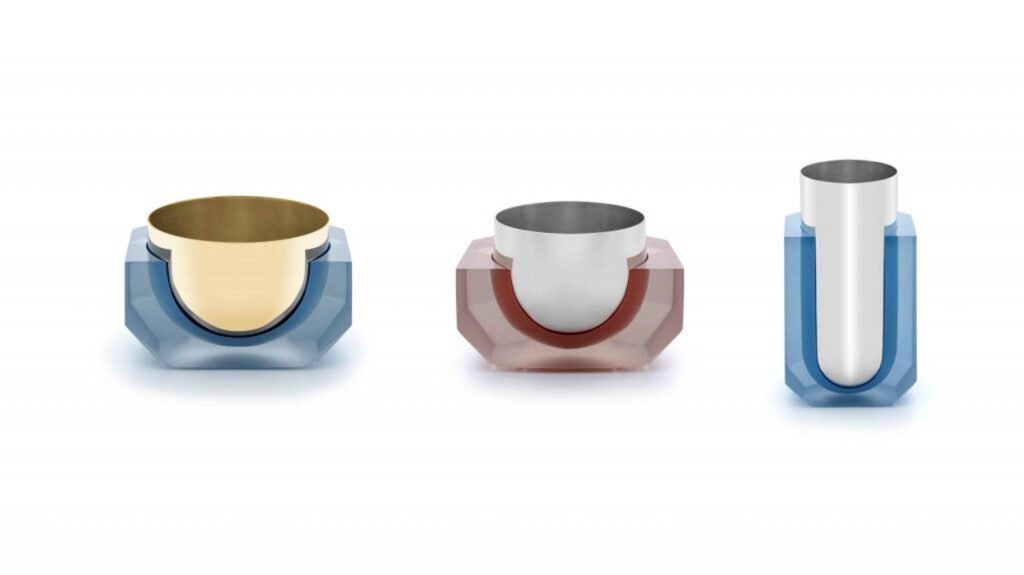 With the goal to create an "object floating in the air as if by magic," Matteo Cibic conceived the decorative vase collection Smooth, transforming a transparent volume into colorful object. The silver and brass volumes rest on a thin layer of color applied to transparent resin.
8. Shaker by Ricardo Bello Dias for Ornare
Each wood door in the FSC-certified wood Shaker kitchen by Ricardo Bello Dias has a wood frame—a design detail that highlights the rich grain of the natural material. The kitchen's name salutes the distinctive spare furniture developed by the religious group founded in England in the 18th century.
9. Vaivem armchair by Zanocchi & Starke for Mestre Artesão
Woven abrasion-resistant synthetic fiber rope merges structure and form with the Vaivem armchair by Zanocchi & Starke. The hardy armchair—and the rest of the modular Vaivem outdoor collection—easily transitions from inside to out and is offered in several colors and materials.
10. Jeri by Giorgio Bonaguro for IBTW
Jeri, an upholstered aluminum sofa by Giorgio Bonaguro, captures the curve of a wave. It's part of a modular outdoor collection—also including armchairs and tables—designed with a nod to the small beach-front Brazilian village of Jericoacoara and the geometry of modernist architecture.
11. Alfa by Studio Alfaia for Cabanna Móveis
Knitting and rope detail evoke maritime life in the aluminum frame of the Alfa outdoor furnishings collection by Studio Alfaia. Continuing the boating theme, Cumaru hardwood accents are treated with a matte varnish used in the nautical industry.
12. Laguna by Aciole Félix for Uultis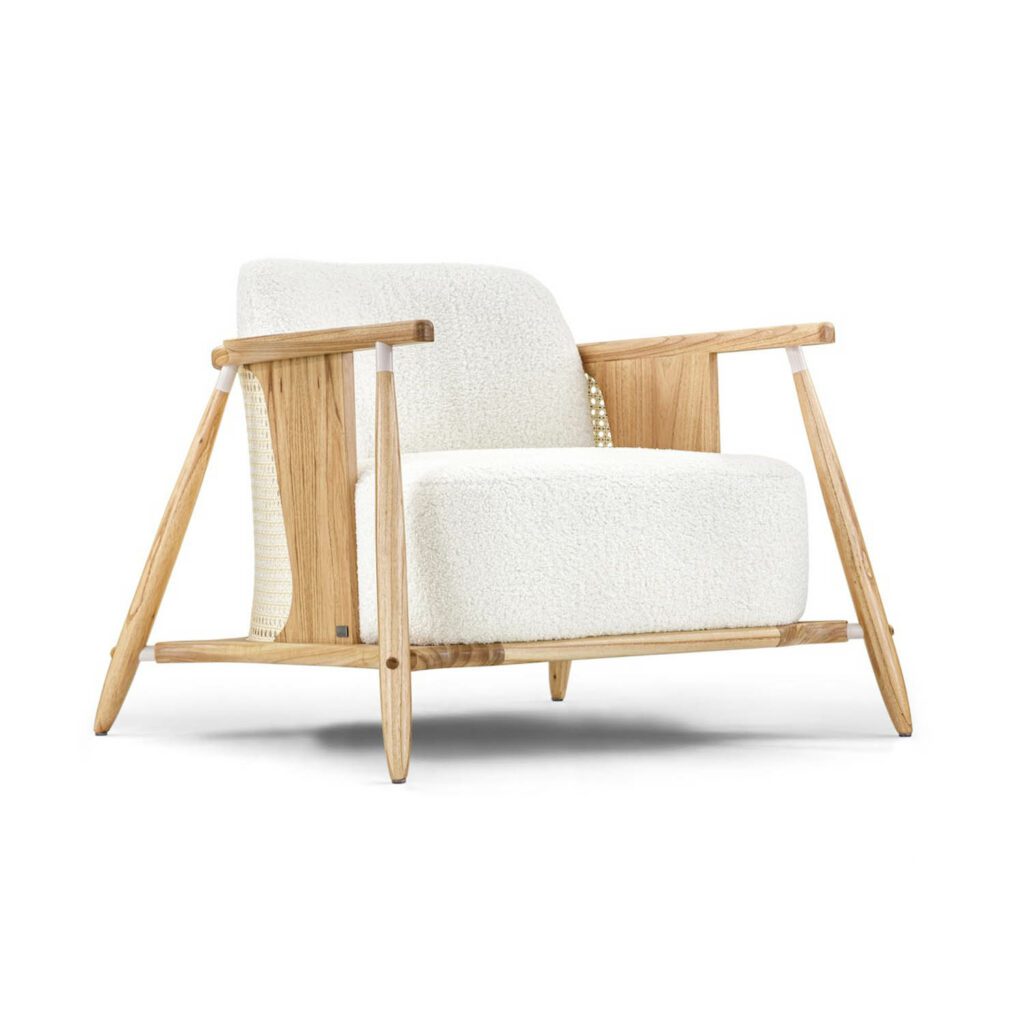 A union of metal, certified wood, fabric, and natural straw topped off by a generous cushion, the Laguna armchair by Aciole Félix is easily customized.
13. Painho by Rosenbaum & Fetiche for Tidelli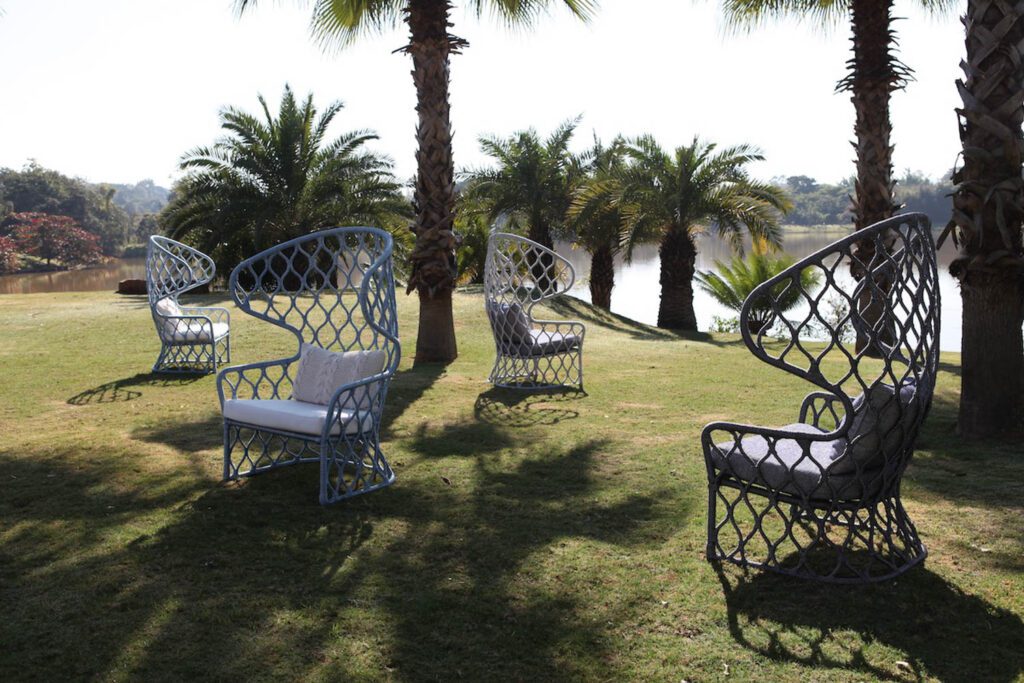 Dialing down on that exact hue can only raise the bar in the garden. The hand-woven polyester nautical rope and aluminum composing Painho, an outdoor club chair by Rosenbaum & Fetiche, is available in 49 colors.
14. Pipa by Mula Preta for Modalle Móveis
A nod to a famous white-sand beach next to city of Natal, the capital city of state of Rio Grande do Norte in Brazil, outdoor armchair Pipa by Mula Preta draws from the silhouette of kites used by kite surfers for its curved back.
15. Mandacaru by Estevão Toledo for Breton
A species of tree-like Brazilian cactus common to the vegetation of the country's northeast is behind the name and inspiration of the native hardwood Mandacaru table by Estevão Toledo. The table is offered in two sizes.