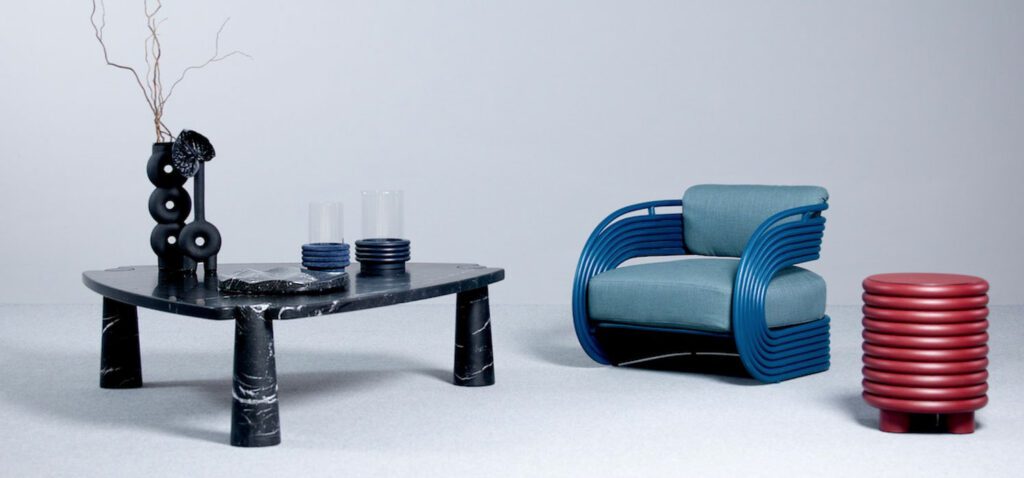 15 Furnishing Highlights from Dubai Design Week 2021
Opportunities to showcase contemporary design in the Middle East are few and far between, so all eyes are on Dubai this week. From November 8-13, Dubai Design Week returns, with Downtown Design (focusing on far-flung international furnishings) and The UAE Designer Exhibition 2.0 (focusing on 25 rising local talents) among the over 200 events, installations, and exhibitions on view throughout the most populous city of the United Arab Emirates. From a chair that is a physical commentary on the digital universe to a carpet with a motif familiar to Peruvians to a deconstructed candle holder, here are 15 of our favorite finds.
Sorted Pixel by Are Gallery
In contrast to its traditional construction, the made-to-order Sorted Pixel chair by Are Gallery is a play on the digital universe—its seemingly pixelated form is painstakingly built by hand from walnut with epoxy and mother-of-pearl detailing.
Hallucinations: Organic Forms Locally Grown by DesignKraft
The eye-arresting Hallucinations: Organic Forms Locally Grown, a collection of modernist and colorful furniture and lighting by DesignKraft, is produced in the UAE from strictly locally-sourced materials.
Peru: Rainbow of Cusco by Katia Santillán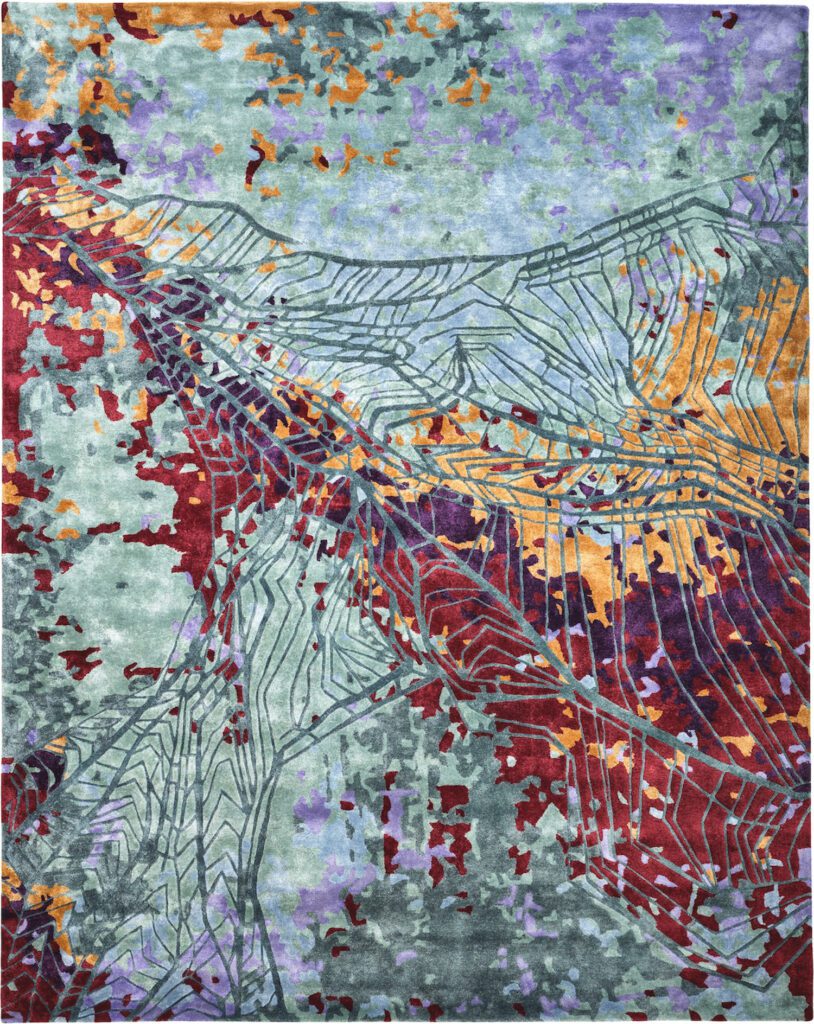 Squint at Peru: Rainbow of Cusco by Katia Santillán for Hands Carpets, an eight-by-ten-foot carpet hand-tufted from 100% bamboo silk, and you might see Peruvian mountain ranges. It's part of One Love, a collection based on motifs that reimagine familiar cultural elements around the globe.
Leaf by Dániel Máto
Dániel Máto channeled nature's geometry for palm leaves for his Leaf pendant light for Loomiosa. Anodized and painted aluminum tubes form the lightweight and distinctive outer shade.
Drinks by Adnan Ihsan
An exploratory look at wood texture gave rise to Drinks, a pair of wood side tables designed for small spaces by Adnan Ihsan. The tables were featured in the UAE Designer Exhibition 2.0, dedicated to rising design stars in the UAE.
Playtime Totems by Hala Matta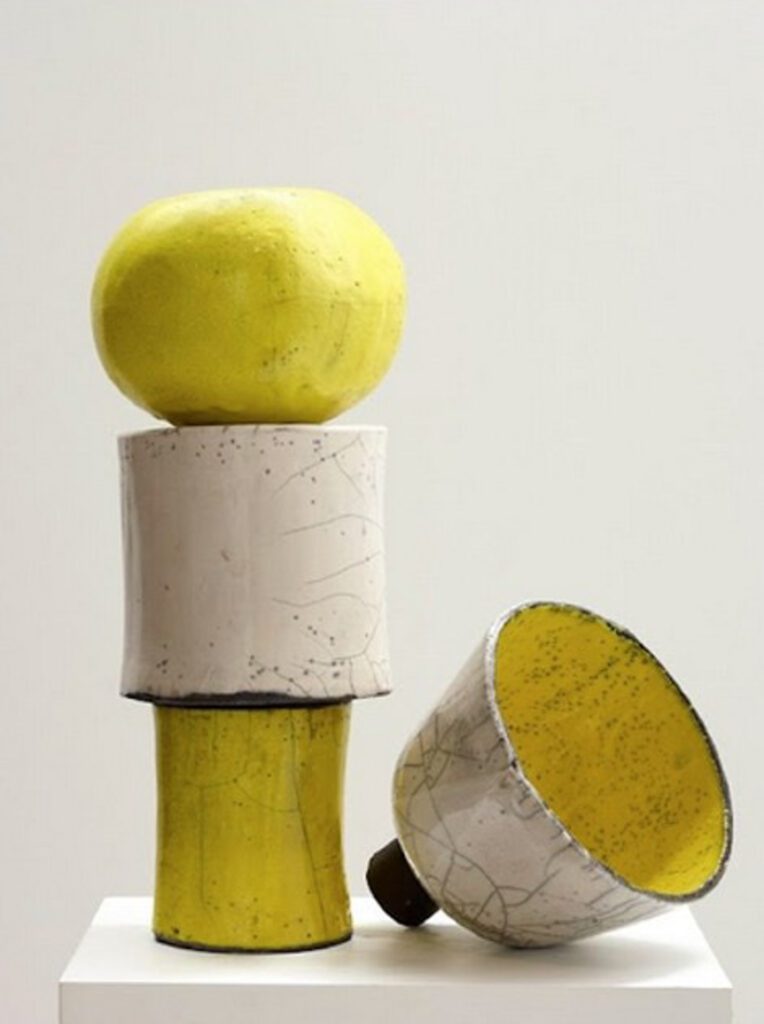 Playtime Totems, two decorative ceramic totems by Hala Matta for Namika Atelier, are made of stackable functional pieces: the chalice, box with a bronze lock, and plate can be used on their own. The artist used Raku firing to create each piece, a technique she learned in Greece.
A Lover's Discourse by Nathalie Khayat
Candles melt along the shape of A Lover's Discourse by Nathalie Khayat, adding to the sculptural quality of a piece which deconstructs the candle holder without eliminating its function or promise of gathering and ceremony. The distinctive glaze is achieved via Raku firing.
Hatch by Bodin Hon and Dilara Kan
Discarded eggshells are reclaimed for the LED Hatch pendant light by Bodin Hon and Dilara Kan for Studio Yellowdot. Its form—crafted from delicate, thin, and semi-translucent eggshells arranged by hand in resin with hand-turned polished brass casing—is inspired by heat lamps used for incubating chicks.
 "The Shape of Things to Come" at Gallery Collectional
Dubai now has its first collectible design gallery. For its inaugural exhibition, Gallery Collectional presented "The Shape of Things to Come," focusing on boundary-pushing designs and pairing one-off and limited-edition commissioned pieces with iconic works from around the globe. Shown is the Eros table by Angelo Mangiarotti, the Nastro Armchair by Joe Colombo, and the Scala stool by Stephane Parmentier.
Mirage by Sabine Marcelis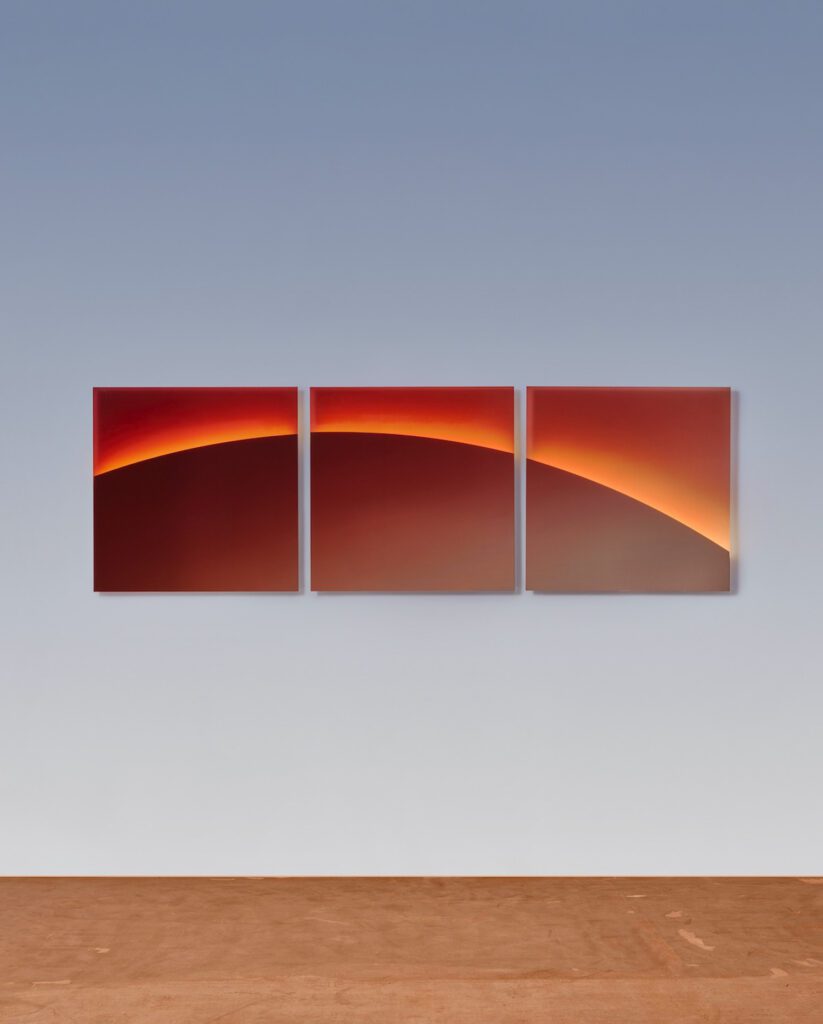 The Mirage mirror by Sabine Marcelis is one of the commissioned pieces featured in the "The Shape of Things to Come." With an integrated light element, the mirror pays homage to Dubai's city lights or the sun reflecting off of desert sand. The Mirage collection includes an additional mirror and a table.
Loop by Farah Ahmed
Leather-like loops of wood form the legs of the Loop chair by Farah Ahmed, featured in the UAE Designer Exhibition 2.0.
Together by Jotun
Pop-up space "Together" by Norwegian paint manufacturer Jotun presents the paint collection by the same name, featuring 28 complementary colors. The cabinet here is painted Summer Sun.
Unearthed by Mehiar Bitari
Designer Mehiar Bitari examined tectonic and organic structures to conceive Unearthed, a three-legged interlocking wood chair.
Baloo by Mary-Lynn and Carlo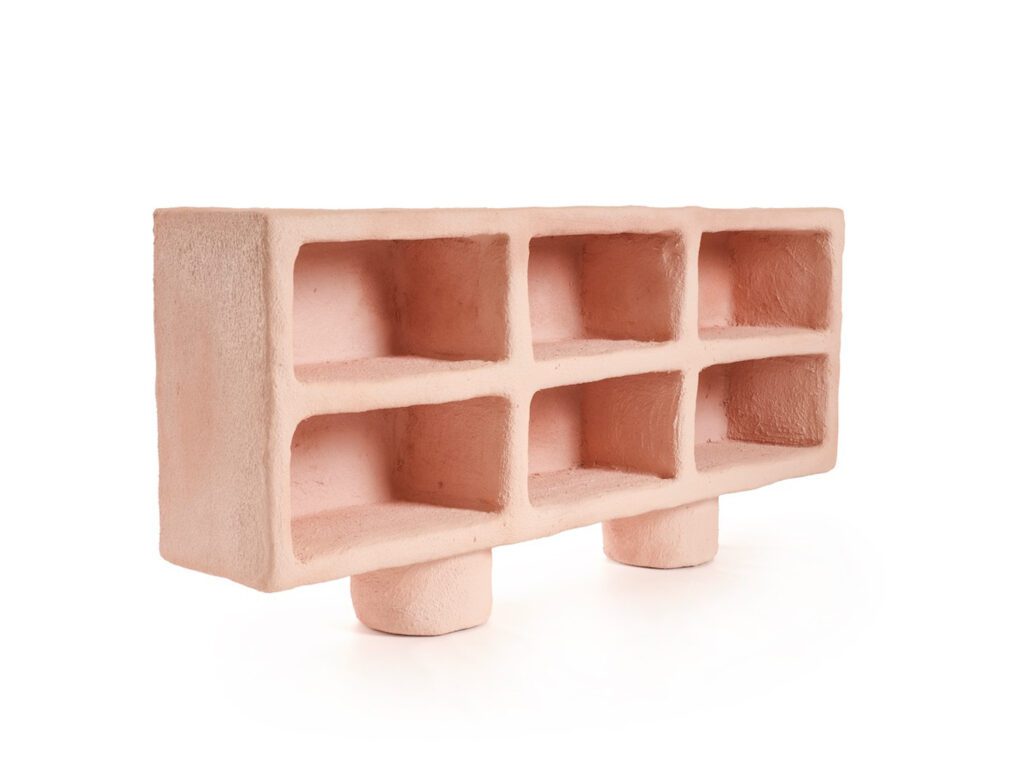 A buffet stand in rose pink high-density polystyrene and reinforced colored concrete, Baloo by Mary-Lynn and Carlo is suitable for indoors and out. It is featured in The Beirut Concept Store, a pop-up celebration of Lebanese design by 50 talents based in Lebanon, both emerging and established.
Gene and Spike by Omar Al Gurg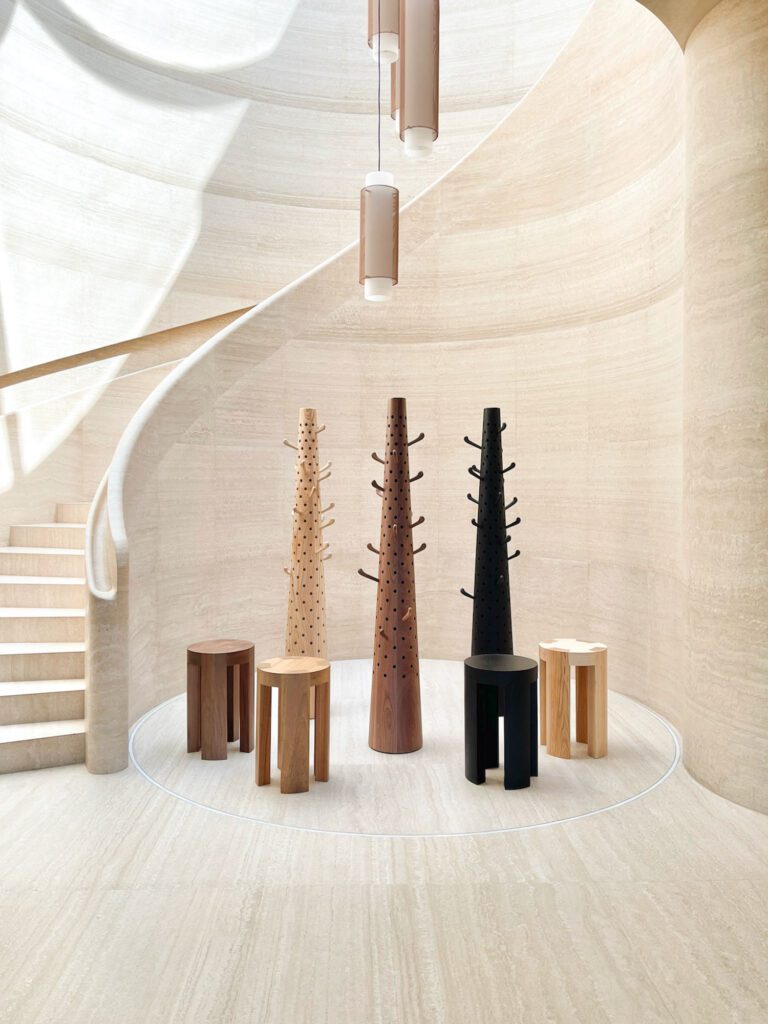 Pegs in the Spike flexible coat rack by Omar Al Gurg for Modu can be easily swapped around. Like the Gene stool, also shown, it's crafted from solid wood.