15 Highlights from Stockholm Design Week 2020
Slim and minimalistic—as descriptors go, these two can be overused when describing Scandinavian design. But how can we complain about an ethos that is always current? With more than 400 design-related events citywide, Stockholm Design Week 2020 took place last week, complementing the 700 exhibitors gathered under one roof for the Stockholm Furniture & Light Fair, held February 4–8. From bedroom furnishings that don't creak to textiles tapping ocean trash to a chair employing rope for unexpected adaption, here are 15 of our favorite finds.
1. Appaloosa bed bench by Bernadotte & Kylberg for Hästens
The silent treatment in the bedroom can be a good thing—when it's given to the furniture in use there. With a nod to cubism in the geometry of its ash construction, the Appaloosa bed bench is designed by Bernadotte & Kylberg for bed brand Hästens with an innovative quiet-hinge shutting system that prevents unwelcome noise in the night. Hästens first venture into furnishings, the collection also includes a nightstand.
2. Soft Top benches by Brad Ascalon for Skandiform
Bench seating just got a little cushier with the addition of three new benches to the Soft Top seating series by Brad Ascalon for Skandiform. Lacquered metal frames are fitted out with round and slim seat cushions—either individual or shared—with one bench adding the convenience of its own tabletop. The collection's new additions also include two new bar stools.
3. Oceanic textile from Camira Fabrics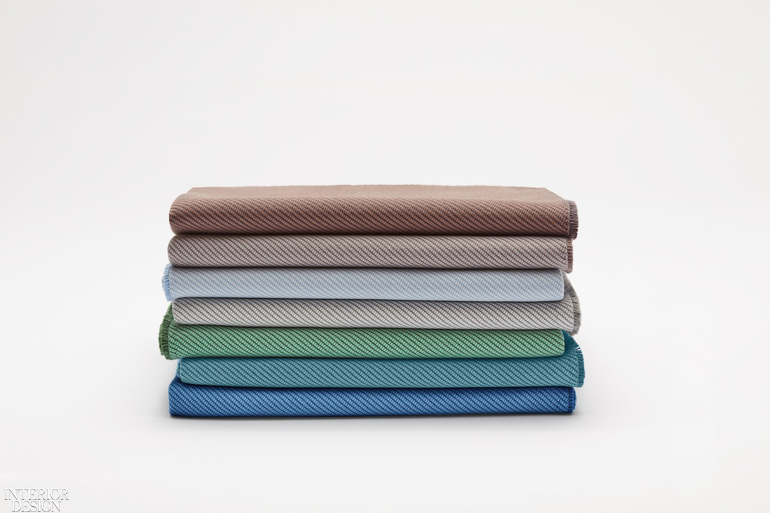 Sea garbage is a global problem, and Camira Fabrics aims to do its part. The manufacturer has teamed up with the Seaqual Initiative to present Oceanic, a textile woven from 100 percent certified recycled PET plastic—50 percent of it sustainable Seaqual yarn. Thanks to the collaboration, for every 13 feet of Oceanic sold, 2.2 pounds of PET plastic waste is removed from the world's oceans. Designed by the Camira's in-house team, Oceanic has a diagonal twill weave in 16 color ways—drawn from the ocean and its landscape.
4. Powder vases by Jenny Nordberg for Hem
In its new headquarters, Hem unveiled Powder, a signed, limited collection of sheet metal vases by Jenny Nordberg. Just 15 vases—which Nordberg folds and welds by hand—are offered, each in three different shapes.
5. The Rope chair by Ronan & Erwan Bouroullec for Artek
Allowing unexpected dynamic movement and adaption, rope goes through the tubular steel frame of the Rope chair by Ronan & Erwan Bouroullec for Artek.
6. Roadie by Massproductions
Fences and light riggings spotted at rock concerts gave rise to Roadie, a curved, stackable three-seater sofa geared for outdoor use. Designed by the in-house team at Massproductions with late-night repositioning in mind, Roadie's aluminum frame is only 35 pounds—light enough for one person to move.
7. "Temple of Sound" installation by Baux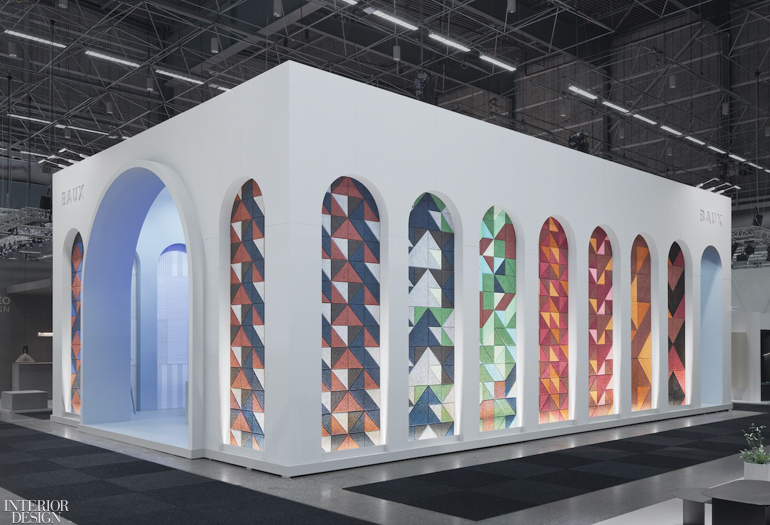 "Sound now is where light was 10 years ago," says Baux founding partner Jonas Pettersson on the science behind sound's influence on day-to-day human life. To show off its sustainable acoustical panels and launch "The Book of Acoustics," a new book on the topic, the manufacturer presented "Temple of Sound," an installation designed by Johan Ronnestam in collaboration with the design studio Form Us With Love. Notably quiet, the installation featured Baux's Wood Wool and Acoustic Pulp panels in a contrasting mix of light and dark hues.
8. Stones by Espen Voll, Tore Borgersen, and Michael Olofsson for Vestre
Stones, a collection of steel and wood seating modules by Espen Voll, Tore Borgersen, and Michael Olofsson for Vestre, allows the creation of flexible outdoor seating environments with three modules available in two heights.
9. Vestre stand by Note Design Studio
With its striking yet sustainable design, Vestre's booth by Note Design Studio scooped up Best Stand 2020 at this year's Stockholm Furniture & Light Fair. All materials—hollow tile, pine plywood, stone, and plastic —can be completely reused or recycled.
10. Bobby by Bla Station
Attraction is physical with the Bobby modular seating collection by Stefan Borselius and Thomas Bernstrand for Blå Station. Thanks to strong magnets integrated within the frame, flexible seating modules stand alone or snap together to create a sofa.
11. Magic Garden by Sacha Walckhoff for Rosenthal
"I use a lot of flowers in my work—and while these are understated, they all have healing properties," notes Sacha Walckhoff on the floral motifs in his new porcelain plate series for Rosenthal. The series includes three collections—Black Seeds, Foliage, and Blossom—intended to be mixed and matched.
12. MO Series of lighting by Mads Odgård for Carl Hansen & Son
"Really it's just a half circle and a piece of metal—and actually, it takes a lot of courage to do something so simple," admits Mads Odgård on his MO Series of lighting for Carl Hansen & Son. Fabricated from black- or white-lacquered steel, the collection includes a wall lamp, a floor lamp, a table lamp, and a pendant lamp.
13. Epic table by GamFratesi for Gubi
The natural beauty of travertine stone is celebrated with the Epic table by GamFratesi for Gubi. The designers looked to Greek columns and Roman architecture for Epic's geometrical pairing of a hexagon and a circle.
14. The Sculptor's Residence by Dux and Menu in collaboration with Norm Architects
A Stockholm apartment was transformed into the imagined home and atelier of an artist for the installation "The Sculptor's Residence" by Dux and Menu, in collaboration with Norm Architects. Sculptures by Nicholas Shurey, limestone and marble podiums by Östersjösten, and dolomite plaster plinths by St. Leo stand alongside furnishings such as the Eave Dining sofa by Norm Architects for Menu.
15. Pantonova seating system by Verner Panton for Montana Furniture
The 1971 seating of choice of the evil shipping tycoon in the James Bond film "The Spy Who Loved Me" returns as a reissue from Montana Furniture. With three steel wire modules, Pantonova is a flexible indoor-outdoor seating system that can be mixed and matched for new variations. "You can make an open circle around a tree or lamp," notes Montana CEO Joakim Lassen.
Read next: 10 Highlights from ZONAMACO Diseño 2020