15 Highlights from the 2021 La Biennale di Venezia
"How Will We Live Together?" So asks this year's La Biennale di Venezia. The 17th edition of the architecture exhibition, postponed in 2020, is now underway in Venice, and post-pandemic, this question—startlingly prescient—takes on new meaning.
Through November 22, 112 participants from 46 countries explore the topic with highly diverse results. Sure, it's living with fellow humanity, but what about co-existing with animals, birds, and the earth? From edible algae you can grow in your own home to a device encouraging short, spontaneous napping, to a dual-purpose sculpture that is also a bird house, here are 15 of our favorite finds.
1. "Bit.Bio.Bot: A Collective Experiment in Biotechnological Architecture"
A healthy, sustainably sourced snack you can grow in your own home is one way to start off your journey through the Biennale. At "Bit.Bio.Bot: A Collective Experiment in Biotechnological Architecture," an installation by EcoLogicStudio which recalls a mad laboratory, freshly harvested algae is on offer. Shown here, housed in a lab-grade borosilicate glass and 3D-printed PLA bioplastic, is spirulina platensis within a jelly-like medium and floating in liquid.
2. "Variations on a Bird Cage"
A reflective bird house is a functional sculpture that stretches several feet high in "Variations on a Bird Cage," by Studio Ossidiana. Exploring the coexistence of humans and birds, the exhibition presents several transformative ways the two species can live together.
3. Pavilion of Germany
It's been a digital year, and Germany aims to keep it that way—at least at their Venice pavilion. This year's German Pavilion consists of only empty, white-painted walls stamped with a few barcodes. What will the world be like in 17 years? Leading to digital content including a series of short films, "2038: The New Serenity," initiated by Arno Brandlhuber, Olaf Grawert, Nikolaus Hirsch, and Christopher Roth, examines a not-too-distant future.
4. "Three British Mosques."
London's architecture has, at times, crossed religious and social divides and one particular building has served as church, synagogue, and mosque. This example—as well as a former pub—are among three adapted mosque spaces in the capital city that are the focus of "Three British Mosques." Carpeted like a mosque, the installation by author and architect Shahed Saleem is presented by La Biennale di Venezia and The Victoria & Albert Museum.
5. "Catalog for the Post-Human" by Parsons & Charlesworth
A fictional shopping experience peddles products of the near future in the mixed-media exhibition "Catalog for the Post-Human" by Parsons & Charlesworth. One such ware, the Sleep Snacker, encourages short, spontaneous napping.
6. "Ego to Eco" by Effekt Architects
A tiny forest of 1,200 living tree seedlings flourishes in the installation "Ego to Eco" by Effekt Architects and curated by Hashim Sarkis. Following six months of growth, the seedlings will be planted in urban areas of Denmark as part of a carbon off-setting program.
7. "Museo Aero Solar For an Aerocene Era"
Anyone with plastic trash and internet access can reach new heights in a sun-powered air balloon through a project by Tomás Saraceno. Presented by his non-profit organization the Aerocene Foundation, "Museo Aero Solar For an Aerocene Era" presents a flying sustainable sculpture made of discarded and then fused together plastic bags. Initiated in 2007, the project includes online instructions.
8. Pavilion of the United States of America
In the 19th century United States, wood-framed construction met the demands of a westward population expansion. A built addition to the existing U.S. Pavilion, "American Framing," examines this construction system and reflects on its permeable architecture. Co-curated by Paul Preissner and Paul Andersen, the project was organized by the University of Illinois Chicago.
9. Pavilion of the United Kingdom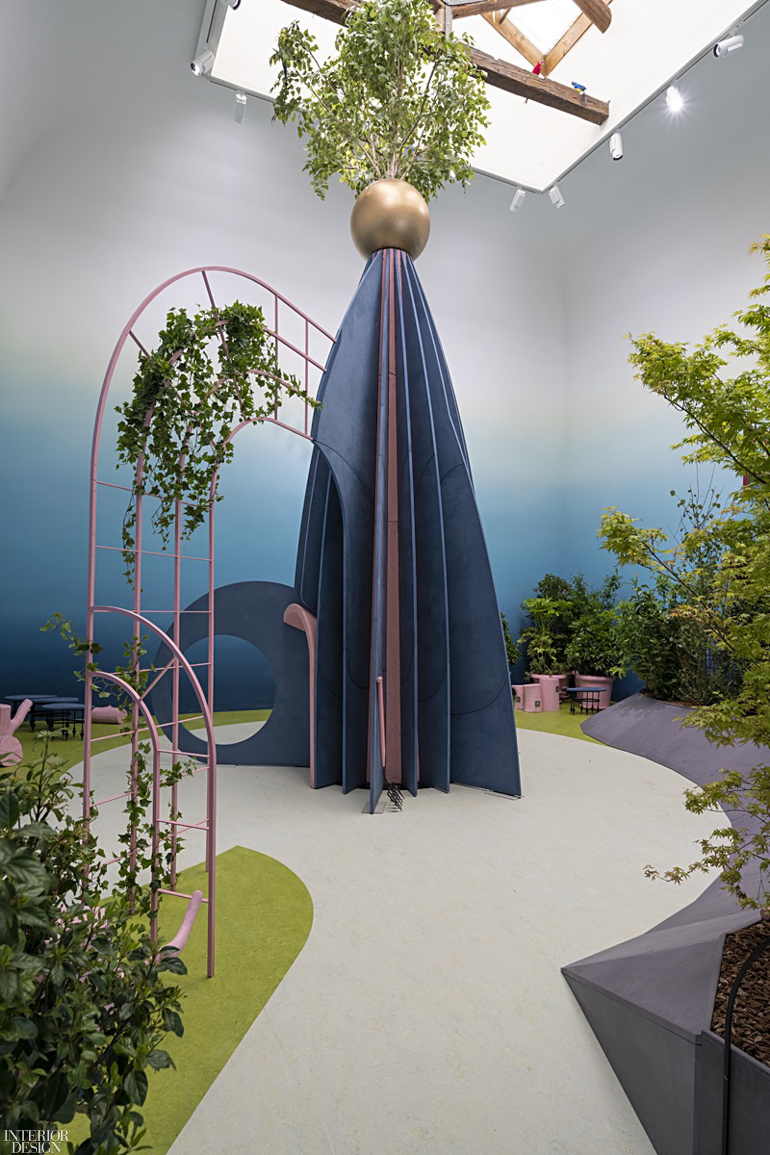 The pandemic underlined the importance of accessible outdoor space, yet what about privately owned public space? At the U.K. pavilion, "The Garden of Privatised Delights" examines this tangled issue with a whimsical garden that is a nod to a 15th century oil painting, The Garden of Earthly Delights by Dutch artist Hieronymus Bosch. The pavilion is curated by Manijeh Verghese and Madeleine Kessler and presented by the British Council.
10. "Refuge for Resurgence"
Humans, animals, birds, and fungi are all on the guestlist at "Refuge for Resurgence," a dinner party by Superflux focusing on a future "that is more than human," according to the video trailer. An oak table and tree-stump seating sets the stage in the installation, which also incorporates reclaimed waste such as discarded plastic, circuit board, and salvaged metal.
11. Pavilion of Nordic Countries
Architecture firm Helen and Hard built a full-scale selection of a co-housing space drawing from their recent co-living project Vindmøllebakken in Stavanger. Driven by three zones—private, semi-private, and common—the concept draws from a model developed in Nordic countries in the 1970s that combines self-ownership and independent housing units with shared functions and community life.
12. Pavilion of Spain
The idea of being buried in paperwork takes on new meaning with "Uncertainty," crafted from thousands of sheets of paper, at the Spanish Pavilion. Actually a "cloud" of portfolios, the installation underlines the difficult process an architect has in getting work realized.
13. "A.I. Toys Shapes and Ladders"
A maternity suit woven from silk organza is featured in "A.I. Toys Shapes and Ladders: Battles of Bias and Bureaucracy Maternity Menswear," an exploration of systemic racism and sexism in the workplace by Ani Liu. The installation also includes a video game "designed to reflect real life inequalities," according to the artist.
14. "Silk Road Works"
Dummies dressed in construction worker uniforms are arranged in symbolic poses in the installation "Silk Road Works" by artist and architectural historian Azra Akšamija. The uniforms are not made of traditional materials: safety vests are silk, overalls are Venetian fabric, and hardhats are Murano glass.
15. Pavilion of Bahrain
How does a city preserve its heritage yet adapt to changing times? The historical art of pearling is the focus of a UNESCO World Heritage Site preserving three oysters beds in Muharraq, Bahrain. It's featured in "Pearling, Testimony of an Island Economy," at the Bahrain pavilion, curated by Noura Al-Sayeh and Ghassan Chemali.