15 Product Highlights from Orgatec 2018
The modern office is rapidly evolving. Instead of desks, cozily upholstered lounges and sofas abound, increasingly kitted out with electrical and charging sockets. Customizable micro-environments offer relief for the shortcomings of the open plan with sound-insulated privacy. As is essential to dynamic workplaces, sudden change and adaptations happen in a flash. Wondering about aesthetic? Think home: the line between residential and office continues to disappear. These trends dominated at Orgatec, the trade show dedicated to office design taking over Cologne's Koelnmesse exhibition center every two years. This year's event, held October 23-27, drew 63,000 visitors from 142 countries, with workplace products from some 750 exhibitors. From a foosball table requiring six players to dividers incorporating air plants to cutting-edge room sensor technology, here are 15 of our favorite finds.
1. Tuck in your elbows: Requiring one ball for six players, the Y-Kicker by Ben Beyer is a new take on the foosball table showcased in PLANT 10.1, an exhibit dedicated to thought-provoking ideas and innovative answers.
2. Proving the homey office is here to stay, Normann Copenhagen unveiled an ambitious nine launches at Orgatec 2018—the two shown here are by Simon Legald. Padded upholstery on the seat and backrest of the molded oak veneer Pad lounge adds a pillowy jolt of comfort. To create the semi-transparent cocoon-like Phantom lamp, which emits a defused glow, elastic resin is sprayed over a steel skeleton.
3. First conceived as a custom piece for the European headquarters of media powerhouse Bloomberg in London, Norman Foster's Foster 620 upholstered bench system for Walter K is composed of six seating sections which can be added, subtracted, and adjusted into virtually unlimited design combinations, from semicircle, to tight circle, to snake-like formations for large groups.
4. Once upon a time, everyone worked at a desk. That time is over. Soft Work by Edward Barber & Jay Osgerby for Vitra turns one popular working destination—the sofa—into a game-changing take on the office seating system with built-in table surfaces, power outlets, and charging stations.
5. Confetti party: That's what the striking terrazzo finish of Patricia Urquiola's desk-shelf hybrid Radical Fake for Haworth and Cappellini recalls. The 'confetti' is actually Venetian marble.
6. Just as imaginable in an office as a home kitchen, the Rotterdam-based Studio WM's Circular pendent lamp for Menu tucks away smart technology. Available in powder-coated or anodized aluminum in either a warm brushed bronze or black, the LED light allows variation of light intensity and temperature via an included app.
7. Providing sheltered microenvironments for the open office, Modular unit BuzziBracks by Alain Gilles for Buzzispace can be continually adjusted and modified with shelving and panels, worktop add-ons, and a range of accessories and options such as noise-reducing acoustic curtains from Kvadrat.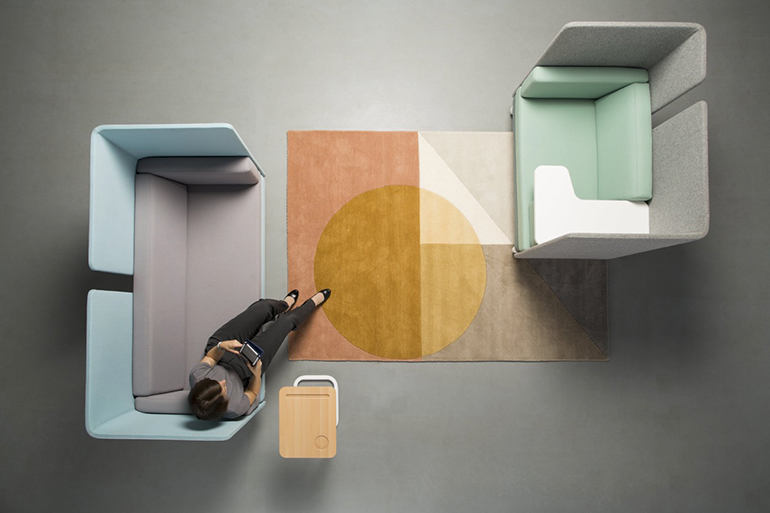 8. High upholstered panels make the Play & Work sofa by Gernot Oberfell and Jan Wertel for Nowy Styl Group a stylish sound-absorbing retreat for work or casual meetings.
9. Less labor-intensive and costly than traditional living walls yet still injecting green into the office environment, True Design and Michieli Floricoltura's Pocket Garden accessories—part of the True Green collection—frame the evergreen Tillandsia. Only the occasional mist is necessary for the air plant, which absorbs necessary nutrients and water through its leaves.
10. Conference chairs tend to be one-size fits all, meaning notoriously uncomfortable. With that in mind, Wilkhahn introduces the height-adjustable Intra chair by Phoenix Design. Not quite a lounge, it comes with automatic weight adjustment and seat cushioning as well as a fully upholstered backrest to push that comfort factor a step further.
11. The office chair of tomorrow has 360 degrees of flexibility, as a representative acrobatically demonstrated with the Pureis3 chair. Developed by Interstuhl in collaboration with design firm b4K, Pureis3 employs a polyamide/glass fiber compound allowing far-reaching bend.
12. Sensor technology is forever altering workplace management. Sedus first launched Se:connects at Orgatec 2016. With the revamped version of the digital analysis tool, developed in collaboration with tech company Kapsch, Bluetooth sensors are installed in all chairs or desks, indicating, via a few clicks of an app, when a workspace is occupied.
13. With patchwork fabric and leather piping, the Miles Ahead sofa by Sebastian Herkner for Wittmann is a graceful union of style and comfort. The collection also includes lounge, poof, and tables of varying heights.
14. Developed using automotive manufacturing techniques, the hard-wearing yet light 1 Inch All Aluminum by Jasper Morrison for Emeco is fabricated from 80 percent recycled aluminum.
15. Ideal for easy setup of large events, the polypropylene Stacy chair by Lievore Altherr for Arper can be stacked 40 chairs high on a dedicated trolly. Muted colors channel materiality: think brick, rust, sandstone, marble, and iron.