15 Young Design Talents to Watch from Salone del Mobile
Fresh new talent shined in Milan last week, whether it was at exhibitions across the city or at SaloneSatellite, furnishing fair Salone del Mobile's prestigious platform for young designers. This year's rising stars were bursting with both innovative and original ideas—many in bold, vibrant color. From a stylish robotic band that plays Mexican songs to room dividers that contain a room's furnishings to a seating system inspired by ants, here are 15 ideas by youthful firms and designers to watch.
1. RoboKumbia
A clear show-stopper at SaloneSatellite, RoboKumbia is a collection of robots that can play Mexican songs on percussion instruments, marimba, bass guitar, and a synth. The stylish robotic band is the result of an academic project by the Industrial Design School at the Instituto Tecnológico y de Estudios Superiores de Monterrey, Mexico City Region, which asked students to speculate what technology would look like if conceived within a Mexican-Urban context.
Read more: Full Coverage of Milan Design Week 2019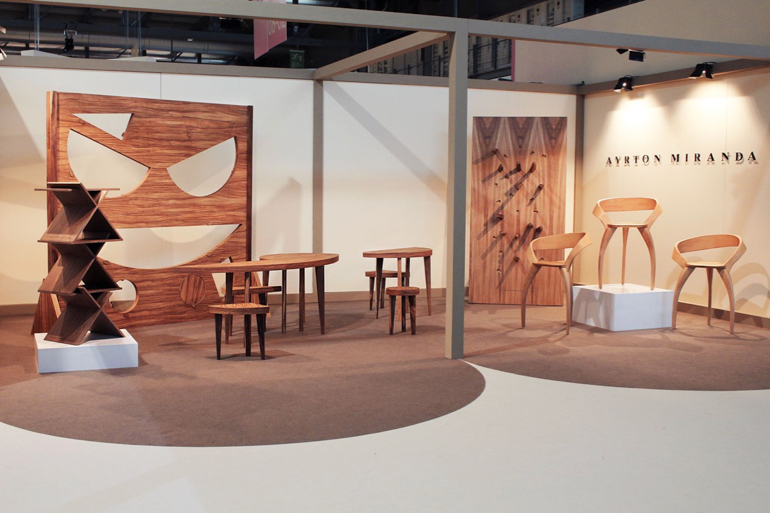 2. Monstrous by Ayrton Miranda
Two sculptural room dividers provide all a room's furnishings needs with the Monstrous wall by Ayrton Miranda. One wall provides the legs; the other, seats for stools and table and desk tops—as seen at SaloneSatellite.
3. Kobe Leather by Kuli-Kuli
First prize recipient in the SaloneSatellite awards, Kobe Leather from Japanese firm Kuli-Kuli repurposes unused leather from the Kobe beef industry.
4. Plizé by Hanna Anonen
With lusciously bold color combinations and spherical knobs, Hanna Anonen gives striking personality to her serrated surfaced Plizé box collection, presented at SaloneSatellite.
5. Meneghina by Alberto Casati
Alberto Casati's love for Italy's capital city and the Futurist movement brought the playful Meneghina ("from Milan" in Italian) desk and chair to life—another example of bold color seen at SaloneSatellite. While the desk's built-in storage recalls a skyline, the chair's shape is inspired by Duomo di Milano, the city's prominent Gothic cathedral.
6. Halo by Philipp Hainke
The result of a research project, the hemp and casein seat on Philipp Hainke's stackable steel Halo chair is both lightweight and sustainable. Presented at SaloneSatellite, Halo took home runner-up in the SaloneSatellite awards.
7. Jonas by Aberjung
The Jonas stained larch wood cabinet-desk by Aberjung, as seen at SaloneSatellite, serves both functions in one sleek form, which folds against a wall when not in use.
8. D'Light by ID + IM Design Laboratory
An ingenious flexible honeycomb structure allows the D'Light kinetic lamp by ID + IM Design Laboratory to transform its shape—and, as a result—quality of light. The lamp, shown at SaloneSatellite, was developed for the Nanum project, a Korean non-profit organization that provides educational scholarships.
Read more: Social Media Highlights from Salone del Mobile 2019
9. Dot Trays by David Derksen Design
Colorfully painted cavities are a graphic statement within the ash wood Dot Trays by David Derksen Design, presented at SaloneSatellite.
10. Marked by Amalia Attias
The classic student desk-chair combo earns a revamp with the steel Marked chair, which Amalia Attias hand-painted and printed with Letraset typeface. The chair was featured in "RISD X MABEO 2019," an exhibition showcasing the results of a partnership between the Department of Furniture Design at RISD and Mabeo Furniture in Botswana.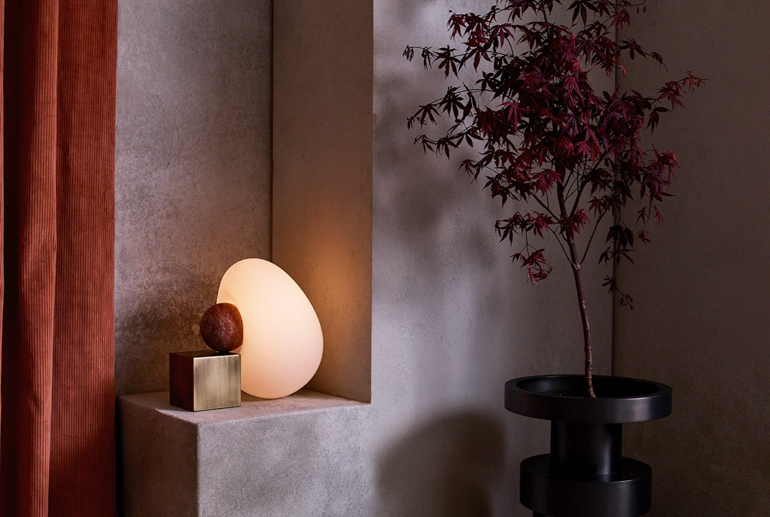 11. Dimple by Anna Karlin
With a Milan premier taking place at the prestigious Rossana Orlandi gallery, Anna Karlin presented examples from her Subverting Domestic Familiarity collection. A study on dependency, Dimple is a lamp of contrasting materials—white glass, pink Portuguese marble, and brass—all in need of each other for the lamp's form.
12. Half Moon by Norwegian Presence
Featured in "Join," an exhibition highlighting Norwegian designers organized by Norwegian Presence, the experimental Half Moon table by Tron Meyer consists of two parts, one horizontal and one vertical, in stainless steel and neon acrylic. Both the polished stainless-steel surface (mirroring both the table and its surroundings) and the neon painted back (mirroring its surroundings) draw in reflections from a room.
13. Re.Bean by Kristen Wang
The scent of coffee in the air? It could be the Re.Bean stool by Kristen Wang of Melbourne movement. An exploration of a new sustainable material—and its unique scent and tactility—the stool is fabricated from 100 percent biodegradable local coffee beans, as seen at SaloneSattelite.
14. Vessel by Hongjie Yang
Long and lean, Vessel by Hongjie Yang was featured in the Maison & Objet "Rising Talents Awards" exhibition at Rossana Orlandi gallery.
15. Blackant by Edward Nordendahl
Stools can be easily added or removed from the pine, leather, and steel Blackant seating system. Designed by Edward Nordendahl as a system that can adapt to changing environments—just like ants—Blackant was included in "The Pine Manifest," an exhibition supported by Swedish Wood by Malmstens Linköping University at Bagni Misteriosi.
Read more: 15 Innovative Lighting Products at Euroluce