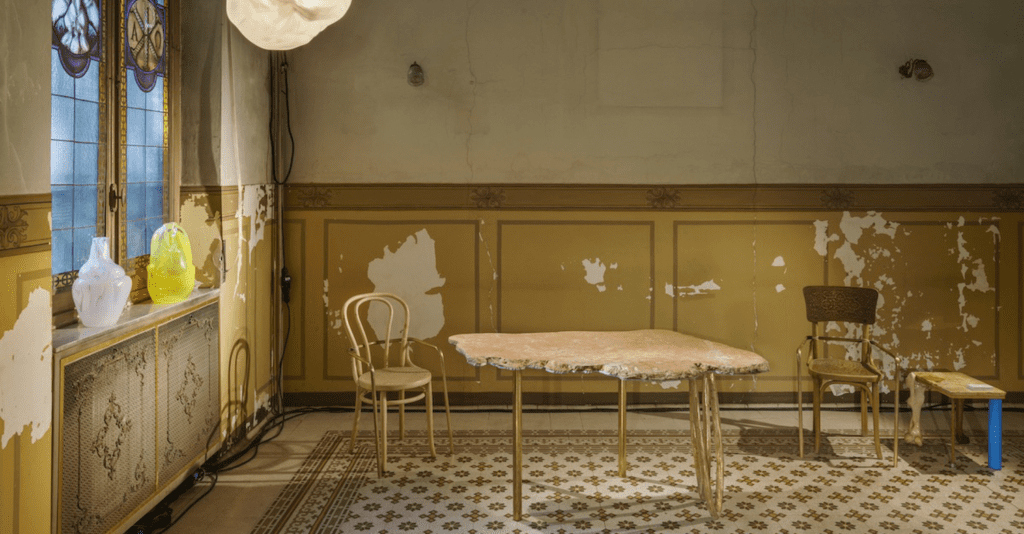 16 Exploratory Furnishings from Alcova 2021 in Milan
Temporarily over taking the vegetation-rich grounds and three tumble-down historic buildings of a Milan military hospital, Alcova 2021 was a 38,000-square-foot garden of design delight last week—and one of the most talked about offsite events coinciding with the smaller and rebranded Salone del Mobile furniture fair, Supersalone 2021.
Founded in 2018 by architecture and research studio Space Caviar and design studio Studio Vedèt, the Alcova design platform transforms neglected historical locations into temporary cultural venues, and this year the initiative was more ambitious and larger in scale. Over 50 exhibitors—including designers, brands, galleries, and cultural institutions—firmly positioned the platform on any Milan design week must-see map. From a fictional bar by Stanley Kubrick come to life to an antibacterial mesh room divider in friendly colors to dangling room jewelry, here are 16 of our favorite finds.
Moloko-Plus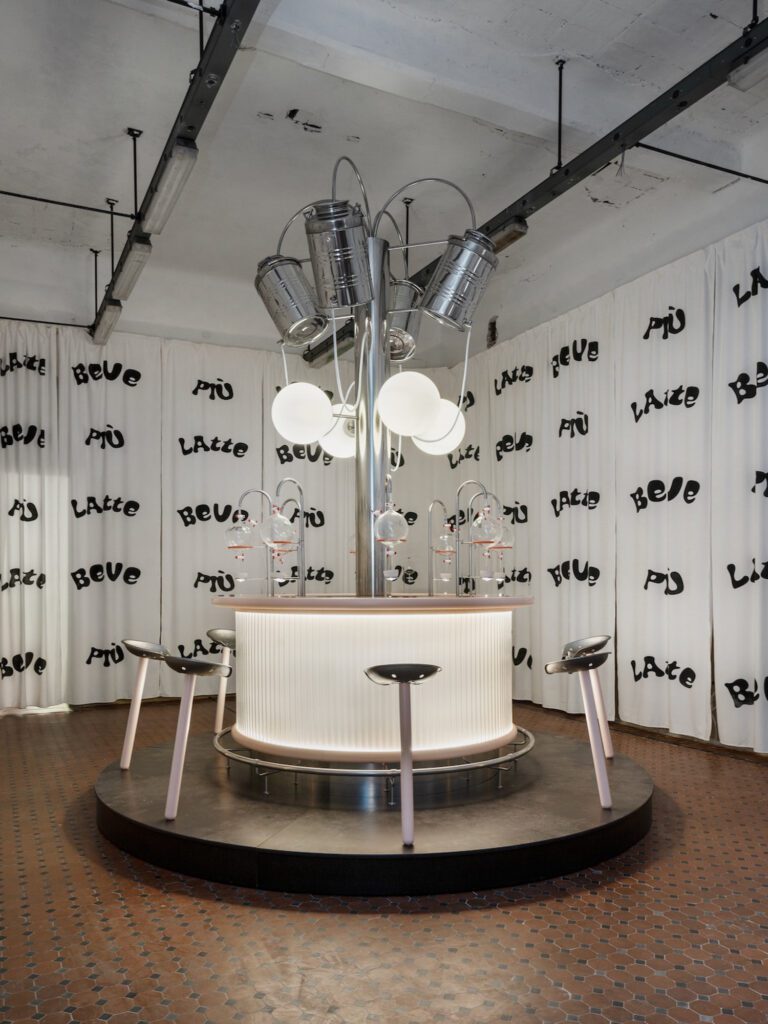 Come on in and take a seat: Soon you'll be sipping a Moloko-Plus, a hallucinogenic milk-like drink that zips from the breasts of the caryatids that make up the furniture in the Korova Milk Bar. The iconic fictional bar from Stanley Kubrick's classic film "A Clockwork Orange," comes to life, rendered in monochrome metal, with "Herbarium of Interiors Case Study #2: The Milk Bar," designed by the Masters of Arts students in Interior Architecture at HEAD – Genève, Geneva University of Art and Design. The installation was curated by India Mahdavi.
Mesh Virus-Control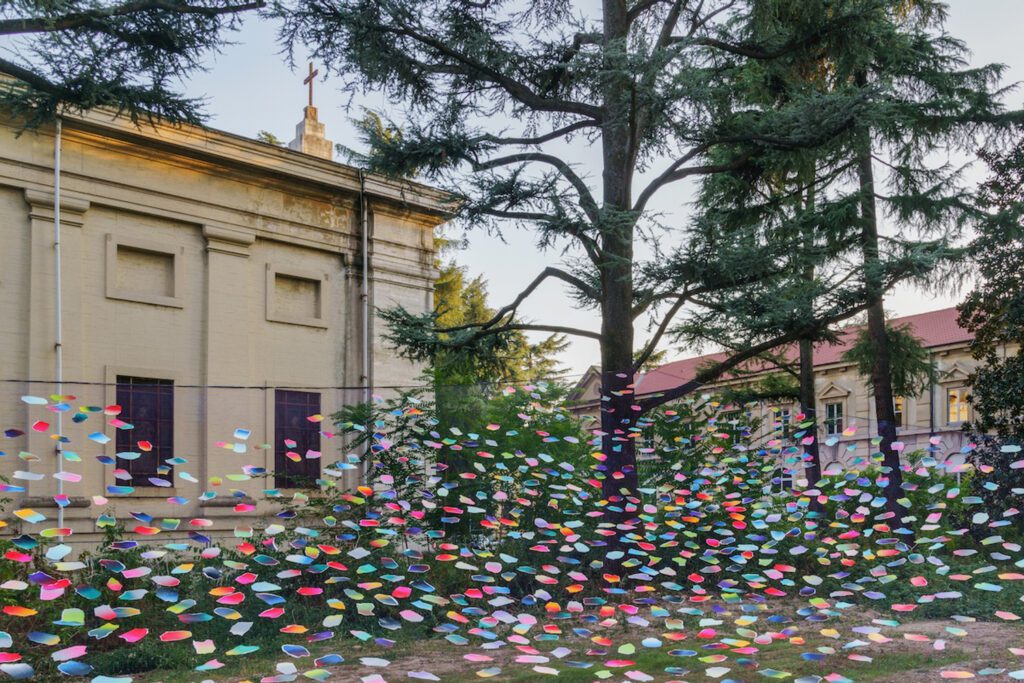 In today's brave new world, new attention is paid to hygiene. Mesh Virus-Control by Spread is a room divider incorporating existing technology that kills bacteria and prevents transmission of droplets through the air. "The philosophy is color transmits joy and humor—even when we are in a difficult situation," says Hirokazu Kobayashi, co-founder of Spread. "We used mesh generally applied to industrial use—in the medical field for pacemakers, for example, or in the automotive industry in an engine."
Seats System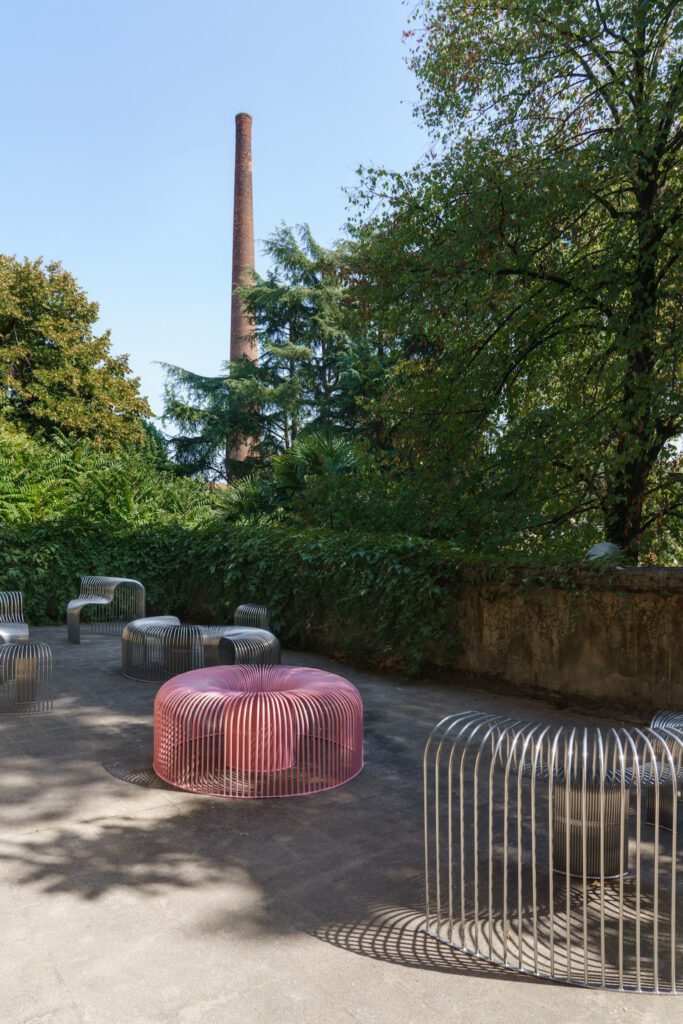 Repetitive coils of durable recycled Swedish steel form the Seats System collection of outdoor furniture by Josefin Zachrisson and Mira Bergh. The collection consists of sofa, bench, and stool.
Stone Furnishings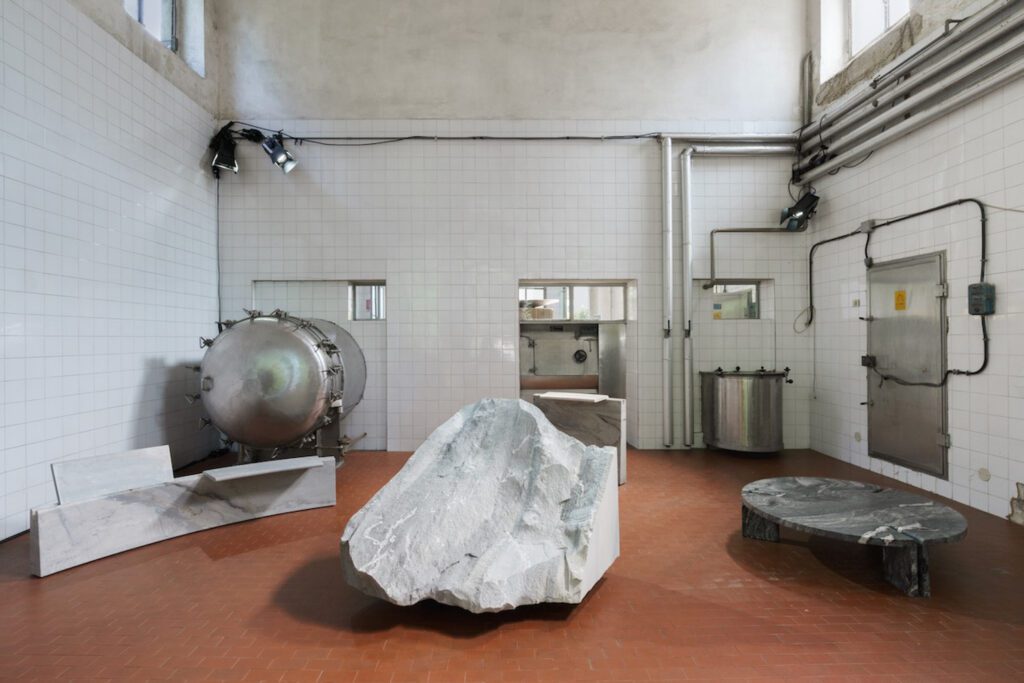 A modern take on marble, the Mass collection of stone furnishings by Fred Ganim for Agglomerati incorporates large volumes of Italian Palissandro marble. The pieces were showcased in an installation curated by Greta Voeller.
Raices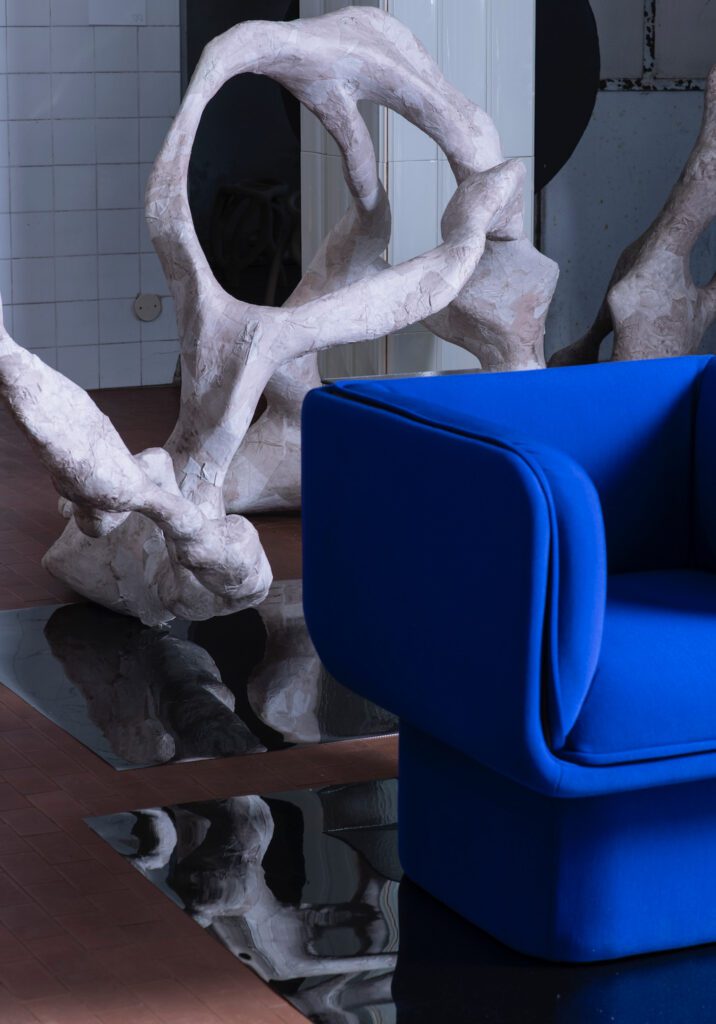 A giant root-like sculpture wound its way through furnishings by Spanish design studio MUT in the installation Raices, conceived in collaboration with digital artist Massimo Colonna. Shown here is MUT's upholstered Block armchair for Missana.
Aria di Cantiere Collection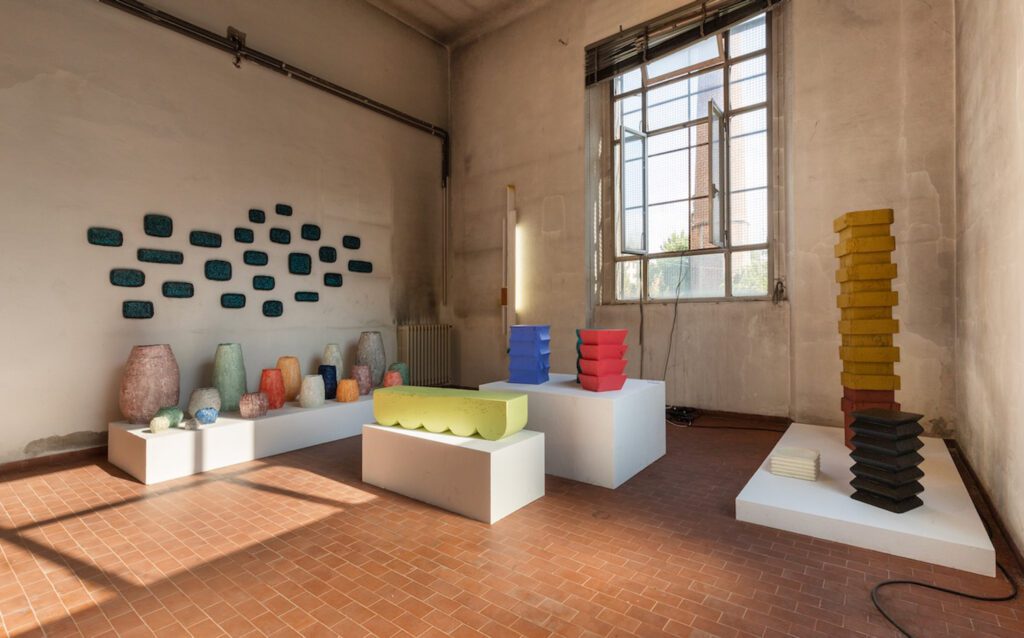 Blurring the line between outdoor furniture and sculpture, the Aria di Cantiere collection by Sasha Ribera and Daniele Giannetti was displayed in an installation curated by Duccio Maria Gambi.
Labinac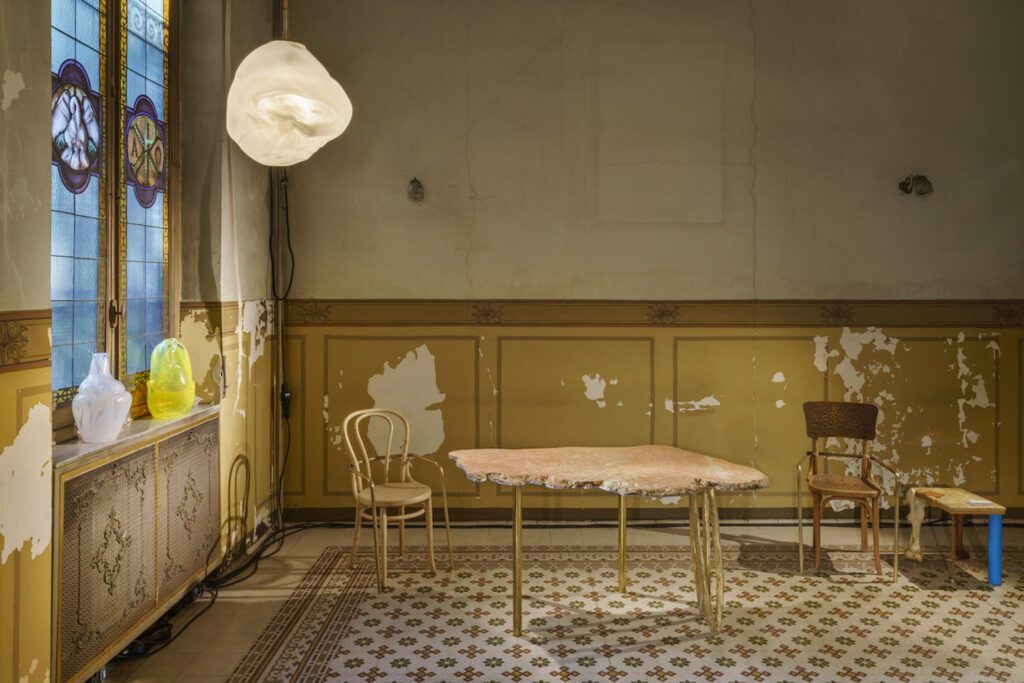 What kind of furnishings would artists make? Pieces that inspire discussion, according to Maria Thereza Alves, Jimmie Durham, and Jone Kvie, the artists behind design collective Labinac. Case in point, the two chairs and two tables shown here, all with conversation-worthy legs.
Paradise
With textured mold-blown glass globes dangling from large-link brass chains, Paradise drapes a room like a necklace. The piece is the result of a collaboration between lighting designer Lindsey Adelman and American glass artists inspired by the traditional techniques developed on the Italian island of Murano.
Prototype IV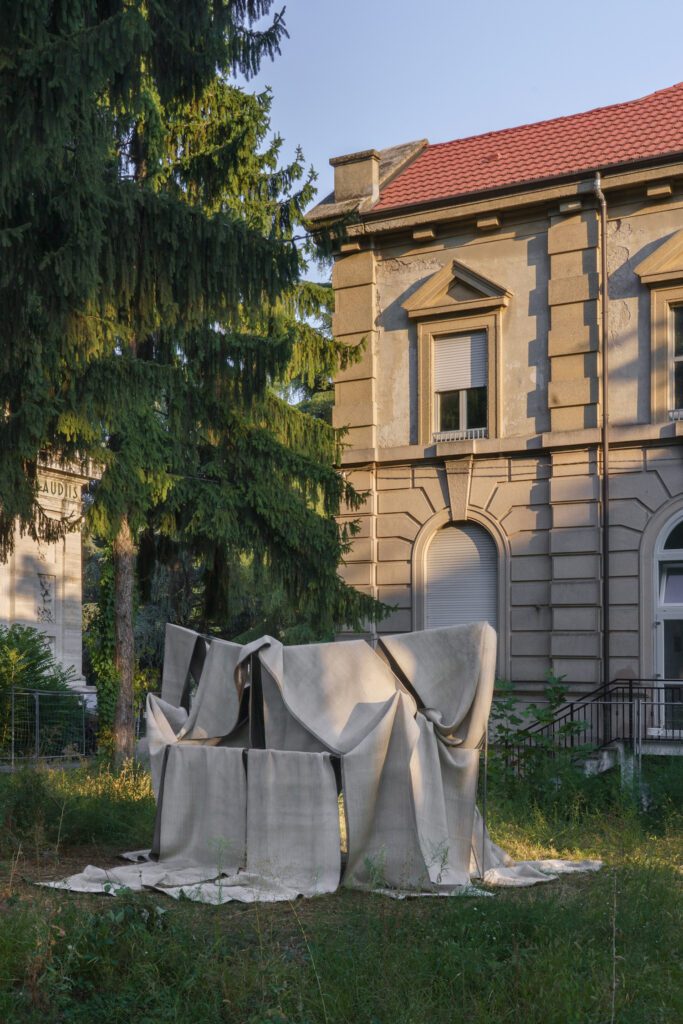 Exploring softness and fluidity in architecture, Prototype IV by Marc Leschelier is made of Concrete Canvas, a flexible, concrete product that is filled with a permeable textile for a thin and durable concrete layer when hydrated.
Nmal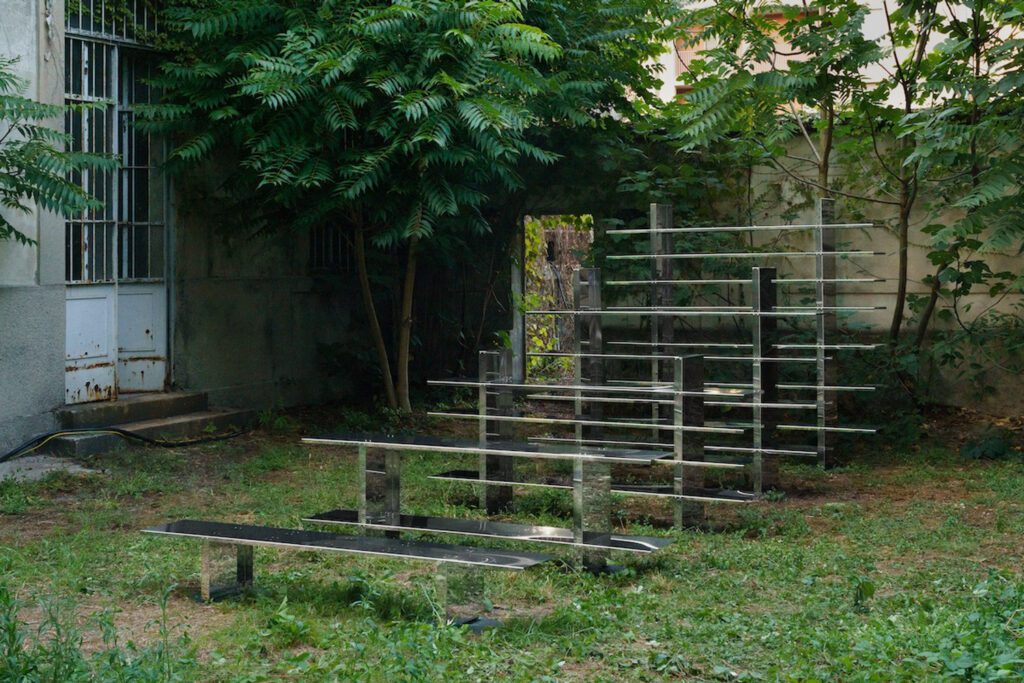 Laser-cut bent steel sheets form the Nmal tiered bench by Nm3. The collection also includes a console and a bookcase in the same material.
Future Archaeology Collection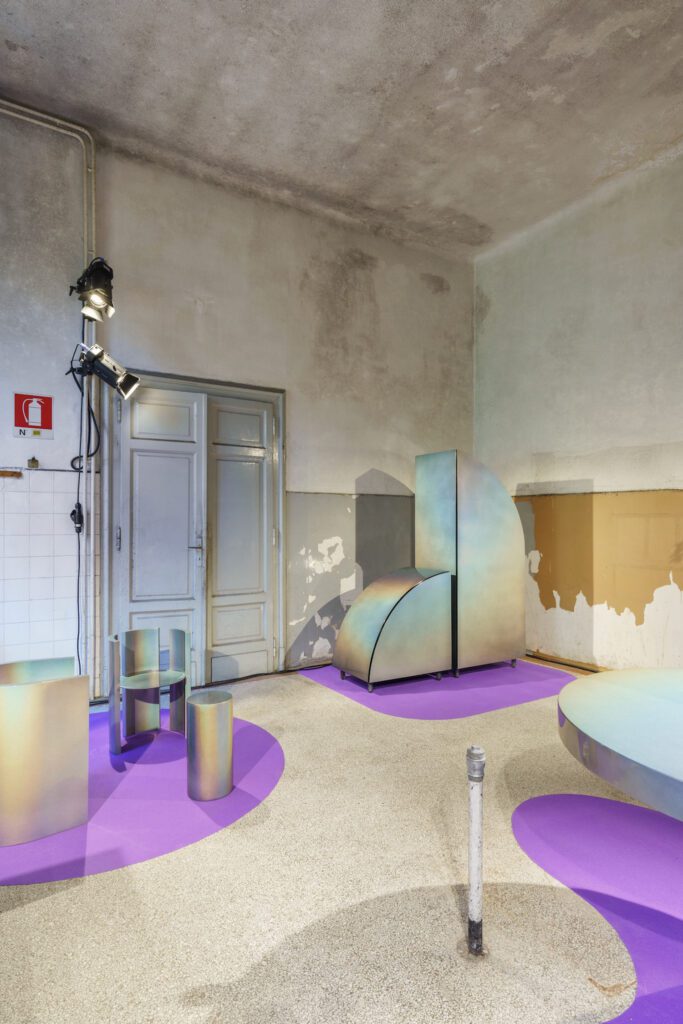 Curvy furnishings, rendered in steel with a rainbow sheen infused by a holographic surface treatment, encompass the Future Archaeology collection by Etage Projects for Objects of Common Interest.
Trame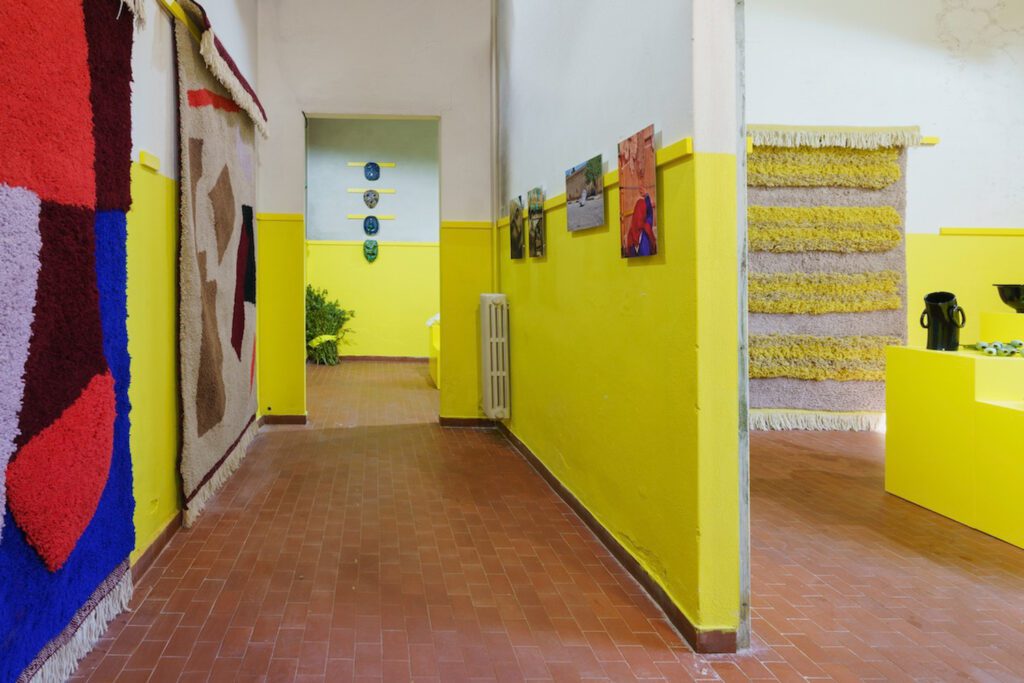 Maria Jeglinska's leaning Entwine ceramic vase, made of 100 percent Mediterranean terracotta clay, and carpets by Jeglinska and Maddalena Casadei, made of 100% natural berber wool, are among limited-edition items available through the freshly launched Trame. To produce the items, the homeware brand employs traditional Mediterranean craftworkers.
De Rerum Natura
In the installation De Rerum Natura, embroidered velvet walls and carpets of laser-cut sheets of recycled leather set the stage for a collection of LED lamps with a leaf-motif. Light Aracea, produced for Visionnaire by design studio Gupica, features LED strips splitting a series of sculptural leaves in half.
Equilibristi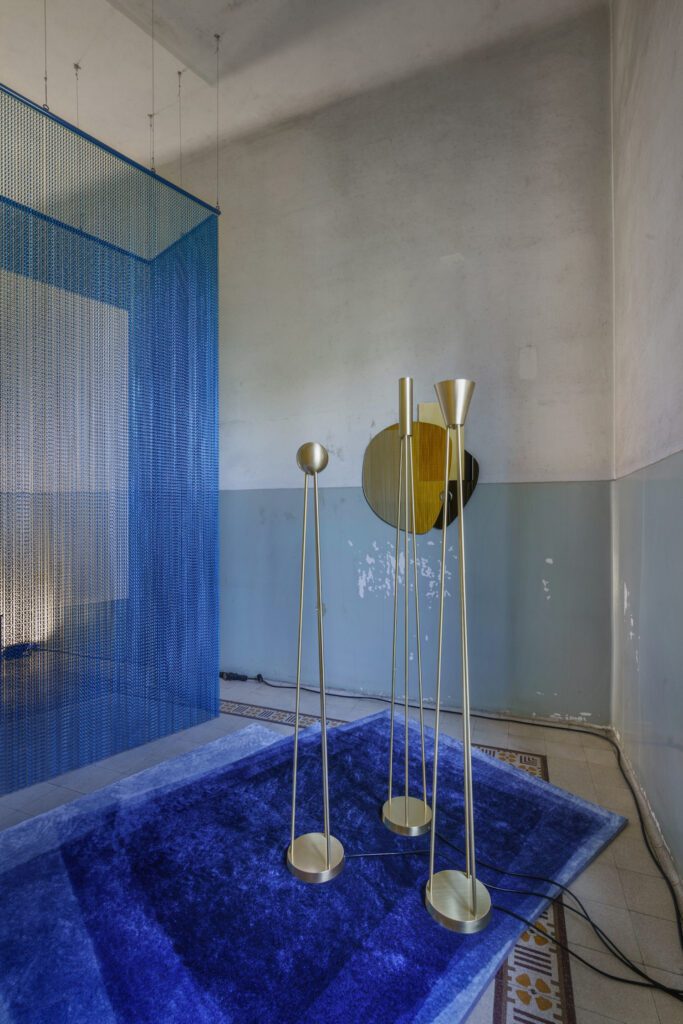 Long and slender tubular metal forms the tripod-like legs of the Equilibristi series of floor lamps by Studio Zero.
Alis Light
Both wireless and portable, the Alis light by Ilia Potemine for Potemine is motion-controlled via embedded sensors, and can be wall, desk, or floor lamp via a series of accessories.
Face Cream Lighting Installation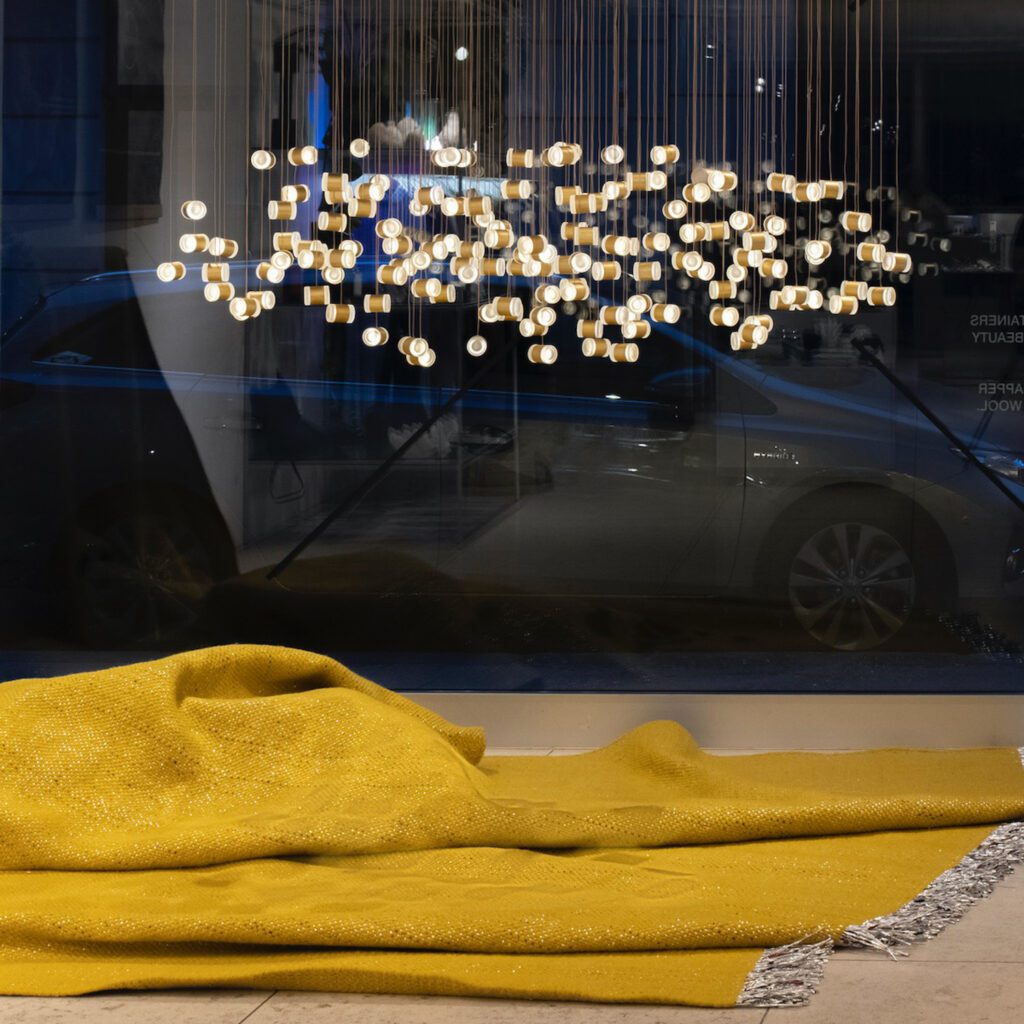 Face cream containers—290 to be exact—found new life as a lighting installation by Llot Llov, who teamed up with German cosmetic company Cosnova for the upcycling project.