16 New Product Highlights from IMM 2020
Outdoors is totally in—as revealed at IMM Cologne last week. Held at Cologne's Koelnmesse exhibition center, IMM 2020 ran January 13-19, attracting some 128,000 visitors from 145 countries who scouted furnishings on display from 1,200 exhibitors.
Whether it was this year's concept home installation Das Haus by MUT Design or the oh-so-many outdoor-themed furniture launches, it certainly seemed like just about everyone wants to head outside. Interior Design was there and saw everything from a soft rug made of PET plastic to an outdoor sofa that doesn't look like it—but that's not all. Here are 16 of our favorite finds.
1. Das Haus 2020 by MUT Design
Merging outdoors and indoors distinguished IMM's experimental home pavilion "Das Haus–Interiors on Stage," designed by Valencia-based MUT Design and entitled "A La Fresca" this year. A standout feature in one of its two living areas is the Nautica swing chair by MUT Design for Expormim.
2. Silhouette Rug by Jaime Hayón for Nanimarquina
With the outdoor version of the Silhouette rug by Jaime Hayón for Nanimarquina, PET plastic from trash in India finds new life with unexpected softness. Silhouette is available as an indoor version, too—in 100 percent hand-spun wool.
3. Roll Chair by MUT Design for Sancal
A trip to the gym sparked the idea for Roll for Sancal, a contract-focused stackable chair resembling gym equipment designed by MUT Design and also featured in Das Haus.
4. The Modular Sail Out Sofa by Rodolfo Dordoni for Cassina
The modular Sail Out sofa by Rodolfo Dordoni stands out in what is Cassina's first complete outdoor line. Nailing the trend that outdoor furniture should look interchangeable with indoor furniture, Sail Out is weather resistant, with upholstery woven from air-blown polyester fiber.
5. Literatura Selection by Vicent Martínez for Punt
To celebrate the 35th anniversary of the Literatura double shelf unit on wheels by Vicent Martínez, Punt presented Literatura Selection—with elegant wood and metal accents added to the classic design.
6. Taru Seating Collection by Sebastian Herkner for Ligne Roset
After conceiving the Taru range of upholstered seating for Ligne Roset as rounded forms upholstered all the way through their legs, designer Sebastian Herkner thought about elephants. He then looked to one for the collection's name.
7. Liv Sofa by Luca Nichetto for Rolf Benz
Luca Nichetto was aiming for flexibility with his Liv sofa for Rolf Benz. The configurations of seat cushions can be mixed and matched on eight different powder-coated steel frames.
8. The Olivio Daybed from Isimar
Galvanized steel wire forms the slim base of the Olivio daybed by the in-house design team at Isimar. A polyester powder-coating and weather-resistant upholstery means its suitable for indoors and out.
9. Ceramic Table Lamp from Moebe
Raw, unglazed porcelain adds precise imperfection to a sculptural form in the geometry of the planet Saturn with the Ceramic table lamp by the in-house design team at Moebe.
10. Wassily Chair by Marcel Breuer for Knoll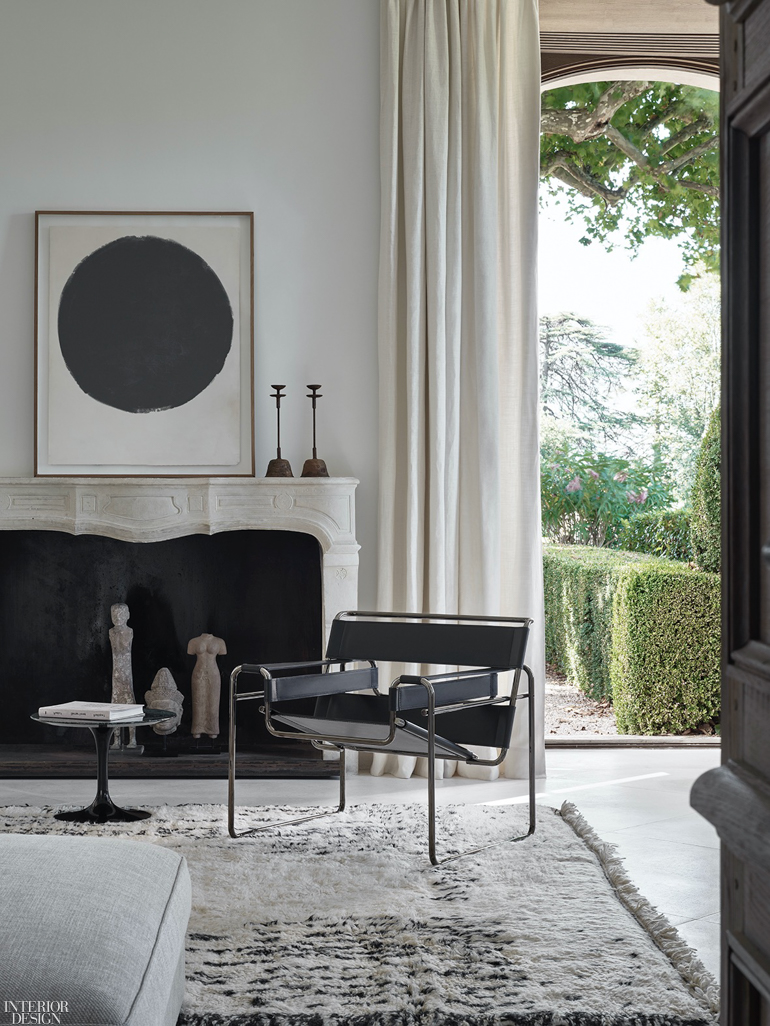 Last year, the 100th anniversary of the Bauhaus movement, spurred several product relaunches, and Knoll is keeping them coming. The Wassily Bauhaus Limited Edition reintroduces the bicycle-inspired Wassily chair by Marcel Breuer. Just 500 pieces are available, offered in black.
11. Mimesis Mirror by All the Way to Paris for Please Wait to be Seated
With a fresh angled form, the Mimesis mirror by All the Way to Paris for Please Wait to be Seated captures an asymmetrical view of the world.
12. Flying Pendant Light from Tobias Grau
The flying saucer-like form of the Flying pendant light from the in-house design team at Tobias Grau is easily lowered and raised—thanks to a patented height-adjustment system.
13. Molo Installation by Stephanie Forsythe and Todd MacAllen
Seductive in its apparent softness, a 1,200-square-foot installation by Stephanie Forsythe and Todd MacAllen, co-founders of Molo, demonstrated the possibilities of two of the firm's acoustical room dividers, the aluminum textile Softwall and Softblock.
14. Hopper Picnic Table in Aluminum from Extremis
In one of IMM 2020's most interesting booths—a pastel "town" (shown below)—Extremis presented a new version of the Hopper picnic table, designed by its in-house team, in light-weight aluminum.
15. The Muud Sofa by EOOS for Walter Knoll
Cleverly transforming into a corner sofa, Muud by EOOS for Walter Knoll gives greater flexibility to the urban dweller who reconfigures or changes apartments.
16. Grandemare Sofa by Flexform
Antonio Citterio's ample Grandemare seating system for Flexform, originally designed for interiors in 2011, is now available in an outdoor version perfect for patios, porches, and poolside.
Read next: 10 Rising Young Product Designers Seen at IMM 2020