16 Unique Fabrics & Wall Coverings
Unique patterns and designs on quality fabrics and wall coverings.
1. Designer: Mac Stopa for A.S. Création.
Product: Harmony in Motion.
Standout: Honeycomb, mesh, and bubble patterns are digitally printed on vinyl wall coverings in a futuristic range of neon colors.
2. Designer: David Rockwell for Maya Romanoff.
Product: Cozy.
Standout: Wool and polyester combine in plush woven wall coverings, alternately playful and sophisticated—and sound-absorbent to boot.
3. Designer: Mae Engelgeer for Wolf-Gordon.
Product: Balance.
Standout: At once irregular and symmetrical, repetitive geometries of varying scale are digitally printed on Mylar wall coverings reminiscent of Dutch modernism.
4. Designer: Lori Weitzner of Weitzner Limited.
Product: Kodiak.
Standout: This super-textural component of the new Contesseration wall covering series may simulate tesserae, but it's actually composed of recycled magazine scraps.
5. Designer: Paul Smith for Maharam.
Product: Segmented Stripe.
Standout: The classic pinstripe is disrupted with slightly raised, irregular segments of brilliant color in a blend of nylon, wool, and recycled polyester.
6. Designer: Philip Gorrivan for Holland & Sherry.
Product: Desert Storm.
Standout: Classic camouflage comes out of hiding in a group of stylized variants rendered in hand-screened wallpaper.
7. Designer: Richard Smith for Jim Thompson.
Product: Mid-Century.
Standout: The abstract expressionist movement's unbridled use of color is replicated in this graphic linen for the No.9 Thompson brand.
8. Designer: Nancy Epstein of Artistic Tile.
Product: Aviator.
Standout: Channeling the industrial spirit of the early 1900s, these limestone tiles are inlaid with metal in configurations that resemble riveted fuselage fragments.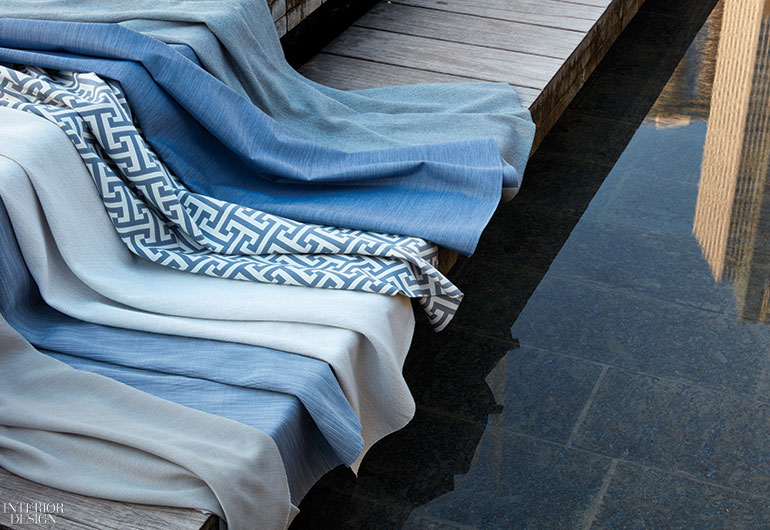 9. Designer: Holly Hunt of Holly Hunt Enterprises.
Product: Fresh Air.
Standout: Bleach-cleanable and colorfast fabrics—in combinations of polyester, PVC, and Sunbrella—are the perfect accompaniment for the tastemaker's new outdoor furniture.
10. Designer: Jiun Ho for Maria Flora.
Product: Africa.
Standout: As the first outside designer to collaborate with the Italian brand, the world traveler draws inspiration from African landscapes for five indoor/outdoor acrylics.
11. Designer: Maki Yamamoto of Maki Yamamoto Textiles.
Product: Sumie.
Standout: Inspired by Japanese ink painting, the designer's first line of prints encompasses playful graphics silk-screened on linen.
12. Designer: Khalil Jamal for Rollout.
Product: Use Your Illusion II.
Standout: Mind-bending moirés and mod Pucci swirls inform these large-scale psychedelic patterns, which are digitally printed on vinyl or Terralon.
13. Designer: Anna Redmond for Abnormals Anonymous.
Product: Currents.
Standout: Landscapes, seascapes, and the dynamism of winged flight leave a lively mark on the textile designer's clay-coated wallpapers.
14. Designer: Sandra Jordan of Sandra Jordan Prima Alpaca.
Product: Casa del Cielo.
Standout: Alpaca mingles with merino wool, silk, and cotton in patterns evoking the sky, sea, and terrain of the Peruvian Andes.
15. Designer: Randall Buck and Jee Levin of Trove.
Product: Ode to Eau.
Standout: The partners pay homage to water, literally and figuratively, as water-based inks on wax-coated wallpaper mimic currents, streams, and tides.
16. Designer: Nicolette Mayer for Scalamandre.
Product: Coco.
Standout: Memories of her grandmother's Chanel tweeds prompted the designer to replicate the multicolored bouclé texture in paper-backed grasscloth wall coverings.