18 Simply Amazing Patterned Carpets
18 patterned rugs that will add a little fun to the floors.
1. LinkedIn San Francisco Office by Interior Architects
Interior Architects's designed LinkedIn's San Francisco office with a different theme for each level, which is demonstrated prominently throughout the office space and amenities. In the pantry, the floor is outfitted with a graphic pink and orange carpet tile.
2. Hand Made by Beza Projekt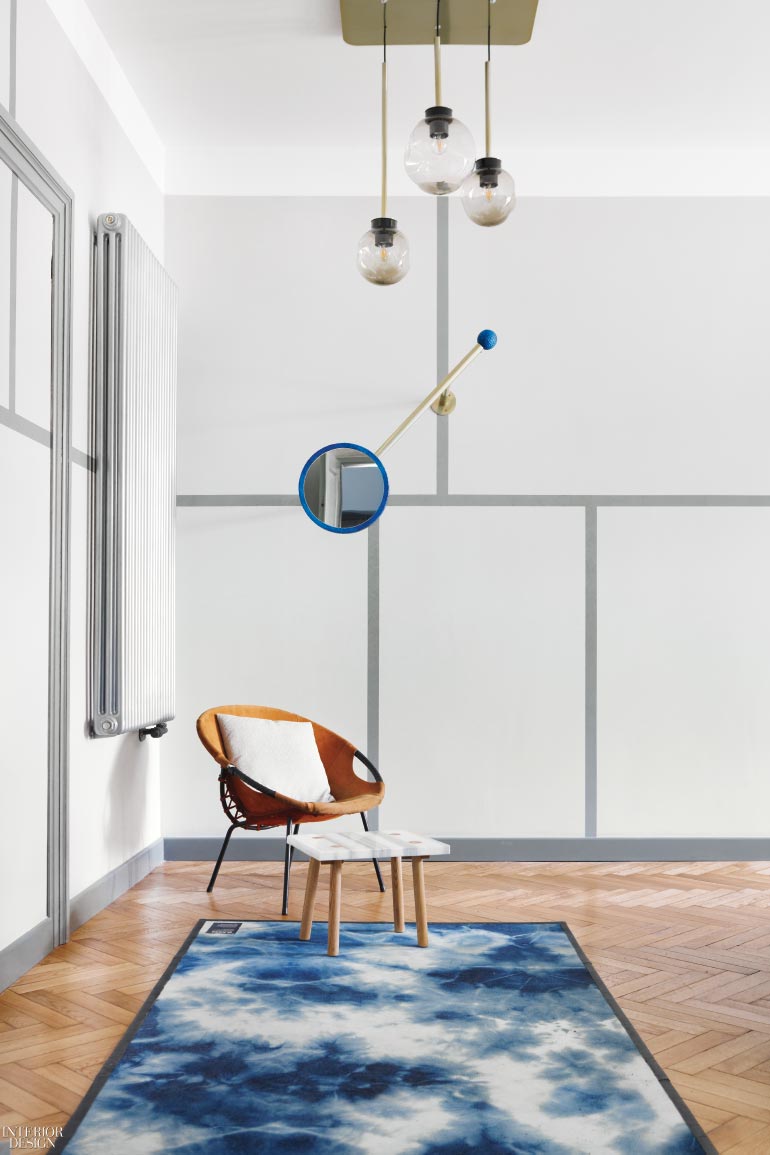 Custom blue and white carpets are seen throughout the Hand Made office by Beza Project in the reception area, the chief officer's private workspace and on the stairs, mixing well with the Polish brand's signature gold and blue color palette.
3. Manhattan Duplex by AM/MOR
In the bedroom of this Manhattan duplex by AM/MOR, a navy and white graphic print rug lies beside the bed.
4. Drake Commissary by +tongtong
Vintage furniture at the Drake Commissary sits on a gray diamond-patterned carpet.
5. IIDA Headquarters by Gensler
A Chinese vintage wool-silk floral rug is found in the main corridor of IIDA's Chicago headquarters by Gensler.
6. Google's London Office by Allford Hall Monaghan Morris
Seating modules sit on various colorful patterned rugs in the atrium of Google's London office.
7. Nokia Technologies Office by Gensler
In the meeting lounge at Nokia Technologies, a Karmelina Martina chair and Patricia Urquiola sectional gather on a custom black and white wool rug.
8. Beekman Hotel by Gerner Kronick + Valcarcel, Architects and Martin Brudnizki Design Studio
Along the balconies that function as guest corridors, custom wool runners reinterpret the pattern and colors of the original encaustic floor tile at New York's Beekman Hotel.
9. Etsy Headquarters by Gensler
Country Braid House supplied the library's custom striped wool rug at Etsy's Brooklyn headquarters by Gensler.
10. Albion Barn by Studio Seilern Architects
In this English barn's dining room, a graphic blue rug sits beneath a Marc Newson table and a Campana Brothers chandelier.
11. Hamptons Weekend House by MODE Interior Designs and CCS Architecture
The living room of this Hamptons weekend house by MODE Interior Designs and CCS Architecture features a carpet with a bold graphic pattern.
12. Room Mate Giulia Hotel by Patricia Urquiola
The lobby's checked rugs are custom for the Patricia Urquiola-designed Room Mate Giulia hotel in Milan, Italy.
13. Renaissance Paris Republique Hotel by Didier Gomez
A guest room at Didier Gomez's Renaissance Paris Republique Hotel features a graphic patterned rug beneath the bed.
14. Hotel Van Zandt by Mark Zeff
In Austin, Hotel Van Zandt's library-style events space features a unique patterned brown and white carpet that covers the floor.
15. New York Palace by HOK
At Tavern on 51 at the New York Palace, the pink patterned carpet matches the rest of the restaurant's contemporary decor.
16. West Village Apartment by Flank
The living room of this West Village model apartment by 2Michaels features a custom gray patterned wool rug.
17. Hôtel Vernet by François Champsaur
A colorful patterned carpet outfits the floor of the Hôtel Vernet restaurant, The V.
18. Lower East Side Loft by Fedora Design and Labo Design Studio
A colorful patterned rug in the living room in this Lower East Side loft by Fedora Design and Labo Design Studio keeps with the room's theme of bold colors.