20 Inspiring Female Designers to Know
To celebrate International Women's Day, we present 20 inspiring women who make up the new face of the design industry.
1. Kelly Behun
Raised in Pittsburgh, Kelly Behun's midwestern values have yielded the no-nonsense worldview that defines both her personality and practice. She graduated from the University of Pennsylvania's Wharton School of Business, but eventually steered her career toward design. "When you're sitting in a classroom, led by a world-class professor, surrounded by some of the best young minds in the field, and yet you can't stop thinking that the lighting is making everyone look old and the wall color is pulling too green, it's probably a good indication you aren't going to be an economist," she says. She started out at the Ian Schrager Company in the late 1990's, working alongside the likes of Interior Design Hall of Famers Anda Andrei and Andrée Putman. Behun then launched her namesake studio in New York in 2001, and has since built a portfolio of projects and furniture that is striking and urbane yet keeps an eye on functionality. Read more >
2. Sarah Kuchar
Sarah Kuchar enrolled at design school in Chicago not knowing a single thing about interior design or architecture. After working at Perkins + Will for 11 years, Sarah Kuchar branched out on her own in 2016. Kuchar's motto is "no rules"—no market sector, site, material, or product is off limits for her eponymous firm, which employs five women.
"When we look at design and assume it should be a certain way, I like to challenge that by asking 'why?' Daily, I have conversations with my designers and throw out crazy ideas," she says. "One way that we breathe our mission is mixing design backgrounds on different projects. The typical rules of each market tend to disappear when you see what other markets are doing." This unconventional approach has resulted in a varied portfolio—including a financial firm in Singapore, a coding school for children in Chicago, and Source International's showroom at Chicago's Merchandise Mart—that will only continue to diversify as the firm enters its second year. Read more >
3. Margaret Sullivan
With her six-person studio in NYC, Margaret Sullivan is on a mission to design the public library of the 21st century. Libraries, often fated with lackluster interiors, function as gathering spots and learning hubs for local residents of all ages. Sullivan knows a well-designed library will benefit the entire community, and she's proving it with new projects across the U.S. Sullivan's latest work, the North Main branch of the Richland Library in Columbia, South Carolina, is a particularly vibrant example of her approach.
"A public library is a gift to a community and a well-intentioned, thoughtful design will embolden, empower, and enlighten its community of users," Sullivan says. "Design is a powerful tool to foster self-improvement and the self-actualization that has been and continues to be the consistent role of the public library in America." Read more >
4. Li Xiang
X + Living's sixth branch for Zhongshuge, a successful book store chain in China, is an attention-grabbing ode to print, featuring stepped seating that ripples outward beneath a mirrored ceiling. This playful concept is the vision of the firm's principal, Li Xiang, who since forming the studio in 2011 has won accolades including Interior Design's Best of Year award in 2016. "I consider the meaning of the goods being sold, and try to find the most interesting perspective on the times to present to customers," Xiang says. "When facing a problem, we need to find a solution, but that does not mean we should change our design." Read more >
5. Lauren Geremia
For a designer under 40, Lauren Geremia boasts a bold-faced roster of clients. After studying painting at RISD, she started weaving her creative know-how into a San Francisco–based interiors firm, Geremia Design, that eventually became the Bay Area's go-to resource for startups seeking innovative digs. That doesn't mean she abandoned her roots, however—her near-encyclopedic knowledge of the arts is evident in almost every commission, including offices for big-name Silicon Valley clients like Dropbox, Hightail, and Instagram. Geremia's projects span the country and are guaranteed to showcase the art world's brightest budding talents, several of which are women and personal friends.
"My artistic background guides me to think broadly and aspirationally before getting into the technical components," Geremia says. "My mantra is creativity first, feasibility second. This lets me take an ethical stance to support artists and present their work to folks who value design but aren't in the field." Read more >
6. Amy Lau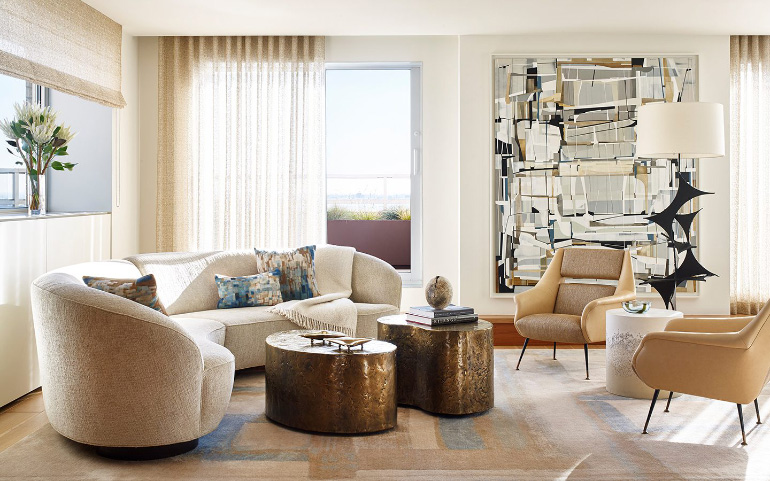 An Arizona upbringing—surrounded by red-clay canyons, attending Pueblo dances, and collecting rocks with her mineralogist grandmother—helped shape Amy Lau's vision as an interior designer today. "As a child, we would walk the landscape, on the hunt for perfect stones," Lau says of her grandmother. "And growing up, my parents acquired paintings from the Taos Society of Artists and material culture from the Southwest. Art was a staple in our home, and gallery ventures with my dad were often."
Attaining a bachelor's in art history from the University of Arizona and a master's in American fine and decorative art and design from Sotheby's Institute of Art, then working at Aero and Lin-Weinberg Gallery have been factors in her success, too. Now principal of Amy Lau Design in New York, she conceives interiors across the country, from TriBeCa to Texas, furnishings for Kyle Bunting, S. Harris, and Maya Romanoff, rooms for the Kips Bay Decorator Show House, and installations for Bergdorf Goodman and Baccarat. Read more >
7. Lucie Koldova
While Lucie Koldova was born in the Czech Republic, the designer's love for France is immediately apparent in her work. Take Macaron, which translates the iconic shape of the meringue-based confection into a glass and stone light you almost want to take a bite out of. "I am most inspired by places—I travel to Paris, London, New York, Milan, and combine traveling to see fairs with personal traveling," says Koldova. "Paris is saturated with so many different art, design, and conceptual styles. France influenced my work big-time."
Since launching her first two lighting collections in 2010 for Czech manufacturer Brokis, Koldova has been represented by the likes of Czech companies Lasvit and Lugi, Italian firm Fabbian, and French brands La Chance and Haymann Editions, among others. She was named the 2018 designer for prestigious German trade show IMM Cologne's Das Haus, an experimental home installation. Read more >
8. Elizabeth Lowrey
Elizabeth Lowrey grew up immersed in creativity. Both her parents and sister are fine artists—her father even worked as a Donald Judd fellow in Marfa, Texas. She counts Donald Judd, Cy Twombly, and Louise Bourgeois as as her favorite artists, so it's no surprise that creativity abounds in her projects as principal and director of interior architecture at Elkus Manfredi Architects.
"I grew up in the South during the Civil Rights Movement," says Lowrey. "My mother marched in Birmingham, and the year I entered the first grade was early into the desegregation of public schools in Georgia. I learned to transcend boundaries, to not fear but embrace difference. I can work with all different kinds of stakeholders and walk in their shoes." Under Lowrey, the firm completed a pristine Seaport District office for consulting firm Boston Art, along with Draper Laboratory's headquarters, boutique hotel The Verb, and the New Brunswick Performing Arts Center. Read more >
9. Tara Bernerd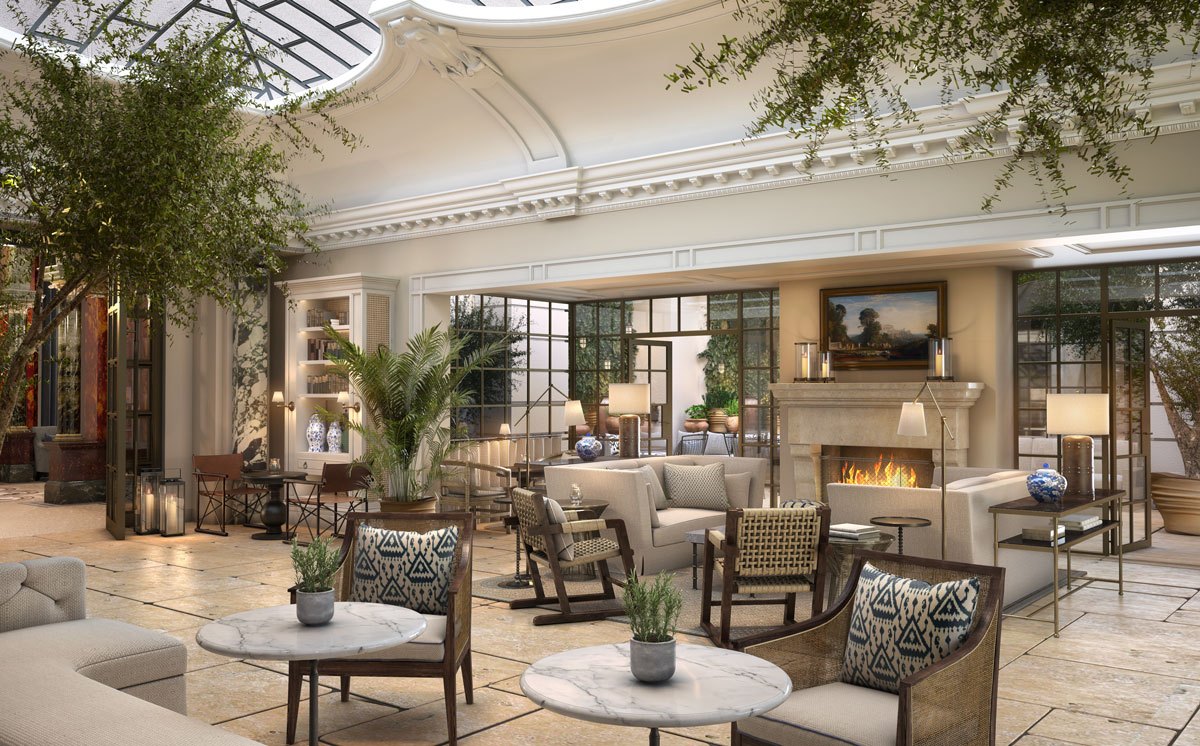 "She is able to imbue her schemes with a feeling of comfort that is both personal and modern." This proclamation comes from Richard Rogers in his forward to the book, Tara Bernerd: Place, released in 2017 by Rizzoli. Indeed, Bernerd, an inveterate traveler, is constantly seeking and designing what she calls "homes-away-from-home." Witness them in hospitality projects her 25-person firm, Tara Bernerd & Partners, has completed for such clients as Thompson Hotels, Four Seasons Hotels, and Starwood Capital. "My design process is about feeling the space and working out how to best optimize it for the end-user," says Bernerd. "The feedback we often hear is 'intelligent space-planning' and 'masculine elegance.' I would sum up my aesthetic by saying it's handsome and warm with an industrial edge." Read more >
10. Mary Fisher
Mary Fisher made history when she delivered one of the greatest American speeches of the 20th century, A Whisper of AIDS, at the 1992 Republican National Convention in Houston. But Fisher, who is HIV-positive, says her true passion has always been creativity—and its power to inspire, heal, and bring people together. Although most renowned for fiber art and textiles, her talents encompass photography, sculpture, and prints, among other media. Her fabric collection for Lee Jofa's Groundworks line helps raise funds for the Design Industry Foundation Fighting AIDS (DIFFA), and an exhibition, "Textile Meditations: Mary & Friends," showcased her work alongside four female fiber artists. "Whether a message delivered to a university's graduating class or a new piece of art, what I have to offer rises from within—from a place I do not fully understand," says Fisher. "What we do is in front of the curtain, not behind it." Read more >
11. Gulla Jónsdóttir
Mathematics and biology were what Gulla Jónsdóttir studied before leaving her native Reykjavik, Iceland, to enroll in the undergraduate architecture program at SCI-Arc in Los Angeles. After graduation, she joined Richard Meier & Partners Architects, where she worked on the Getty Center. Next, a four-year stint at Walt Disney Imagineering entailed a constant back-and-forth to Tokyo, designing retail and even amusement-park rides for Tokyo DisneySea. She was introduced to hotel work as a principal at Dodd Mitchell Design, contributing to such projects as the Hollywood Roosevelt. Years later, the Macau Roosevelt is the first ground-up hotel from Gulla Jónsdóttir Architecture + Design. The 10-person firm's portfolio is bulging with high-profile hospitality projects, worldwide. Restaurants include the Michelin-starred Grand Restaurant/Jean-François Piège in Paris and Comal at Chileno Bay Resort & Residences in Cabo San Lucas, Mexico. "I design for all five senses," says Jónsdóttir. "I'm particular about flow and space-planning. I incorporate curves to give you the sensation of being embraced. I include natural materials, metals, and sensuous forms, grown-up glamour. I like everything to have a story and be site-specific or contextual." Read more >
12. Venus Williams
She has four Olympic golds, been listed on Forbes's Celebrity 100 and Power Women lists, and has a successful fashion label, Eleven. But tennis great Venus Williams is on our radar these days because of her design firm, V Starr Interiors. Her first project was a Miami condo for Carlos Boozer. After, she completed hospitality projects around Florida, too. But now, the firm's work is expanding outside Williams's home state. The renovated Midtown Athletic Club in Chicago features a tennis lounge by the V Starr team.
"Tennis and design have similar challenges," says Williams. "Things move rapidly and you need to think on your feet, whether working with a new client or facing a new opponent on the court. And there's a shared sense of camaraderie, whether working with my team or a doubles partner." Read more >
13. Pascale Girardin
Montreal-based artist Pascale Girardin specializes in creating large-scale clay works for major hospitality and retail clients—recent ones include Saks Fifth Avenue, Four Seasons, and Nobu. For the latter, Girardin created three immersive pieces in Manhattan's Nobu Downtown, designed by Rockwell Group, that honor the culture and traditions of Japanese crafts while maintaining a personal expression throughout. "The permanence of ceramics and the impossibility of modifying a fired piece makes it an art that requires much discipline and humility," says Girardin. "The biggest challenge is communicating to the client the amount of time that it can take to develop new colors, shapes, and textures." Read more >
14. Sara Story
If you feel a sense of wanderlust when seeing the interiors and wallpapers by Sara Story, there's a reason for that. She spent her earliest years in Japan and Singapore, her formative ones in Houston, attained her bachelor's in psychology from the University of San Diego and her master's in interior architecture at San Francisco's Academy of Art University, and then cut her teeth at Victoria Hagan in New York. Now the principal of Sara Story Design, exotic travel—like, say, playing in the King's Cup Elephant Polo charity in Bangkok—is still a source of inspiration for her work, which includes residential projects with Interior Design Hall of Famers David Lake and Ted Flato.
"I believe my experiences and international background influenced my work," says Story. As a result of my childhood, I love the materiality, scale, and details in Asian aesthetics and the rustic landscape of Texas. Plus, my office is in Chelsea, Manhattan, so walking around all the galleries, museums, and art fairs helps inform my knowledge base and cultivates my eye." Read more >
15. Laura Guido-Clark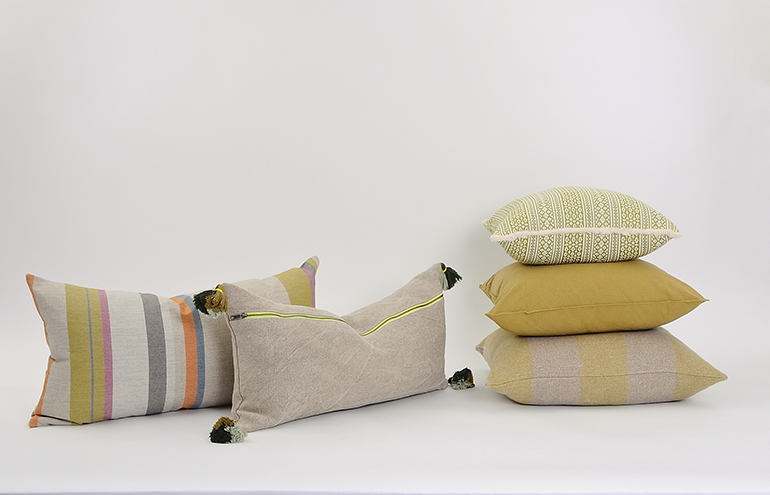 Laura Guido-Clark is wild for color, whose transformational qualities she credits to watching the Wizard of Oz as a child. Her love of hues, coupled with serious expertise in design, branding, materials, and finishes, has landed her gigs at top companies, from Samsung to Herman Miller (for which she helped reimagine the iconic Aeron chair). At NeoCon 2017, Guido-Clark launched her lifelong passion, Love Good Color, a color training tool and navigation system.
"In interiors, color guides you through space and is a passage of time," says Guido-Clark. It's the supportive structure for creating more humanistic environments based on what is needed. Understanding that color creates not just an impression but an emotional connection is important. My role is to understand what my client's needs are and what they are trying to communicate and determine how color, material, and finish can convey this." Read more >
16. Egg Collective
New York City furniture studio Egg Collective, made up of Stephanie Beamer, Crystal Ellis, and Hillary Petrie, hosted an exhibition at their Hudson Square showroom during NYCxDESIGN 2017 to honor a community dear to them. Starring work by local female designers, including Hiroko Takeda, Syrette Lew, and Anna Karlin, "Designing Women" cemented Egg Collective's curatorial eye and tastemaker status. "We wanted to host a show that would bring together our community—specifically female designers operating businesses here in New York City," says Ellis. "The response was overwhelmingly positive, and 20 percent of all proceeds were donated to local charity Girls Inc. because they focus on supporting women."
While crafting beautiful furnishings is their modus operandi, the group hints that interiors are next. And if their spaces are anything like the picture-perfect rooms they share on Instagram, we should have a lot to look forward to from the dynamic trio. Read more >
17. Clodagh
Given Clodagh's portfolio, chock-full of global luxury hospitality and residential projects, one may be surprised to learn that she considers a more modest one among her best. But whether it's a tiny apartment or a glamorous high-rise hotel—she just completed the East in Miami—Clodagh applies the same approach. All of her designs incorporate sustainable materials, biophilic design principles, feng shui, and more. She's been a pioneer of green and healthy design since starting her practice in 1983, and it just so happens that in 2018, wellness has never been more in vogue. "Our design M.O. is to go beyond the physical," says Clodagh. "We have been committed to sustainable design for over 30 years, so it's rewarding to work with clients that have the same commitment. All materials, in addition to being green, must be maintenance-friendly to make their way into our studio's materials library." Read more >
18. Jeanette Altherr
Jeannette Altherr is one half of the Barcelona-based design studio Lievore Altherr, which she runs with partner Alberto Lievore. (They were previously known as Lievore Altherr Molina—the third partner, Manel Molina, departed amicably in 2016). The German-born Altherr develops award-winning products for brands such as Andreu World, Bernhardt Design, and Vibia. But it may be in her role as creative director of Italian company Arper that her 360-degree approach is most clear—the shared importance of branding, architecture, interiors, and packaging in the making of a successful product, a vision she's helped realize in Arper's vibrant color palette, clean-lined showroom spaces, and more. "We try to feel, not analyze," says Altherr. "We seek technologies that strive to further define the essence of the piece, while at the same time creating a better relationship between object and person." Read more >
19. India Mahdavi
India Mahdavi is a true jetsetter. Born in Tehran, she spent a peripatetic childhood traveling between Cambridge, Massachusetts, New York, Heidelberg, Venice, and Paris, the latter being where she earned her architecture degree from the École Nationale Supérieure des Beaux-Arts, before also studying at Parsons, SVA, and the Cooper Union. She returned to Paris to be Christian Liaigre's studio director, then established her namesake atelier there in 1999, designing hospitality and residential projects worldwide and opening two showrooms for her furniture and petite object designs in St. Germain. In 2016, Mahdavi received France's highest cultural award, Ordre des Arts et des Lettres.
"My childhood memories of movies like Mary Poppins, The Party, and the 1967 version of The Jungle Book sparked my love of color," says Mahdavi. "I was influenced by American pop culture, cartoons, and Walt Disney movies." Read more >
20. Margie Ruddick
World-renowned landscape architect Margie Ruddick redefines green design as we know it. The Cooper Hewitt National Design Award winner has masterminded urban environmental projects worldwide, including the 2011 redesign of New York's Queens Plaza and an ecological riverfront park in historic Chengdu, China, completed in the late 1990's. In 2016, Ruddick released the vividly illustrated Wild by Design: Strategies for Creating Life-Enhancing Landscapes (Island Press), in which she recounts her experiences designing a living installation inside the lobby of One Bryant Park in New York City.
"Plants scrub the air and cool the environment. One of the nice outcomes of the mid-century modern romance of the past 15 years has been an enhanced inside/outside connection," says Ruddick. "We're seeing a new generation of living walls that promote an idea of a three-dimensional interior natural landscape." Read more >