2014 Sunbrella Future of Shade Winners Create Shade, Plus Much More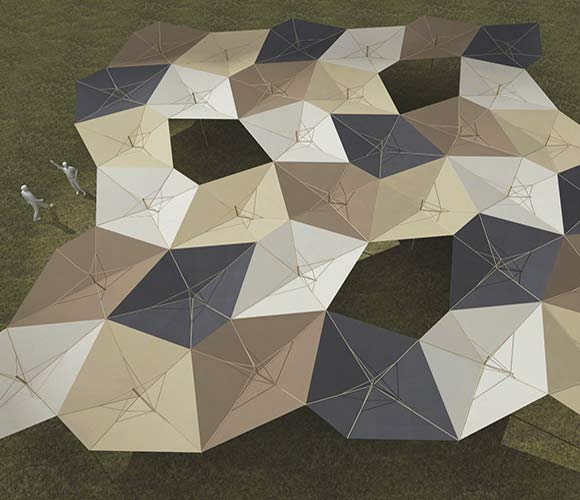 Sponsored Content by Sunbrella


An important aspect of design is the use of light and shade to create emotion in a space. Just as light raises the spirits, shade protects from the sun's harmful rays, prevents the buildup of heat and helps to define spaces.
More than 100 architects and designers submitted shade design concepts in the

2014 Sunbrella Future of Shade competition

. Their designs create protective shade spaces, but also explore how shade structures can do more.

The grand prize winner, Xafari, by Tony Leung of Hong Kong, combines geometric shapes and color to create a visually striking, modular shade pavilion that harvests rainwater. Retractable "un-brellas" provide a shady retreat, while also collecting rainwater that's funneled through structuralpipes to buried storage canisters accessed by lever pump. Xafari's dual purpose makes it useful for a variety of applications from emergency shelter to colorful park pavilion.



The Yanay Hotel, created by

Rojkind Arquitectos

and Diéguez-Fridman of Mexico, won an honorable mention for its playful interpretation of a traditional tent that uses Sunbrella to create a fabric structure inspired by Japanese origami. Rojkind envisions the structures as a series of hotel rooms; during the day, they provide protection from the sun, while a night they glow with light from within.

Flagship, created by Joao Araujo Sousa and Joanna Silva of Joao Araujo Sousa Arquitecto in Portugal, channels Portugal's seafaring heritage by combining 240 flags made from Sunbrella fabric with a transparent glass structure. The resulting pavilion provides a solution for an over exposed coastal site. An entirely recyclable glass structure combined with the

Sunbrella

fabric recycling program make the pavilion sustainable.
Visit

futureofshade.com

to see more shade concepts from the 2014 competition and join the conversation about shade design by using #futureofshade in social media.