2018 NYCxDesign Awards Finalists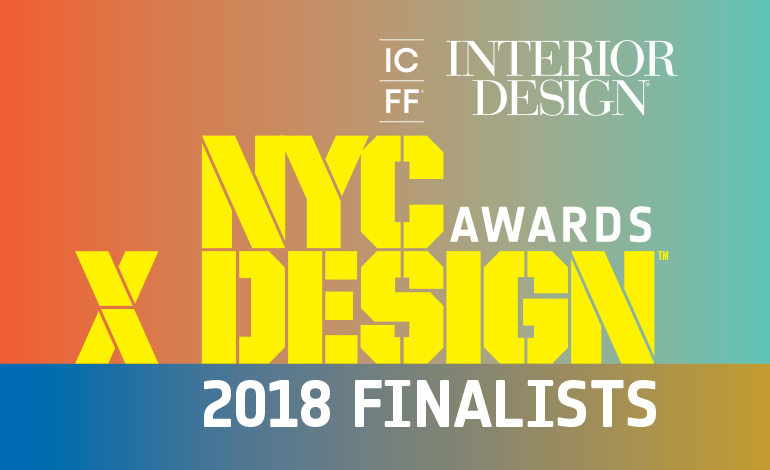 Interior Design and ICFF are pleased to announce the finalists to the third annual NYCxDESIGN Awards. The program celebrates outstanding talent across major areas of design such as architecture, interiors, furnishings, lighting, and technology, and unifies the more than 500 events taking place during NYCxDESIGN, New York City's showcase of global design. Finalists for both Products and Projects were named in over 60 categories listed below.
Winners and honorees will be announced on May 21 at 6 p.m. EST during a ceremony taking place at South Street Seaport.
Project Finalists:
| | | |
| --- | --- | --- |
| Category | Project Name | Firm Name |
| Architectural Installation / Pop-Up | Layered Fragments | Habitat Workshop |
| Architectural Installation / Pop-Up | Governors Island Welcome Center | Office III |
| Architectural Installation / Pop-Up | The Connective Project | Reddymade Architecture & Design |
| Art Exhibition / Installation | TRIPH | Circus Family |
| Art Exhibition / Installation | Lumen | Jenny Sabin Studio and Focus Lighting |
| Art Exhibition / Installation | Ionature: Wheat Field | Think Create |
| Education | Berkeley Carroll School Library & STEAM Space | 1100 Architect |
| Education | AltSchool | Architecture + Information |
| Education | District 20 Pre-K Center, 1423 62nd Street | Doban Architecture |
| Education | Joseph D. Jamail Lecture Hall | LTL Architects |
| Education | Parsons Making Center | Rice+Lipka Architects |
| Government / Institutional | Chapel, Congregation Kehilath Jeshurun Synagoge | FXCollaborative |
| Government / Institutional | Queens Library, Elmhurst | Marpillero Pollak Architects |
| Government / Institutional | Staten Island Historical Society Carriage Houses | Rice+Lipka Architects |
| Greater Good | Doctors Without Borders | ENV |
| Greater Good | The New Victory Theater | H3 Hardy Collaboration Architecture |
| Greater Good | Dwana Smallwood Performing Arts Center | Jordan Parnass Digital Architecture |
| Greater Good | Tenement Museum | Perkins Eastman |
| Graphics & Branding | One Five Nine East 53rd Street | Gensler |
| Graphics & Branding | JDC Donor Recognition Wall | Herter Design Group |
| Graphics & Branding | Motel Morris | Tamara McCarthy Studio |
| Graphics & Branding | Whitney Biennial 2017 Identity | Whitney Museum of American Art |
| Health & Wellness | Be Time Mobile Meditation Studio | Aidia Studio |
| Health & Wellness | Flywheel, Williamsburg | BHDM Design |
| Health & Wellness | Royal Orthodontics | Float Studio |
| Health & Wellness | Brooklyn Health Center | Francis Cauffman |
| Outdoor / Urban Landscape | Brooklyn Bridge Park Boathouse | Architecture Research Office |
| Outdoor / Urban Landscape | I Ought To | Matthew Geller |
| Outdoor / Urban Landscape | Cast & Place | Schlaich Bergermann Partner |
| Outdoor / Urban Landscape | Empire Stores | Studio V Architecture, S9 Architecture, and Future Green Studio |
| Hotel | 1 Hotel Brooklyn Bridge | INC Architecture & Design, Marvel Architects, and Michael Van Valkenburgh Associates |
| Hotel | The Beekman Turret Penthouse Suites | Martin Brudnizki Design Studio |
| Hotel | The Whitby Hotel | Stonehill Taylor |
| NYC Dining | Kitchen 21 | EwingCole and Gerner Kronick + Valcarcel |
| NYC Dining | Juniors Times Square | ICRAVE |
| NYC Dining | The Campbell Bar | Ingrao |
| Restaurant | BH Kitchen & Bar | Gensler |
| Restaurant | Junzi Kitchen, Columbia University | Junzi Kitchen |
| Restaurant | Blackbarn Cafe & Bar | MarkZeff |
| Restaurant | Scampi | Parts and Labor Design |
| Restaurant: Bar/Lounge | Célon Lounge | ICRAVE |
| Restaurant: Bar/Lounge | Ophelia Rooftop Lounge | Public Agenda |
| Restaurant: Bar/Lounge | Magic Hour | Rockwell Group |
| Restaurant: Bar/Lounge | Motel Morris | Tourmaline |
| Corporate Office | Hill Offices | Andrew Franz Architect |
| Corporate Office | 412 W 15 | Fogarty Finger Architecture |
| Corporate Office | White & Case | HOK and HYL Architecture |
| Corporate Office | Swarovski Showroom and Offices | Perkins+Will |
| Corporate Office | Anheuser-Busch | TPG Architecure |
| Creative Office | Micro Creative Agency | Buro Koray Duman |
| Creative Office | Tommy Hilfiger Fashion House | ENV |
| Creative Office | 21st Century Fox | Gensler |
| Creative Office | AlphaSights | Ted Moudis Associates |
| Creative Office | Associated Press | TPG Architecture |
| Tech Office | Elysium Health | Float Studio |
| Tech Office | Hudson River Trading | Gensler |
| Tech Office | PayPal | Rapt Studio and LB Architects |
| Tech Office | Motivate + Citi Bike Headquarters | Studio Modh |
| Commerical Lobby / Amenity Space | Research Foundation of CUNY Lobby | Design Republic |
| Commerical Lobby / Amenity Space | 2 Gansevoort Lobby | Fogarty Finger Architecture |
| Commerical Lobby / Amenity Space | 114 West 41st Street | MKDA |
| Commerical Lobby / Amenity Space | 1500 Broadway | Studios Architecture |
| Residential Lobby / Amenity Space | One Hudson Yards | Andre Kikoski Architect |
| Residential Lobby / Amenity Space | Hayden | JG Neukomm Architecture |
| Residential Lobby / Amenity Space | 608 Franklin | ODA Architecture |
| Residential Lobby / Amenity Space | 88 & 90 Lexington | Workshop/APD |
| Multi-Unit Residential Building | Saltmeadow | CetraRuddy Architecture |
| Multi-Unit Residential Building | The Jackson | Fogarty Finger Architecture |
| Multi-Unit Residential Building | Circa Central Park | FXCollaborative |
| Multi-Unit Residential Building | 252 East 57th Street | Skidmore, Owings & Merrill |
| Large Apartment | Art Gallery Residence | Leroy Street Studio |
| Large Apartment | Apthorp Residence | Megan Grehl |
| Large Apartment | Union Square Penthouse | TBD Architecture & Design Studio |
| Large Apartment | Central Park Duplex | SheltonMindel |
| Medium Apartment | 18th Street Triplex | INC Architecture & Design |
| Medium Apartment | Gramercy Loft | MdeAS Architects |
| Medium Apartment | Soho Loft | Meyer Davis |
| Medium Apartment | West Village Penthouse | Steven Harris Architects and Brooke Abrams Design |
| Small Apartment | Downtown Abbey | AM/MOR Architecture |
| Small Apartment | Uptown Pied-à-Terre | Pembrooke & Ives |
| Small Apartment | Nomad Pied-à-Terre | Workshop/APD |
| Townhouse | Brooklyn Townhouse | BarlisWedlick Architects |
| Townhouse | House for Booklovers and Cats | BFDO Architects |
| Townhouse | Chelsea Triplex | De-Spec |
| Townhouse | West Village Townhouse | SPG Architects |
| Kitchen and Bath | Central Park South Apartment | D'Aquino Monaco |
| Kitchen and Bath | Switchback House | L/AND/A |
| Kitchen and Bath | Broadway Duplex | Studio Modh |
| Kitchen and Bath | Chelsea Pied-à-Terre | Stadt Architecture |
| Sales Center/Model Apartment | 152 Elizabeth Street Residence | Gabellini Sheppard Associates and Tadao Ando Architect & Associates |
| Sales Center/Model Apartment | One57 Apartment | Jeffrey Beers International |
| Sales Center/Model Apartment | TWA Lounge, 1 World Trade Center | Lubrano Ciavarra Architects |
| Retail | Blue Bottle, Williamsburg | Bohlin Cywinski Jackson |
| Retail | Max Mara Madison | Duccio Grassi Architects |
| Retail | Silicon Valley Bank | ENV and Fennie+Mehl Architects |
| Retail | Everlane | Leong Leong |
| Showroom | Mohawk Group Showroom | Gensler |
| Showroom | AF | Project 6 | Desai Chia Architecture |
| Showroom | Kimball Showroom | Studio O+A |
| On The Boards: Commercial | Mossgrove | BuroBiro |
| On The Boards: Commercial | Longpoint Corridor | Crème / Jun Aizaki Architecture & Design |
| On The Boards: Commercial | One Willoughby Square | FXCollaborative |
| On The Boards: Commercial | The Bedford Hotel | ODA Architecture |
| On The Boards: Commercial | NYPD Bomb Squad Building | Rice+Lipka Architects |
| On The Boards: Residential | ARO | CetraRuddy Architecture |
| On The Boards: Residential | 125 Greenwich Luxury Residences | March & White |
| On The Boards: Residential | Four Twenty Kent Avenue | ODA Architecture |
| On The Boards: Residential | Brooklyn Senior Affordable Housing | Only If |
| NYC Shining Moment | Tenement Museum | Perkins Eastman |
| NYC Shining Moment | Hayes Theater | Rockwell Group |
| NYC Shining Moment | Empire Stores | Studio V Architecture and S9 Architecture |
Product Finalists:
| | | |
| --- | --- | --- |
| Category | Product/Collection Name | Manufacturer Name |
| Accessories | U Candle | Glaze |
| Accessories | Alchemy | Kenneth Cobonpue |
| Accessories | Replica | Left |
| Accessories | One to One Plus Mirrors | Visionnaire |
| Architectural Products | Baswa Emotion | Baswa Acoustic |
| Architectural Products | Panbeton | Concrete-Beton |
| Architectural Products | Geometric | HearthCabinet Ventless Fireplaces |
| Architectural Products | Archipelago Collection | Ingrained Walls |
| Bath | DeKauri | Cosentino, Fantini, Juniper, Riva 1920 |
| Bath | Rainmoon | Dornbracht |
| Bath | Components Faucet | Kohler Co. |
| Bath | Ino Collection | Laufen Bathrooms |
| Fabric: Contract | Taher Asad-Bakhtiari Collection | Bernhardt Textiles |
| Fabric: Contract | Tactility Collection | Luum Textiles |
| Fabric: Contract | Azuri Velvets | Style Library Contract |
| Fabric: Contract | Matter Collection | Wolf-Gordon |
| Fabric: Residential | Modern Tailor Collection | Kravet |
| Fabric: Residential | Souk | Castel |
| Fabric: Residential | Skylar Border, Cirque Collection | Samuel & Sons |
| Fabric: Residential | Geronimo Collection | Zinc Textile |
| Flooring: Contract | Empire Collection x Ghislaine Viñas: In the Hood | Aronson's Floor Covering |
| Flooring: Contract | Market Fringe Floor Mat | Chilewich |
| Flooring: Contract | Nutopia | Mohawk Group |
| Flooring: Contract | Deconstructed Metal | Patcraft |
| Flooring: Hard | Salluto | Ann Sacks |
| Flooring: Hard | Venetian Terrazzo | Concrete Collaborative |
| Flooring: Hard | Piano | Muntina thru Stone Source |
| Flooring: Hard | Ebanys | Paola Lenti thru DDC |
| Flooring: Residential | Mirage | GAN |
| Flooring: Residential | Aker | Kasthall |
| Flooring: Residential | Blur | Nanimarquina |
| Flooring: Residential | KO2 | Now Carpets |
| Furniture: Contract | Narrate | Kimball |
| Furniture: Contract | Brera25 | IOCUSA |
| Furniture: Contract | Pier | Vitra |
| Hardware | Bullet & Stone Collection | Designer Doorware |
| Hardware | Handle Collection | Klodea |
| Hardware | Organic Series | Nest Studio |
| Hardware | Atlantic Hardware Collection | O&G Studio |
| Health & Wellness | Yoku | Effegibi |
| Health & Wellness | Lightweight | Gradual |
| Health & Wellness | QuickStand Eco | Humanscale |
| Health & Wellness | UrbnEarth Planter | UrbnEarth |
| Kitchen | N_Elle Grey Saint Laurent Marble | Cesar |
| Kitchen | Coquo | Cuisines Steam |
| Kitchen | Laminam 12+ | Laminam thru Stone Source |
| Kitchen | Obumex Signature Kitchen x Bruno Moinard | Obumex thru Avenue Road |
| Outdoor | Nested Cabins | Ego Paris |
| Outdoor | Virus | Extremis |
| Outdoor | Bar Cart | Gloster Furniture |
| Outdoor | Van Dyck Outdoor Table | Minotti |
| Outdoor | Shore Rugs™ in Fine Weave | Shore |
| Seating: Contract: Guest | Maari | Haworth |
| Seating: Contract: Guest | Reed | Davis Furniture |
| Seating: Contract: Guest | Pax Chair | Materia |
| Seating: Contract: Guest | Elipse | Zanotta |
| Seating: Contract: Lounge | Kiik | Arper |
| Seating: Contract: Lounge | Diego | Bernhardt Design |
| Seating: Contract: Lounge | BaBa | Jot.jot |
| Seating: Contract: Lounge | Judy | Zanotta |
| Seating: Contract: Highback | Q6 | Davis Furniture |
| Seating: Contract: Highback | LAN | GAN |
| Seating: Contract: Highback | Gimbal | Most Modest thru Hightower |
| Seating: Contract: Highback | QT Collection | Poppin |
| Seating: Residential | Neotenic Lounge | Jumbo |
| Seating: Residential | Newson Aluminum Chair | Knoll |
| Seating: Residential | Chamfer | Moroso |
| Seating: Residential | Agronomist | Natuzzi |
| Seating: Reissues | Von | Ercol |
| Seating: Reissues | Pot Lounge Chair | Fritz Hansen |
| Seating: Reissues | D.156.3 | Molteni&C |
| Seating: Outdoor | Solanas Sectional Sofa | Gandia Blasco |
| Seating: Outdoor | Bolonia Lounge | Isimar |
| Seating: Outdoor | Zoey Recliner | Kenneth Cobonpue |
| Seating: Outdoor | Fatty | Kun Design Furniture |
| Seating: Outdoor | Sag Harbor Lounge Chair | Sutherland Furniture |
| Storage: Residential | Selene Console | Baxter thru DDC |
| Storage: Residential | Solo Desk | De La Espada |
| Storage: Residential | Taos Armoire | Token |
| Tables: Contract | Gap | Blå Station thru Scandinavian Spaces |
| Tables: Contract | Baja | Nucraft Furniture |
| Tables: Contract | Minim Rise | Uhuru Design |
| Tables: Residential: Coffee/Side | Atlas | Dune |
| Tables: Residential: Coffee/Side | The Strait | Fyshan Glass Studio |
| Tables: Residential: Coffee/Side | Loop | Jotjot |
| Tables: Residential: Coffee/Side | Playtime Series | Moss & Lam |
| Tables: Residential: Coffee/Side | Plec | RS Barcelona |
| Tables: Residential: Dining | Palais Royal | Asplund thru StudioTwentySeven |
| Tables: Residential: Dining | Tangle Table | Consort |
| Tables: Residential: Dining | Sir Gio | Kartell |
| Tables: Residential: Dining | Mimi Table | Miduny |
| Technology | Sentido Touch-Sensitive Design Switch | Basalte |
| Technology | JabbrrX | Jabbrrbox |
| Technology | Verdera Voice Lighted Mirror with Amazon Alexa | Kohler Co. |
| Technology | 4K Ultra Short Throw Projector | Sony Electronics |
| Technology | Modern Record Player | Symbol Audio |
| Wall Covering: Contract | Ukiyo | Astek Wallcovering |
| Wall Covering: Contract | Forces | Jill Malek x Visual Magnetics |
| Wall Covering: Contract | Grand Scale Ajiro Coffers | Maya Romanoff |
| Wall Covering: Contract | Moss & Lam Canvas | Moss & Lam |
| Wall Covering: Contract | Anthology 5 | Style Library Contract |
| Wall Covering: Residential | Stripe Tease Collection | 4Spaces |
| Wall Covering: Residential | Insero | Arte |
| Wall Covering: Residential | Sumi Collection | Calico Wallpaper |
| Wall Covering: Residential | High Dive Series | Juju Papers |
| Wall Covering: Residential | Luna | Tempaper |
| Wall Covering: Tile and Stone | Alabaster | Ann Sacks |
| Wall Covering: Tile and Stone | Fiamatto | Artistic Tile |
| Wall Covering: Tile and Stone | Rilievi | Florim |
| Wall Covering: Tile and Stone | Gramercy | Nemo Tile + Stone |
| Lighting: Floor & Table | Proto | Lumifer |
| Lighting: Floor & Table | Sway | Made By Pen |
| Lighting: Floor & Table | Dipping Light | Marset |
| Lighting: Floor & Table | Bola Disc Table | Pablo Designs |
| Lighting: Sconce | Eclipse | Asthetíque Atelier |
| Lighting: Sconce | OlaH | Karice Enterprises |
| Lighting: Sconce | Graffiti | Pallucco thru DDC |
| Lighting: Sconce | Hoist | Rich Brillant and Willing |
| Lighting: Sconce | Park Series | Workstead |
| Lighting: Pendant | Mile Collection | Lambert & Fils |
| Lighting: Pendant | Orion | Lee Broom |
| Lighting: Pendant | Amisol | Luceplan |
| Lighting: Pendant | Xi | Poltrona Frau |
| Lighting: Chandelier | Vine | ANDlight |
| Lighting: Chandelier | 87 | Bocci thru DDC |
| Lighting: Chandelier | Haiku | Corbett Lighting |
| Lighting: Chandelier | Constellation | Sonneman |
| Emerging Product Designer | Hex Shelving | Birnam Wood Studio |
| Emerging Product Designer | Button Ottomans | Kelly Harris Smith |
| Emerging Product Designer | Gesture (of a) Table II | McKenzie Gibson |
| Emerging Product Designer | Palat | Studio Maiju Uski |
| Made in the Boroughs | Phase Pendant | Kin & Company |
| Made in the Boroughs | Torus Table + Shelving | Robert Sukrachand |
| Made in the Boroughs | Either / Or | The Coast |
| Best of NYCxDesign | The Solar Canopy | Brooklyn Solar Canopy Company |
| Best of NYCxDesign | The Fempower Collection | Flavor Paper |
| Best of NYCxDesign | Lightweight | Gradual |
| Best of NYCxDesign | Triple Girl Lamp | Katie Stout thru R & Company |
| Best of NYCxDesign | Ombré Faucet Finish | Kohler Co. |
| Best of NYCxDesign | Eclipse | Lee Broom |
| Best of NYCxDesign | Ottoman Outdoor | Ligne Roset |
| Best of NYCxDesign | Agora | MDD |
| Best of NYCxDesign | Shower Light | Shinya Ito & Kaori Yamamoto |
| Best of NYCxDesign | Coexist Collection | Slash Objects |