23 Projects Win 2017 AIA Institute Honor Awards
The American Institute of Architects (AIA) has announced the 2017 recipients of the Institute Honor Awards, which commend outstanding achievement in architecture, interior architecture, and urban design. The 23 winning projects were selected from over 700 submissions by an esteemed jury of the industry's top practitioners. Check out the winning projects below.
Architecture
Aspen Art Museum in Aspen, Colorado, by Shigeru Ban Architects and CCY Architects
Opened in 2014, the new Aspen Art Museum by Pritzker Prize–winner and Interior Design Hall of Fame member Shigeru Ban features three floors—two above ground, one below—dedicated to gallery space, including a multi-purpose top floor that provides sweeping views of the Rockies.

Carmel Place in New York City by nARCHITECTS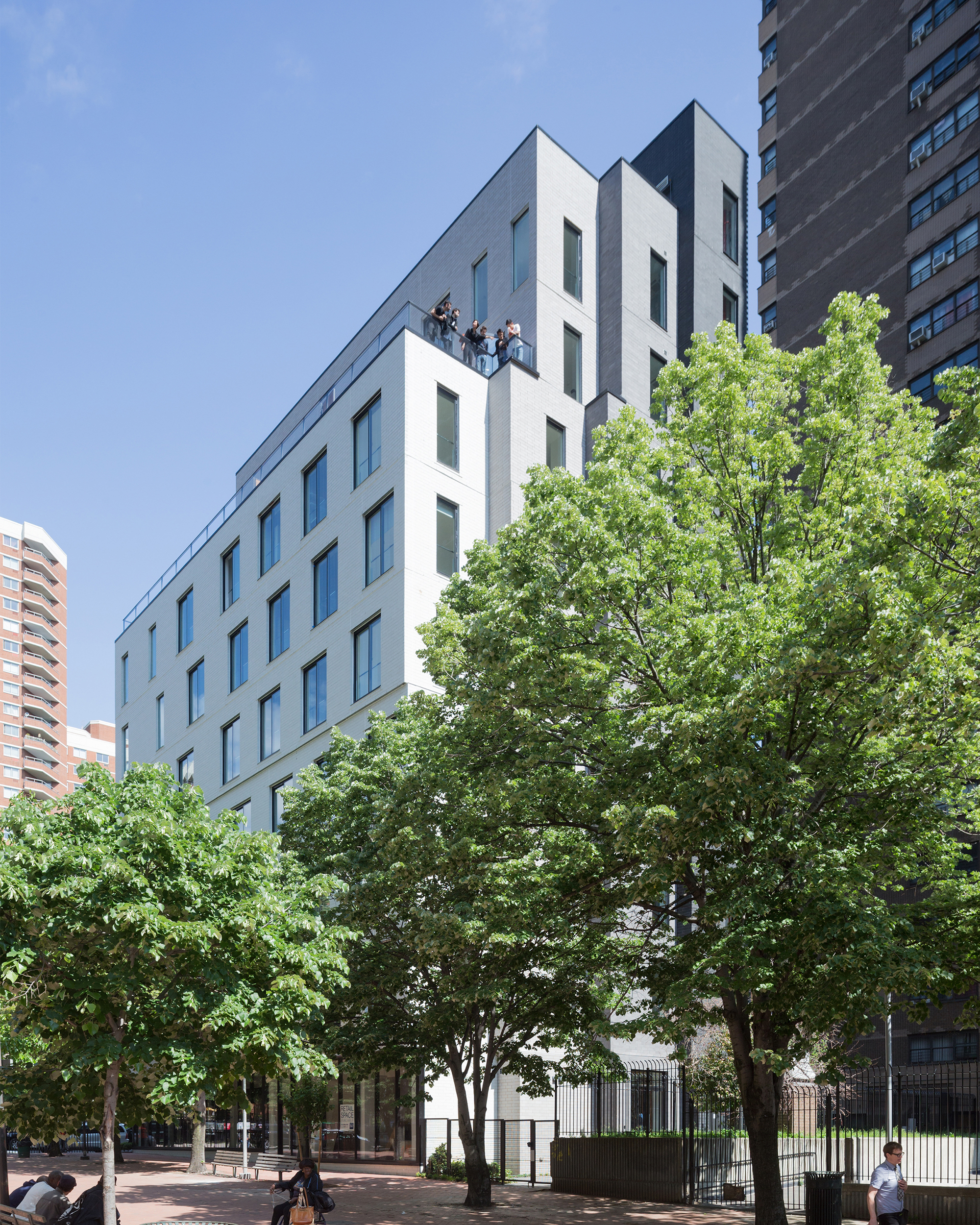 Comprising 55 units and spanning nine floors, New York City's first micro-unit apartment building is segmented into four slender "mini-towers"—a microcosm of the city's skyline. Its completion made Interior Design's list of 2015's most defining design moments.

Carnegie Hall Studio Towers Renovation Project in New York City by Iu + Bibliowicz Architects
This seven-year renovation project, which resulted in LEED Silver certification, included the creation of a Music Education Wing and a new roof terrace, the consolidation of administrative offices, the expansion of backstage space, and the installation of facade lighting.

The Cotton Gin at the GO-OP District in Hutto, Texas, by Antenora Architects
After consolidating two existing cotton gin structures into one building for public and private events, Antenora Architects clad the facade in perforated stainless steel that reflects the Texas sunlight during the day and provides transparency at night.

Grace Farms in New Canaan, Connecticut, by SANAA and Handel Architects
Grace Farms, also the recipient of the 2014/15 Mies Crown Hall Americas Prize, is a curvilinear building nestled within an 80-acre landscape that contains five volumes: a sanctuary, library, commons, pavilion, and partially submerged court.

Reva and David Logan Center for the Arts in Chicago by Tod Williams Billie Tsien Architects and Holabird & Root
Situated in Chicago's Midway, the Reva and David Logan Center unites the University of Chicago's visual arts, film, music, and theater programs under one roof. The site consists of two limestone-clad buildings—a 10-story tower and two-story "podium"—that nod to the University's neo-Gothic structures and the nearby Robie House by Frank Lloyd Wright.

St. Ann's Warehouse in Brooklyn, New York, by Marvel Architects
Marvel Architects revived the brick and mortar ruins of the historic Tobacco Warehouse, creating a new theater space for St. Ann's Warehouse right underneath the Brooklyn Bridge.

The Six Affordable Veteran Housing in Los Angeles by Brooks + Scarpa
The 52-unit LEED Platinum affordable housing and veteran support services building features large public areas designed to serve as community-oriented zones.

Stanford University Central Energy Facility in Stanford, California, by ZGF Architects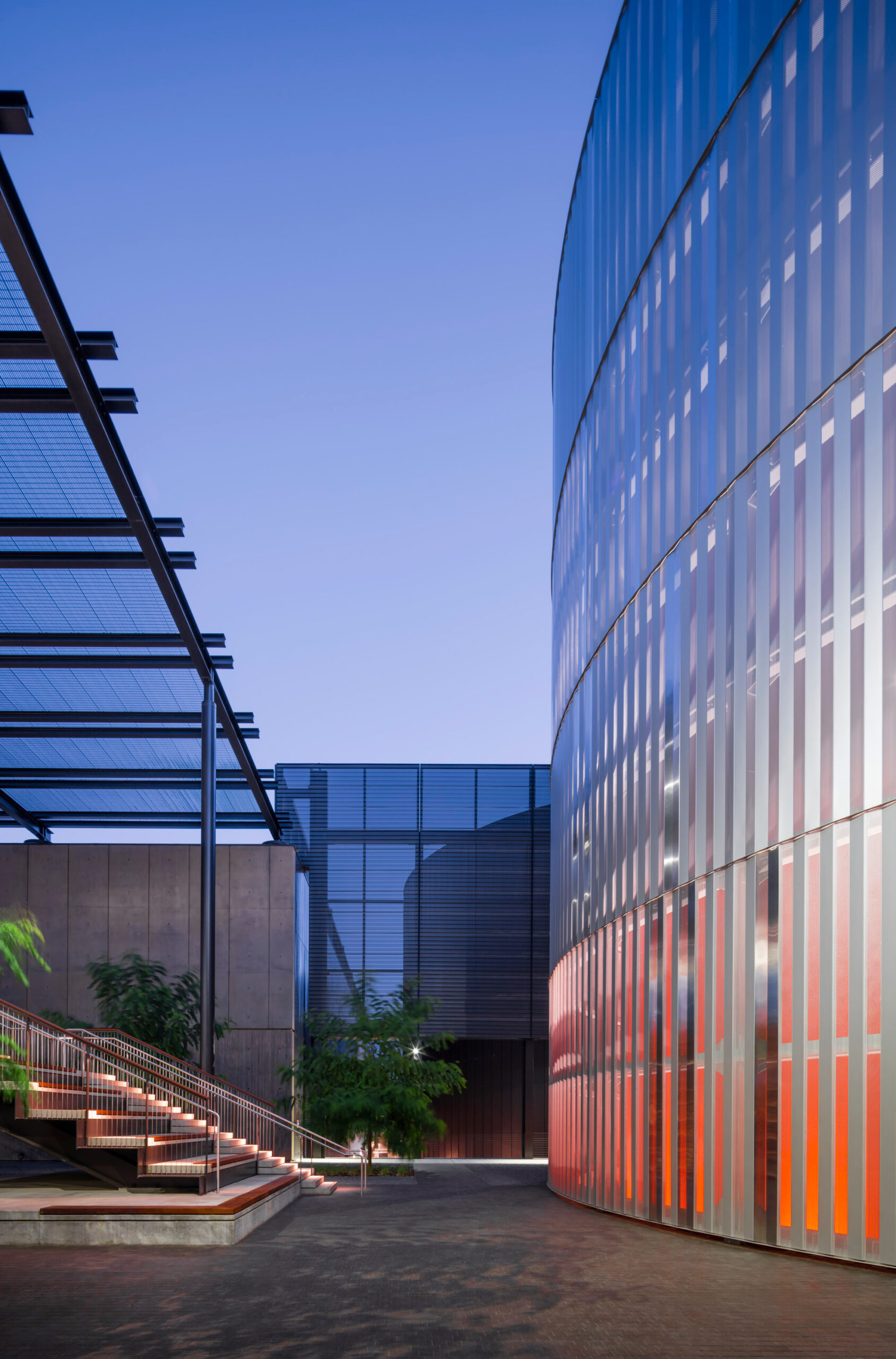 Projected to reduce Stanford University's greenhouse gas emissions by 58%, the composition of large, industrial structures is anchored by a central courtyard that pivots around a 2.5-million-gallon hot water thermal storage tank. ZGF Architects sprinkled Cor-Ten steel accents throughout the facility in a nod to Stanford's defining terra-cotta roofs.

THREAD: Artists' Residency and Cultural Center in Sinthain, Senegal, by Toshiko Mori Architect
THREAD offers multiple programs for Sinthian, Senegal, including a gathering space, performance center, and residency for visiting artists. The building's structure relies primarily on local materials—bamboo and spaced-brick walls—that absorb heat and allow for cross-ventilation.

Yale Center for British Art Building Conservation Project in New Haven, Connecticut, by Knight Architecture
Knight Architecture restored the Louis Kahn–designed Yale Center for British Art's worn interiors and fortified spaces for exhibition, storage, and study.
Interior Architecture
30 Rockefeller Plaza: 65th Floor, Rainbow Room, SixtyFive in New York City by Gabellini Sheppard Associates and Montroy Andersen DeMarco
Rekindling the 65th-floor restaurant and bar's radiant Art Deco spirit, Gabellini Sheppard Associates installed crystal window veils, restored a chandelier and central dome, and added a faceted ceiling composed of glass-reinforced gypsum panels—the project received Interior Design's prestigious Best of Year award in 2015 for Fine Dining.

General Motors Design Auditorium in Detroit by SmithGroupJJR
SmithGroupJJR modernized the 1956 General Motors facility, an Eero Saarinen masterpiece, while maintaining the original detailing.

George Washington University, Milken Institute School of Public Health in Washington, DC, by Payette and Ayers Saint Gross

Classrooms and study areas at the George Washington University Milken School of Public Health overlook both the iconic Washington Circle Park and a massive skylit atrium through an open latticework of floor openings.

In Situ in San Francisco by Aidlin Darling Design
SFMoMA's exposed interior shell provides a backdrop for the 2016 Best of Year winner's discreetly placed "artifacts," which include commissioned art, a sculptural wood ceiling, and custom lighting and furnishings. Read the full feature on Interior Design here.

Pinterest HQ in San Francisco by IwamotoScott Architecture with Brereton Architects
"Clean," "simple," and "intuitive" are words that inform Pinterest's redesigned web platform—and their new San Francisco headquarters housed in a former John Deere factory. IwamotoScott Architecture with Brereton Architects extended an existing atrium to the ground floor, spatially connecting all four levels.

University of Massachusetts (UMass) Dartmouth, Claire T. Carney Library in Dartmouth, Massachusetts, by designLAB architects and Austin Architects
The centerpiece of the campus, the Claire T. Carney Library—a 1963 tour de force by Paul Rudolph—celebrates the university's historic architecture with a vibrant color palette, bold supergraphics, and dynamic social spaces geared toward group study.

Writers Theatre in Glencoe, Illinois, by Studio Gang
A double-height lobby clad in locally hewn wood, which leads to a canopy walk supported by timber trusses, provides a gathering space for visitors before they head inside the two intimate theaters.
Regional & Urban Design
Cleveland Civic Core in Cleveland by LMN Architects
The Cleveland Civic Core project weaves together two public assembly facilities with green space to revitalize downtown Cleveland, a shining example of the City Beautiful movement in American city planning.

Philadelphia 30th Street Station District Plan in Philadelphia by Skidmore, Owings & Merrill
SOM's master plan for Philadelphia's 30th Street Station District will realize the long-awaited vision of a mixed-use urban district anchored by a historic transportation hub.
Reinventing Vilonia in Vilonia, Arkansas, by UA Community Design Center
After being leveled by a tornado that killed 11 people in 2014, Vilonia, Arkansas will receive a "safescape" consisting of a series of subterranean shipping containers that function as underground safe rooms.

Regeneracion: Tecnologico de Monterrey, Mexico, by Sasaki Associates
A new framework for Monterrey Tec's flagship campus calls for a strong relationship with the public realm to continue the university's influence as an engine of innovation and development in Mexico.

Rock Chapel Marine in Chelsea, Massachusetts, by Landing Studio
Rock Chapel Marine, a road-salt transshipment facility, will make use of the salt industry's seasonal nature to expand public waterfront access during summer and return to industrial use in the winter.