25 Innovative Ideas Shaping the Future of Design
A pattern of innovation is afoot.
1. Easton Helsinki by Lahdelma & Mahlamäki Architects Empowers Car-Heavy Locale
The freeway-riddled neighborhood of Itäkeskus in Helsinki, Finland, was in need of a little social glue: something that sparks joy in its residents as well as entices commuters to venture off the exit ramp. Enter Easton Helsinki, a 710,000-square-foot shopping center with community spirit. Read more.
2. Print Your City! Designs Chair From 100 Pounds of Plastic Waste
Architects Panos Sakkas and Foteini Setaki, founders of 2-year-old Dutch studio the New Raw, set out to tackle a mounting problem: the proliferation of plastic detritus, of which only 9 percent is currently recycled. "Plastic has a major design flaw," Sakkas states. "It's only used for a short time, but lasts forever." Read more.
3. Mario Filippetto Architetto Gives Modern Refresh to 18th-Century Milanese Chapel
Reverence is the theme in any house of worship. In the case of the tidy Votive Chapel, reverence takes on double meaning: religiously as well in regard to the 18th-century masonry structure it replaced. Read more.
4. Kelly Harris Smith's WantedDesign Installation Recasts Felt as Space-Maker
As co-founder of FilzFelt, Kelly Harris Smith is well schooled in the eco-friendly properties of the material. Now an independent designer and creative director, the textile trendsetter managed to wring even more possibility out of the cloth when she was invited to create a site-specific installation during WantedDesign 2017 in New York. Read more.
5. Rooftop Oasis by V Studio Enlightens Beijing's Golden Resources Mall
No one would ever guess that this oasis exists on the roof of Beijing's enormous Golden Resources Mall—at 6 million square feet, it's nearly twice the size of the Mall of America. But the indoor-outdoor aerie by V Studio founder Hu Quanchun takes up just 3,500 square feet. Read more.
6. Alex Chinneck's Logic-Bending Chimney Sculptures to Transform U.K. Town
Installation artist Alex Chinneck likes to trick the eye. Recent works include building facades that appear to be sliding down to the ground or torn in half. For his current show at the Städtische Galerie Kornhaus in Kirchheim unter Teck, Germany, he "knotted" one of the museum's 450-year-old pillars. Read more.
7. Atacama Desert Inspires Outdoor Performance Venue by Coz y Ortiz Arquitectos
There's no better place for an outdoor performance venue than somewhere it never rains. Such is the case with the Atacama Desert, approximately 700 miles north of Santiago, Chile, where the Teatro al Aire Libre Ruinas de Huanchaca has opened. Read more.
8. Susan for Susan Explores Chemical Processes to Create Unique Lamps
Kevin and John Watts left behind architecture school and an advertising career, respectively, to form Susan for Susan. "We set out to create products that visually question how they're made," Kevin Watts explains. The unique shapes and textures of their lamps are developed by exploring the reaction between Styrofoam and acetone, which acts as a solvent on the foam. Read more.
9. Helmut Jahn Updates Landmark Seven Oaks Horse Farm in St. Charles, Illinois, for His Wife
Helmut Jahn's métier is grand-scale urban architecture: Merck Serono headquarters in Geneva, an airport in Bangkok, towers from Warsaw to Tokyo, and luxury condominiums in New York and Chicago, which is home base for him and his firm, Jahn. Decidedly different in scale is Seven Oaks, a landmarked 30-acre American Saddlebred horse farm in St. Charles, Illinois, that dates to the 19th century. Read more.
10. Alice Bleton's Capsule Prototype Reconnects Office Workers With the Outdoors
Talk about hanging out. But not if you're prone to vertigo. Monade Capsule, a prototype that debuted during Dutch Design Week in Eindhoven, is Alice Bleton's response to "office workers needing a private spot away from the office where they can re-engage with the outdoors," she notes. Read more.
11. Star-Studded Design Team Reimagines Claude Debussy's Only Opera, Pelléas et Mélisande
A new incarnation of Pelléas et Mélisande, the only opera ever completed by Claude Debussy, in 1902, is a feast for the eyes—literally. Current-day directors and choreographers Sidi Larbi Cherkaoui and Damien Jalet envisioned the Opera Vlaanderen and Royal Ballet Flanders production as a window into the human soul. Read more.
12. Nendo's Oki Sato Gives the Portable Toilet a Sleek Redesign
The devastating impact of natural disasters on power grids, water supplies, and basic hygiene spurred Nendo principal Oki Sato to rethink a relief-effort essential: the portable toilet. Unlike standard mobile loos, with their clunky and cumbersome structures, the elemental Minimlet is, well, good to go. Read more.
13. Dutch Invertuals Exhibits Personal Curios From 45 Designers
These are a few of their favorite things: 45 participants displayed 800 curios from their personal archives alongside new work at "Fundamentals," an exhibition launched during Dutch Design Week in Eindhoven. It was the vision of Wendy Plomp, founder of Dutch Invertuals, who has produced 18 shows focused on innovative Dutch design over the past nine years. Read more.
14. Inspired by Case Study Houses, WATG Urban Builds the First Freeform 3-D Printed Home
WATG Urban claimed first prize in the 2016 Freeform Home Design Challenge, commissioned by Branch Technology to build the first house that combines freeform 3-D printing with conventional construction materials. Despite its futuristic contours, Curve Appeal, as it's called, is actually inspired by the past: Case Study Houses—but using technology those mid-century architects could only imagine. Read more.
15. SVA Students Reimagine Mundane Dining Tools for MoMA Design Store
It was five years ago when Paola Antonelli, the Museum of Modern Art senior curator of architecture and design and School of Visual Arts faculty member, suggested to Allan Chochinov, the New York school's MFA products of design department chair, that his students conceive pieces for the MoMA Design Store. For the program's fourth year, 25 students were tasked with improving the dining experience. Read more.
16. Core Studio Curates Industrial-Inspired Show in Eindhoven Garage
With space at a premium, exhibitors wishing to display their wares during international fairs must think outside the tradeshow box. Behold the subterranean exhibition "Hardcore," held in eight rented spots at the fully operational Q-Park de Admirant garage in Eindhoven during Dutch Design Week. Read more.
17. Poured Concrete Flooring Eliminates Disease in Bangladeshi Homes
An acronym for architecture for health in vulnerable environments, ARCHIVE Global believes design can help combat disease. A recent pilot project confirms the belief. In 2014, the nonprofit launched Health From the Ground Up, an initiative to improve conditions for the disadvantaged in Southeast Asia. Upon learning that thousands of Bangladeshi children die due to parasites harbored in the dirt floors often used in their homes, the team focused on a single basic element: new flooring material. Read more.
18. The Museum of Ice Cream's Latest Edition Lands in Miami Beach
It was an Instagram sensation from day one. After the Museum of Ice Cream popped up in New York two years ago, temporary outposts in Los Angeles and San Francisco quickly followed. More installation than museum, the multisensory spectacle is the sweet, nostalgic vision of the museum's founder and creative director Maryellis Bunn. Read more.
19. Tokyo Salon by Moriyuki Ochiai Architects Evokes Braids and Twists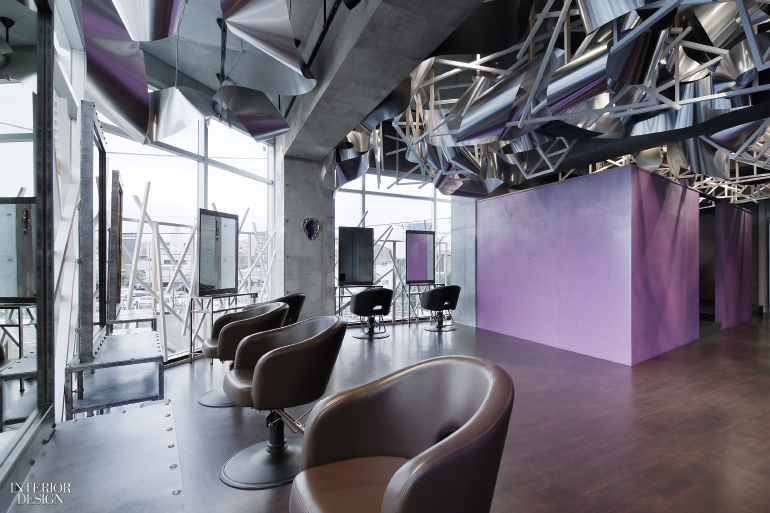 Straightened, curled, puffed out. Hair can be fashioned into amazing shapes. Inspired by that pliancy, Moriyuki Ochiai Architects transformed a 1,200-square-foot former clothing store into Spea, a Tokyo salon. Read more.
20. Ugo Rondinone Brightens Fundación Casa Wabi With Local Children's Sketches of the Sun
The Mexican sculptor Bosco Sodi made a splash in New York last spring with his temporary brick-wall installation, an interactive public-art piece. But back home, he's been fostering art and community since 2014, when he founded Fundación Casa Wabi, a nonprofit entity that occupies a Tadao Ando Architect & Associates building in Puerto Escondido and mounts exhibitions meant to provide enrichment for locals. Read more.
21. Wutopia Lab Treats Two Shenzhen Homes to Gender-Inflected Makeover
The Bi-City Biennale of Urbanism/Architecture alternates between Hong Kong and neighboring Shenzhen, China. The latter hosted the most recent biennale, but, unlike previous ones sited in typical exhibition venues, this edition staged high-concept interventions in migrant villages outside the city center. It was there that Wutopia Lab transformed side-by-side residences into His House and Her House, a gender-inflected meditation on the modern cosmopolis. Read more.
22. Joris Laarman Lab Digitally Fabricates Exoskeletal Furniture
Breaking serious ground since founding his namesake lab with partner Anita Star in 2004, Dutch designer Joris Laarman first gained acclaim with a curious rococo-inspired radiator. Laarman's greatest contribution to the field, though, is not a particular design so much as a new methodology, one in which technology drives form rather than simply abetting it. Read more.
23. Bentley Reinvents Production Process for New Continental GT
Bentley Motors director of design Stefan Sielaff channeled cut-crystal glasses into the third generation of the grand tourer's LED headlights. But more significant is its aluminum exterior, which is nearly 200 pounds lighter than its previous incarnation. Read more.
24. Clap Studio Revamps Dreamy Office in Valencia, Spain, to Promote Rest 
When the 10 partners of an event planning company met with Clap, a design and branding studio, to assess the needs of their office, work wasn't the only consideration. Their Valencia, Spain, space would also accommodate—even promote—rest. Regaining mental clarity is crucial during their long days of creative output. Read more.
25. Adjaye Associates Masters Interactivity at New York's Spyscape Museum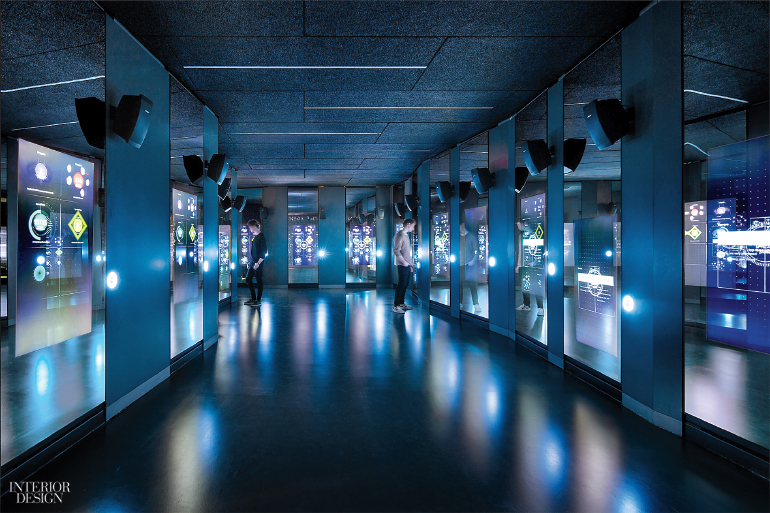 Did you know there are 10 archetypal spy roles? They range from cryptologist and hacker to intelligence operative and agent handler. Visitors to Spyscape, New York's first museum dedicated to secret intelligence, can determine which they are through interactive experiences designed by Adjaye Associates. Read more.