300 Artists Remember Hurricane Sandy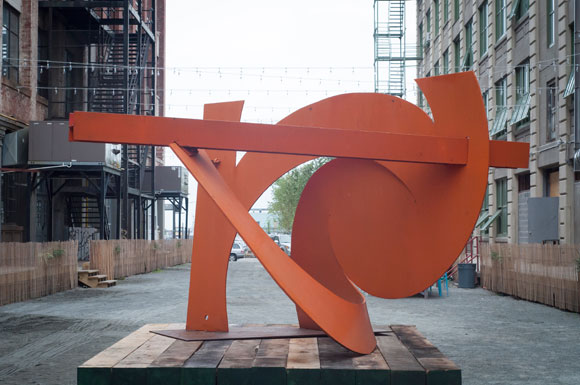 Mark di Suvero, "Rust Angel," 1995. Painted steel, 8'11" x 14′ x 7'8″. Photo by Taylor Dafoe.




Marking the one-year anniversary of Hurricane Sandy, over 300 artists are participating in

"Come Together: Surviving Sandy, Year 1"

to signify solidarity and resiliency in the face of the storm's lasting devastation. Presented by the

Dedalus Foundation

, the exhibition kicks off this Sunday at

Industry City

in Brooklyn and will be on view through December 15.
More than 600 pieces fill the space, many of which are for sale. Proceeds will be donated to a charitable fund benefitting Sandy relief and arts education in the city. In addition to visual art, there will be music and dance performances, screenings of documentary films, panel discussions, and poetry readings during the course of the exhibition.



Art handlers working in Gallery D on the 3rd floor. Photo by Taylor Dafoe.



Phong Bui, the show's curator, hopes that it will serve as a symbol of renewal. "The devastation caused by the storm surge has transformed the New York art community, [but] artists, gallerists, writers, and others have refused to be defeated," Bui says.

As Bui indicates, images are still fresh in our minds of flooded subway stations and destroyed boardwalks, including the

famous shot

by

Iwan Baan

of Lower Manhattan powerless. Among the documentation were photos of the gallery district on the west side of the island, where millions of dollars of artworks were lost, and the arts community was left reeling. Now, in collective catharsis, the industry demonstrates that while it was shaken by the events of the last year it is hardly crushed.