4 Summer Houses Join London's 2016 Serpentine Pavilion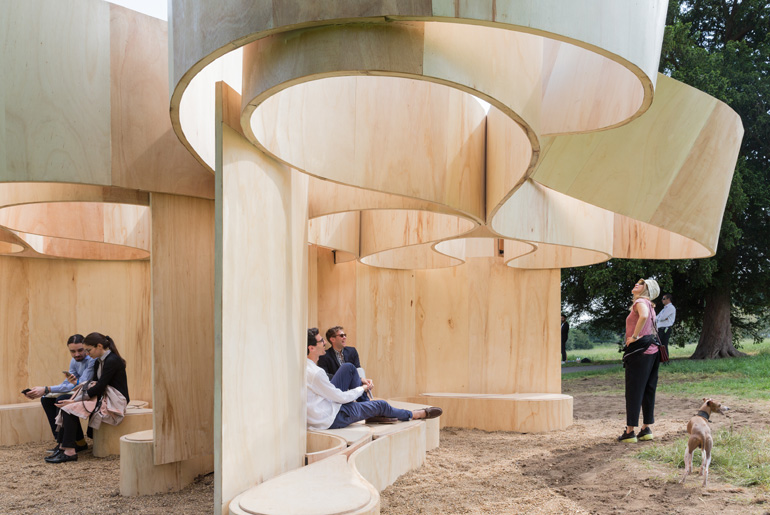 Joining London's Serpentine Pavilion this year are a series of four newly commissioned Summer Houses that circle the nearby Queen Caroline's Temple—an 18th century monument designed by Sir William Kent that overlooks Long Water in Hyde Park. Architects Kunlé Adeyemi, Yona Friedman, Barkow Leibinger and Asif Khan were asked by the gallery to each create a 270-square-foot structure in response to the monument, which yielded four very different results.
Nigerian architect Kunlé Adeyemi's inverse sandstone replica of the monument provides a sculptural space for shelter and relaxation, while Barkow Leibinger's summer house made up of swirling timber ply bands pays homage to William Kent's now extinct second monument which previously stood on a nearby hill, rotating mechanically and offering up panoramic views of the park. Also drawing upon the site's history for inspiration, and in particular its connection to the sun path, Londoner Asif Khan has designed an arrangement of 100 vertical timber staves that rise up from the gravel to encircle a polished metal platform, which has been designed to frame and highlight the park's views. Meanwhile 93-year-old Hungarian-born French architect Yona Friedman's modular framework structure builds upon his vision for an elevated city, La Ville Spatiale, for which he published a manifesto in 1959.
"It's been a really exciting process to be part of this group show," said Asif Khan at this morning's unveiling. "It's a fantastic privilege for us to not only think about how we can communicate to a wider audience but also how we can communicate to other architects."