42 LAUNCH Partner Product Picks from the April 2020 Issue
Interior Design's April 2020 issue features the inaugural edition of LAUNCH™, a powerful new tool for the architecture and design community. Brought to you by the editors of Interior Design, LAUNCH exists to streamline the specification process. Here, we highlight 43 product picks from our partners, available now on LAUNCH.
1. Gregor by Molteni & C | Dada
Mix and match the wing-armed seating system's straight, corner, and peninsular modules as desired to create arrangements suited to conversation, reading, or lounging.
Standouts: Designed by Vincent van Duysenin, this modular system features Molteni&C fabric and leather rounded corner
backrests.
> Learn more about Gregor on LAUNCH
2. Ultraleather Reef Pro by Ultrafabrics
Inspired by sea coral, this performance fabric with understated two-tone texture offers enhanced resistance to tough stains (including ballpoint pen and ketchup) and a sophisticated sensorial experience.
Standouts: Available in 17 colors, with industry-leading 14+ weeks hydrolysis results and 300,000 Wyzenbeek double rubs, Ultraleather Reef Pro is bleach cleanable, and is certified SCS Indoor Advantage Gold.
> Learn more about Ultraleather Reef Pro on LAUNCH


3. Community by Shaw Contract
Four complementary product platforms, designed to layer and integrate with each other, form the perfect flooring solution for today's fluid, flexible communal spaces.
Standouts: In 10 patterns and 62 colorways, the Community collection includes carpet tile, broadloom
carpet, area rugs, and CoreTec XRC.
> Learn more about Community on LAUNCH
4. Summa by Humanscale
An executive chair pairs minimalist, luxe styling with effortlessly intuitive functionality, the control mechanisms seamlessly integrated.
Standouts: Summa is available in seven chrome-free
leathers and three wood finishes, with multiple base options. The chair also features a weight-compensating recline mechanism and a discreet height-adjusting lever.
> Learn more about Summa on LAUNCH
5. Derby by Hubbardton Forge
The design is a fusion of high-tech and handcrafted: Wires embedded in artisanal leather suspension straps power the LED light's glass globe.
Standouts: Six products and three formats make up this American-made collection.
> Learn more about Derby on LAUNCH
6. Kova Select by Kova
Products from the label's minimalist premium line exhibit a keen attention to detail by way of cross-category aesthetic consistency and masterful coordination of finishes.
Standouts: Kova Select offers a range of 25+ modular products in three finishes.
> Learn more about Kova Select on LAUNCH
7. 3M DI-NOC by Designtex
Introducing 180 patterns of high-performance self-adhesive film textures featuring a new matte finish. Inspired by wabi-sabi, the collection celebrates the nuanced beauty and imperfection of natural materials.
Standouts: The textured adhesive film conforms to flat or curved surfaces and can be applied on-site to transform spaces with less downtime, labor, and waste.
> Learn more about 3M DI-NOC on LAUNCH
8. Gina by ddc
Designed by Jacopo Foggini, each one-of-a-kind piece is "embroidered" by hand with masterful precision from a single polycarbonate thread to form a delightful play of transparency and light.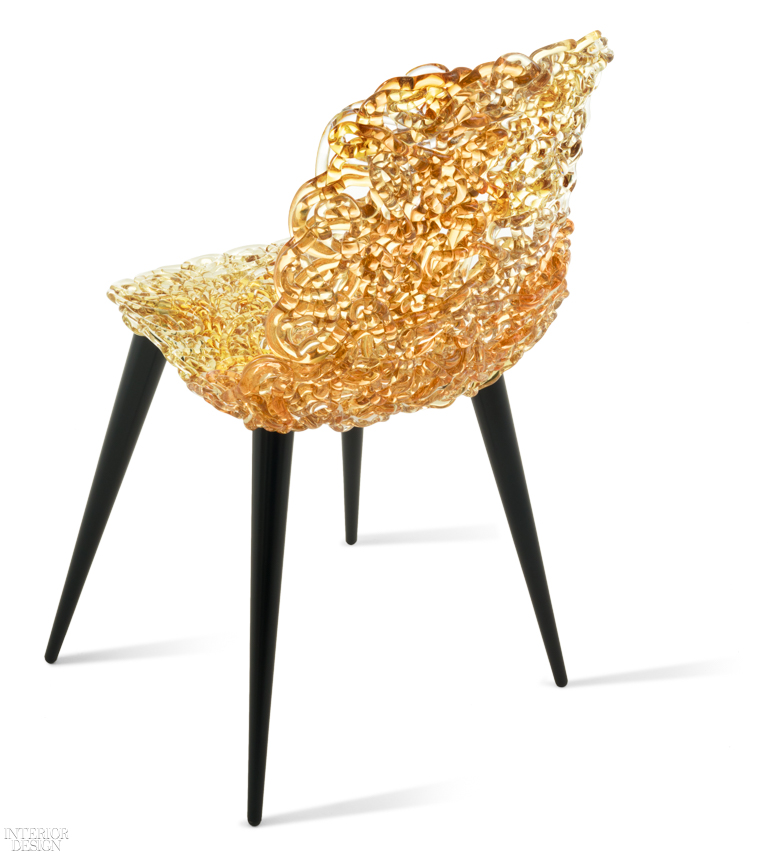 Standouts: Formed of vibrant hand-extruded
polycarbonate, each piece is unique.
> Learn more about Gina on LAUNCH
9. Tuli by Craftmade
A vessel for state-of-the-art LED illumination, frosted glass adds a grace note to conversation-starting curves in minimalist flat-black or luxe satin-brass finish.
Standouts: Tuli brings a stylish touch to LED lighting with three formats and two finishes.
> Learn more about Tuli on LAUNCH
10. Performance fabrics by Crypton
Superior performance is the byproduct of fabric-specific engineering, resulting in designs that stand up to the most discerning tastes—and toughest environments.
Standouts: Offering stain and moisture protection and easy cleanup, these performance fabrics extend the life of case goods, and have been declared Greenguard Gold, free of PFOS, PFOA, heavy metals, phenols, and skin sensitizers.
> Learn more about Crypton Performance Fabrics on LAUNCH
11. Boost Ottoman by Carnegie
A durable, comfortable, and stylish solution for any collaboration or gathering space, the versatile seat leverages the performance capabilities of Xorel Knit—and features innumerable design options.
Standouts: Expect a
4-6–week lead time for Boost Ottoman, which meets workplace,
hotel, and health space demands. Xorel Knit shows no wear at 250,000 double-rubs, has earned Cradle to Cradle Silver, SCS Indoor Advantage Gold, resists punctures
and stains, and is PVC-free.
> Learn more about Boost Ottoman on LAUNCH
12. Volo by Trendway
With its unitized, modular construction and extensive design options, Volo offers a fast, flexible, and sustainable approach to interior architectural space planning.
Standouts: Volo's modular construction means easy install and
reconfiguration, and minimal impact to
ceilings and floors.
> Learn more about Volo on LAUNCH
13. Owls by Mohawk Group
Designed in collaboration with Jason F. McLennan, the carpet plank collection's two patterns reinterpret plumage by way of mottled motifs and variegated neutrals.
Standouts: The two styles with five colorways each are Living Product Challenge certified.
> Learn more about Owls on LAUNCH
14. Queue by Bernhardt Design
Danish designer Claus Breinholt reimagines the classic bistro chair as a Monobloc polypropylene stacker, respecting old-school craftsmanship while leveraging today's materials and molding technologies.
Standouts: The GREENGUARD certified stacker comes in five shades, outfitted in Bernhardt textiles, leathers, and coated fabrics or the customer's own material.
> Learn more about Queue on LAUNCH
15. ViviTela Shibori by Forms+Surfaces
Color-customizable laminated glass captures the handcrafted quality of Japanese shibori resist-dyed fabric by way of innovative digital imaging and manufacturing technologies.
Standouts: Six patterns of customizable
dimensions can match any digital, Pantone, Benjamin Moore, or Sherwin Williams color with various levels of diffusion or optical distortion.
> Learn more about ViviTela Shibori on LAUNCH
16. Freeform by TURF
Freeform allows you to customize each ceiling baffle in your design, while delivering the acoustic performance you need.
Standouts: Customize depth, length, and curvature in 12 standard colors of American-made recycled PET felt.
> Learn more about Freeform on LAUNCH
17. Barn Door Track by Sun Valley Bronze
A dual feat of engineering and artistry, the handmade solid bronze (or brass) rolling-door system puts a modern spin on turn-of-the-century style.
Standouts: For single or double wood, glass, or steel doors, the system offers 12 hand-applied finishes and custom lengths.
> Learn more about Sliding Barn Door Track on LAUNCH
18. Electra Grande by Mission Stone & Tile
Crafted of glazed porcelain, oversized hex tiles featuring graphic lines can be configured in a variety of unique designs, adding richness and depth to any room.
Standouts: Available in six colors, the triple-fired porcelain is suited for residential to
medium commercial
traffic interiors.
> Learn more about Electra Grande on LAUNCH
19. Sweet Caroline by Architex
Relaxed madras, chenille, and basket-weave patterns in a soft, cottonlike polyester-blend construction convey a welcome dose of southern charm.
Standouts: 54 inches long, the fabric withstands 50,000 Wyzenbeek double rubs, and is stocked free of
finishing, with Alta performance technologies available.
> Learn more about Sweet Caroline on LAUNCH
20. Rampart by Wolf-Gordon
Pattern clarity and sophisticated coloration distinguish flexible wall protection for health/wellness environments,
a visually appealing alternative to rigid sheet goods that
boasts comparable durability.
Standouts: Rampart's heavy-duty vinyl
construction in 15 patterns resists impact,
abrasion, stains,
and bacteria.
> Learn more about Rampart on LAUNCH
21. Broderick Kitchen Collection by Delta
Exquisite detailing tempers
the industrial ruggedness of
a faucet series whose exposed hardware and powerful styling turn heads.
Standouts: This collection's 50 total SKUs in five finishes feature Touch2O and shieldspray technologies.
> Learn more about Broderick Kitchen Collection on LAUNCH
22. Hobsen by National Office Furniture
A masterpiece from any angle, the lounge with coordinating ottoman boasts handcrafted walnut or maple arms, exposed finger joints, tapered legs, and organic curves.
Standouts: Designed by Don Woods, the lounge is available in 20 finish and paint colors, with a contrasting fabric
option.
> Learn more about Hobsen on LAUNCH
23. Moooi Tokyo Blue by Arte
Japan's ancient culture and lush
natural beauty are the common denominators of the wall covering collection's evocative patterns and divergent techniques.
Standouts: The five patterns and 15 total colorways of this collection feature 3-D surface techniques and nonwoven backing.
> Learn more Moooi Tokyo Blue on LAUNCH
24. LA2 Slim Ring by Lightart
With six stock hues and an additional 250-plus to choose from, designers can match a brand color or create a vibrant way-finding application with this ultra-lightweight LED unit.
Standouts: Four sizes of 3form Varia Ecoresin shades with a 2.5-inch profile and solid state LED system are CSA-approved to UL standards.
> Learn more about LA2 Slim Ring on LAUNCH
25. Edge Lit by Milliken
Packed with performance features, the angular carpet tile design explores —and captures—light's energetic properties and transformative effect on interior spaces.
Standouts: Designed by Julie Chandler and certified Cradle to Cradle Silver, the collection's 12 colors in two sizes include modular impact rug options.
> Learn more about Edge Lit on LAUNCH
26. Ocean Master MAX by TUUCI
The brand's yacht-rigging background informed the proprietary gear system and telescoping mast of this nautical teak parasol, which deploys without interfering with surrounding furniture.
Standouts: Designed by Dougan Clarke, the parasol features Grade A plantation-grown teak and a marine-grade aluminum superstructure.
> Learn more about Ocean Master MAX on LAUNCH
27. SensoWash i by Duravit
Completely customize—and program—individual user preferences for the brand's first integrated shower-toilet, a next-gen intelligent design solution for the wellness-focused bathroom.
Standouts: Designed by Philippe Starck, SensoWash i features smartphone app and remote control, various adjustable shower functions, warm-air dryer and heated seat, rimless flushing technology, and bacteria-eliminating ceramic glaze.
> Learn more about SensoWash i on LAUNCH
28. Icon by Pollack
Understated simplicity unifies the gorgeously varied spring introductions, which range from stripes to abstract geometrics in constructions including pure wool, linen, and indoor/outdoor textiles.
Standouts: In 20 patterns, the collection includes 122 SKUs, with most rated 50,000+ Wyzenbeek.
> Learn more about Icon on LAUNCH
29. A-Collection by Davis Furniture
Jehs+Laub's clean-lined collection—encompassing bench, chair, table, and lounge—utilizes an architectonic A-frame silhouette that conceals its utilitarian complexity.
Standouts: Featuring aluminum legs in eight powder coats, the collection is Level 1 Certified and Gold Indoor Advantage certified.
> Learn more about A-Collection on LAUNCH
30. Alias II by Knoll Textiles
From the 24/7 Extreme Performance line conceived for high-traffic interiors, a modern-minded textile crafted of woven polyethylene tape yarn is inherently strong, dimensionally stable, and PVC free.
Standouts: The American-made line includes five patterns in 48 colors.
> Learn more about Alias II on LAUNCH
31. Custom Furniture by Bespoke by Luigi Gentile
As the brand name implies, every aspect of the designer's handcrafted upholstery line is fully customizable, from the dimensions and configurations to material and finish choices.
Standouts: Bespoke works from conception to final execution of any custom design.
> Learn more about Bespoke's Custom Furniture on LAUNCH

32. Prest by Ghent
This mobile whiteboard is equal parts stylish and functional, courtesy of myriad eye-catching finishes and the option to swap out a magnetic porcelain-coated surface for tackable fabric.
Standouts: Customize with two configurations, three oak frame stain
options, and 21 standard scratch-, stain-,
and ghost-resistant fabrics.
> Learn more about Prest on LAUNCH
33. AllSorts by Arcadia
An ash wood platform is the building block for this bold-yet-relaxed bench, a multipurpose design specifiable with various table, tech, and upholstery options.
Standouts: Nine metal leg finishes, six wood finishes, and multiple available power units are also offered in a child-size version.
> Learn more about AllSorts on LAUNCH
34. GoGo by Encore
This lounge and bench collection keeps pace with the speed of change via hidden casters that provide sitters the freedom to gather or break away as desired.
Standouts: Designed by QDesign, GoGo features casters for easy
maneuverability, and an optional lounge pull handle in four colors.
> Learn more about GoGo on LAUNCH
35. Porcelain Countertops by Crossville, Inc.
Elegant 12mm-thick porcelain slabs ideal for countertop installations offer all the advantages of tile—seductive looks and unparalleled durability among them.
Standouts: Ideal for both indoor or outdoor use, the 16 colors and finishes won't stain, crack, or yellow.
> Learn more about Porcelain Countertops on LAUNCH
36. Bombom by Bernhardt Design
Francesco Favaretto's fully upholstered swivel chair is an ode to comfort and a study in contrasts, merging a thin, rigid shell with generous soft cushions.
Standouts: The Greenguard Gold certified chair comes in two base finishes and Bernhardt textiles or the customer's own material.
> Learn more about Bombom on LAUNCH
37. NeatUp by Humanscale
Declutter sit/stand workstations with this sleek self-adjusting cable management solution, which installs along the table leg to conveniently—and invisibly—route power directly to the user.
Standouts: NeatUp quickly installs on the table leg, with a six-outlet power strip in three finishes, for both Float and eFloat desks.
> Learn more about NeatUp on LAUNCH
38. Element Collection by Rocky Mountain Hardware
The perfect punctuation for any custom door, the handle's minimalist profile spotlights the beauty of art-grade bronze.
Standouts: The hand-cast bronze in 12 hand-applied patina finishes is compatible with all mortise lock functions.
> Learn more about Element Collection on LAUNCH
39. Kemizo by Altura
Diagonal gestures and curvaceous profiles unify the table collection's four styles, their forms highlighted by optional metal inlays and 32 standard finishes.
Standouts: Designed by Jeff Behnke and Roland Zehetbauer, the American made table is offered in four wood species and three inlay finishes.
> Learn more about Kemizo on LAUNCH
40. U-Chill by U-Line
An LED-lit in-counter cooling cylinder crafted of hand-polished marine-grade stainless steel maintains the temperature of beverages while they're being enjoyed.
Standouts: The touch-activated, patented dry-cooling technology is available in 27 LED color options.
> Learn more about U-Chill on LAUNCH
41. Bouclé by Chilewich
The rich texture of Bouclé evokes the nubby, character-laden surface of fine fabrics, with the added durability and easy maintenance of all things Chilewich.
Standouts: A favorite for floors (as tiles, rolls, and rugs), this crepe weave adds visual interest and dimension without dominating.
> Learn more about Bouclé on LAUNCH
42. Forest by Artistic Tile
The pattern's surface treatment interacts with the natural movement in the stone beneath to make each piece a unique composition.
Standouts: Designed by Lori Weitzner, Forest etches an organic, tree bark pattern into marble via three distinct techniques.