5 Projects From Karim Rashid's Just-Launched Firm, Kurv Architecture
Interior Design Hall of Fame member Karim Rashid has joined forces with Alex Hughes, AIA, to launch a New York City–based firm called Kurv Architecture. The firm has revealed designs for several residential projects, including two that are under construction—329 Pleasant Avenue and 655 West 187th Street. The proposals look on track to deliver Rashid's signature aesthetic of vibrant colors and biomorphic forms, while following the mantra that "good design makes lives better, more functional, more beautiful, sensorial, and inspiring." Get a glimpse of the projects below.
1. 1655 Madison Avenue
A mixed-use building in East Harlem, 1655 Madison Avenue upends the typical low-income rental building. Light emanates from the floor-to-ceiling glass windows that compose the origami-like facade. Spacious interiors boast furnishings designed by Rashid, a trend that continues onto each unit's seven-foot balcony.
2. 30 Thompson Street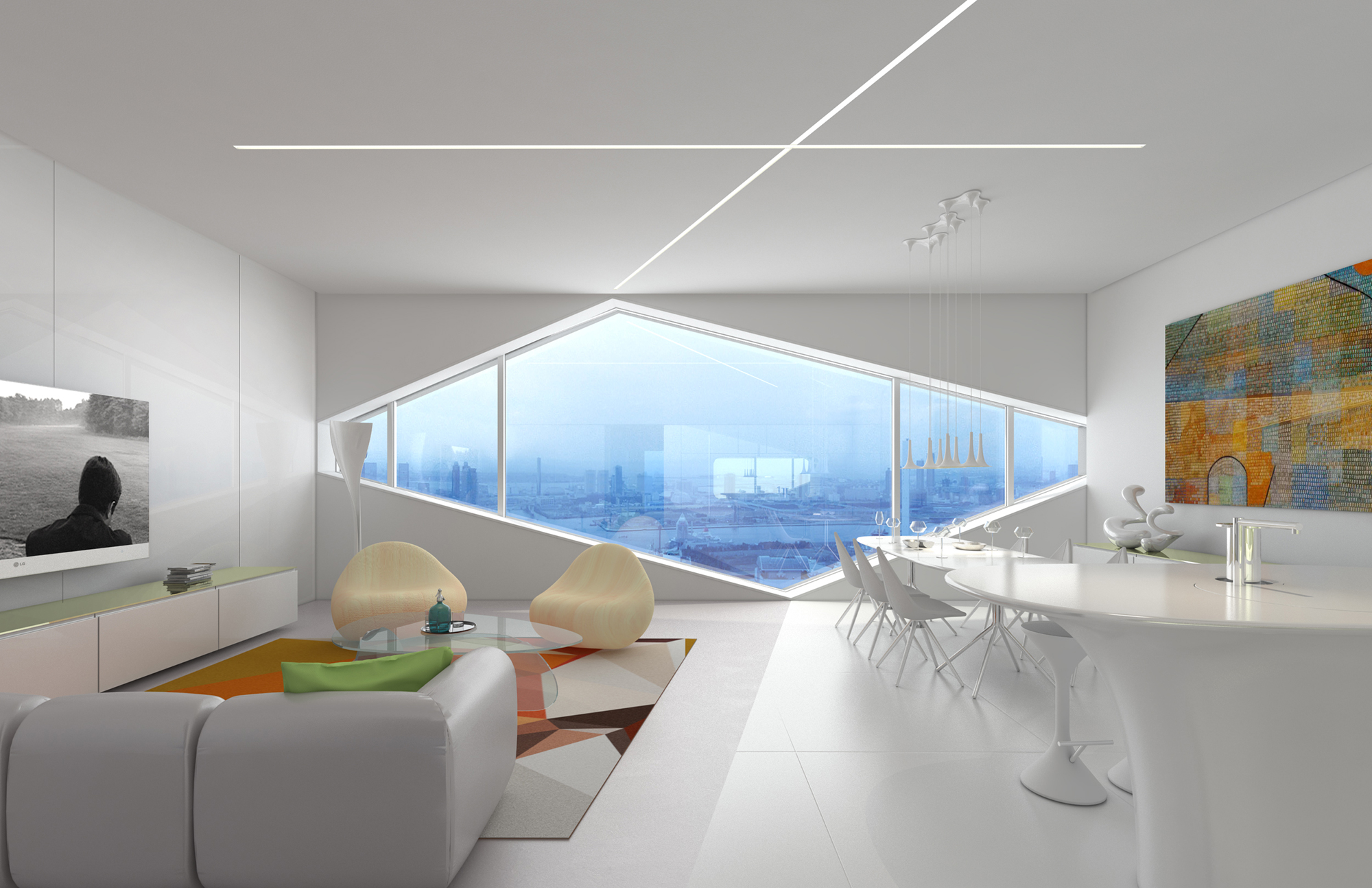 Each of the seven units in this SoHo apartment building features cutting-edge smart technology, which controls radiant flooring, refrigeration, and elevator calls. The open-plan layout, anchored by Aran Cucine kitchens, segues to an oversized rhombus-shaped window that doubles as a lounge nook.
3. 665 West 187th Street
Manhattan's second modular prefab building will rise at the tip of the island in Inwood. The Tetris-like structure is festooned with lilac motifs in a nod to New York's state flower. The hardware, appliances, flooring, wall coverings, and material finishes, all identical throughout each unit, are designed by Rashid.
4. 329 Pleasant Avenue
Tucked away on a sleepy street in Spanish Harlem, 329 Pleasant Avenue will bring a bright contrast to the neighborhood's vernacular of brownstones and pre-war tenements. Kurv will glaze each unit's nine-foot floor-to-ceiling window, allowing natural light to penetrate the building's mix of studios and one-bedrooms. A covered terrace accompanies each unit and can fit a family-size dining table.
5. 215 West 28th Street
A pulsating facade that gradually cantilevers over nearby buildings will lend an unconventional touch to this street in Chelsea, a neighborhood already renowned for its forward-thinking vernacular. Amenities such as an indoor pool, gym, spa, and wellness club accompany the building's generously sized units, which include five-bedroom duplex penthouses.
All renderings courtesy of Kurv Architecture.
View Rashid's Hall of Fame documentary: