5 Questions With… Marissa Geoffroy of Sherle Wagner International
For Marissa Geoffroy, creative director at Sherle Wagner International, product design runs deep—it's essentially in her blood. The innovative company was founded 75 years ago by Geoffroy's grandparents (her grandfather being the Sherle Wagner). Today she oversees the aesthetic direction of the company, while her brother, Evan Geoffroy, serves as president and focuses on product development, partnering with Marissa to guide the stylistic direction for the company and bring designs to life. Together they continue their grandfather's legacy, pushing the boundaries when it comes to creating luxurious hardware and bath accessories.
Interior Design: How did the Sherle Wagner International team arrive at the design for the Dorian levers, referencing classical Greek columns?
Marissa Geoffroy: One of the greatest challenges of high-end product design is to compromise neither form nor function. The Dorian lever is ergonomic and functional. It is pleasing to the hand when used as a faucet handle or as a door lever. It is sleek, but makes an impact. The Dorian's tapered shape references Greek columns (its name references the Doric order of ancient architecture), making it a contemporary design with a classic reference point.
ID: Can you elaborate on the versatility of this collection, given that the levers are available in semi-precious stone, hand-glazed ceramic, and cut crystal?
MG: The Dorian lever is available in an all-metal version in a wide range of finishes including precious metals. It is also available with a subtle semiprecious stone insert at the end of the handle, with full semiprecious stone handles, with cut crystal handles, or with ceramic handles (offered in a wide range of hand-glazed colors). The Dorian is a versatile design, at home in many settings. The range of options in metal, semiprecious stone, and ceramic expand this versatility exponentially. We love being able to offer designers and clients a wide range of options, giving them broad agency in their choices.
ID: In what ways do the Dorian levers reflect the history of the Sherle Wagner International brand?
MG: For over 75 years, Sherle Wagner International has been the premier source, world-wide, for luxury hardware, bath fittings, and accessories. Any product or collection that we introduce goes through a lengthy and rigorous design and engineering process to ensure that it upholds our standards of style and quality. We are acutely aware of the excellence our clients know to expect. Once a Sherle Wagner product enters the world it has staying power, and we are conscientious of this in both the design and manufacturing stages. A Sherle Wagner faucet set, for example, may grace a residence for many years to come, and we want it to provide the same joy and utility over time.
When we introduce a line, we are mindful both of current design trends and of the need for an aesthetic that is enduring. Historically, Sherle Wagner products have met this goal—some of the earliest products are still represented in our offerings, and the original mid-century designs by Sherle Wagner himself still resonate with contemporary clients and continue to be produced. The Dorian Collection joins this legacy. Its sleek design fits a current aesthetic but is also sure to remain stylish for decades to come. It is made of the finest materials—solid brass plated in real platinum, gold, or other finishes. Like other Sherle Wagner collections, the Dorian goes beyond the lever and includes a range of fittings, accessories, and hardware.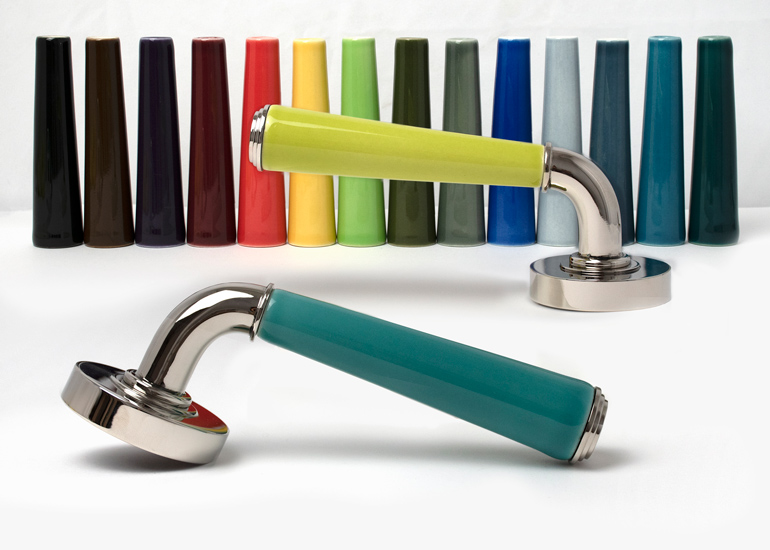 ID: What are the advantages of creating each product in Sherle Wagner International's Mass.-based factory?
MG: We are really proud of Sherle Wagner's Massachusetts factory—an 1800s manufacturing facility that is a symbol of the legacy we are preserving. Doing our own manufacturing in-house enables us to oversee each item and ensure that it meets our high standards and properly manifests our design. Each metal piece of the Dorian lever is hand-plated, and each ceramic component is hand-glazed in a color developed in-house. Our products are made from quality materials and meant to last, favoring the sustainable practice of permanence over disposal and replacement.
Having our own dedicated factory also means that we can produce custom pieces. Sherle Wagner is committed to U.S. manufacturing and to preserving the old world skills and techniques of our artisans, combining them with cutting edge technology. We hire individuals with degrees in the arts who bring new ideas to our artisan driven manufacturing process. We are also the custodians of proprietary techniques that we have developed over the decades and pass down from artisan to artisan.