5 Questions with… The Design Team Behind Mohawk Group's Owls Collection
Mohawk Group, an innovator in the flooring space, recently introduced its Owls carpet collection, which has a net positive impact on the planet given innovations in materials, manufacturing processes, and community initiatives. The collection captures the essence of the notorious birds of prey through an array of patterns and colors, adding depth to any commercial interior. To find out more about Mohawk Group's latest collection, we sat down with Jason F. McLennan, founder of McLennan Design and the International Living Future Institute, and Jackie Dettmar, vice president of design and product development at Mohawk Group, to discuss the owls that inspired this collection, why biophilic design matters, and how Mohawk Group is paving the way forward with sustainable design initiatives.
Interior Design: What led you to choose the owl as the focus of this collection?

Jason F. McLennan: Our first collaboration with Mohawk produced the Lichen collection and we wanted to continue on the theme of looking to nature's genius for inspiration. Beautiful patterns exist everywhere in nature, but we quickly landed on the idea of bird plumage for the range of colors, patterns, and textures. We narrowed that down to owls because of their iconic nature—owls really capture people's imaginations and we wanted this collection to have that impact.
Jackie Dettmar: Our natural curiosity with these birds of prey provided an amazing opportunity to dig a little deeper into their fascinating existence. They are such an indicator of the human footprint on the world that we felt it would be a great study to connect that back to our Living Product platform. Coupling our strides in sustainability with our focus on and interest in biophilic design principles, we were thrilled at the opportunity to get to translate their multi-faceted patterning and coloring into our latest carpet plank collection while also getting to work with Jason for a second time.
ID: How did the team arrive at the Feather and Flight patterns?

JM: Once we identified owls as the inspiration for this collection, we began looking for the story. We wanted people to feel a connection to these birds, so we chose species that represented each of the bioregions of North America, with the intention of both educating people on the amazing birds that live in their backyards as well as the habitat issues that impact these somewhat elusive, nocturnal creatures.
JD: Our design team investigated many owl species and ultimately chose the Snowy Owl, the Great Grey Owl, the Eastern Screech Owl, the Western Screech Owl and the Great Horned Owl to form the basis of the plank system. Some Feather and Flight patterns are more dramatic, while others are softer. Each style, like the species that inspired them, is unique. Each has a different texture and different color that works to recreate the essence of the creature while respecting its original design. Each pattern coordinates well together to provide a comprehensive solution for every commercial interior.
ID: How does Owls build on the concepts and ideas introduced in Mohawk's Lichen collection?
JM: Like Lichen, Owls incorporated beautiful colorways and patterns that can be assembled in different ways for different purposes. This flexibility allows designers to use the collection in a variety of ways, including to delineate spaces, provide wayfinding, create emphasis, or meet other design requirements, as the Lichen collection does.
JD: Lichen gave us the amazing opportunity to explore the intersection of biophilic design with social impact. The groundbreaking concept quickly became a very well-received and award-winning collection for contract interiors. Now, Owls gives us a new opportunity to shift our focus from flora to fauna. Owls uses many of the same innovations that we launched with Lichen, including lower-impact yarn systems and Pattern Perfect tufting technology, together with our Red List-free EcoFlex NXT backing and a commitment to leave a smaller footprint while extending a social "handprint." We like to think of Owls as the sequel to our much-celebrated Lichen.
ID: As founder of the Living Building Challenge, could you walk us through the requirements for the Living Product Petal Certification?

JM: Like the Living Building Challenge, the Living Product Challenge has seven "petals," or performance areas: place, water, energy, health and happiness, materials, equity, and beauty. A complete overview of the Living Product Challenge can be found on the International Living Future Institute's website, but ultimately, the requirements in these performance areas demand that products are holistically healthy for both people and the planet.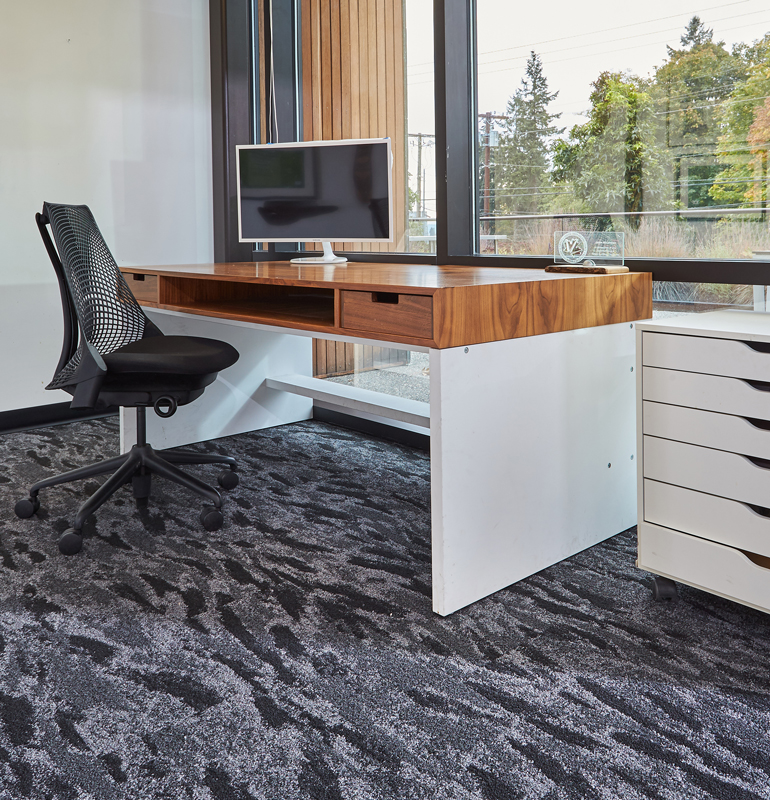 ID: What steps did Mohawk take to ensure Owls met these requirements?

JM: Owls presents an inspirational opportunity to impact the contract interiors environment in its design and manufacturing. At Mohawk Group, we continue to look at innovative ways to bring new products to the marketplace with reduced carbon footprints. Our commitment to the Living Product platform has provided us with a strategic framework to introspectively look at all of our processes, from design to manufacturing. Through our plant in Glasgow, Virginia, we are able to ensure that the operations behind products like Owls decrease water usage through special processes and community partnerships. Owls also streamlines and eliminates steps in the manufacturing process at our "Living Site," ultimately lowering environmental impact. Our Living Product journey began with our first McLennan Design collaboration and continues with our latest.