5 Women at the Forefront of Shifts in Architecture Education
As the A&D community continues to evaluate roadblocks to equity, the limited number of women in powerful positions, particularly in architecture and design schools, also is under examination. Numbers from the National Council of Architectural Records show that the ranks of women architecture graduates decline steadily throughout each stage of schooling and licensure. What's more, people of color are 31 percent more likely than white people to stop pursuing licensure. How can you excel at the top, if you're more likely to drop out at the beginning? Monica Ponce de Leon, dean at Princeton University School of Architecture, questions the validity of the path to licensure, which she has called "a series of roadblocks," particularly for women and people of color.
Our cohort identifies architecture and design as having the potential to lead the zeitgeist, representing philosophies that go beyond any building or product. "The future is about flexibility, accommodation, open mindset, and interdisciplinary teamwork," says Maria Perbellini, dean at the New York Institute of Technology School of Architecture and Design. She adds, "The scale and the resonance of issues… we are facing today demand the expansion of research skills; an emphasis on innovative interdisciplinary, cross-college research initiatives; and degree plans propelling entrepreneurial collaborations with the profession and the industry." As Denise Rush, dean at the Boston Architectural College School of Interior Architecture, explains it, "I have been entrusted with the responsibility of educating and shaping future interior designers whose designs will impact the lives of the people who live and work in their designed interior environments."
In the second installment of a two-part series honoring Women's History Month, Interior Design speaks with five women leading shifts in architecture education in the northeast about the future of built environments, increasing inclusivity, and mentoring the next generation.
Maria Perbellini, Dean and Professor, School of Architecture and Design, New York Institute of Technology
At the School of Architecture and Design at the New York Institute of Technology (NYIT), where Maria Perbellini is also a tenured professor of architecture, the focus is on immersive learning with a variety of fluid degrees, cross-fertilization opportunities, competency-based skills, and shorter specializations that can facilitate new, unforeseen career paths and interests. "This difficult time has brought us the momentum to critically rethink how we teach and learn," says Perbellini.
NYIT's curriculum combines 3D printing models, artificial intelligence, augmented reality, simulation, and robotic systems, with the intent of building a stronger interaction with data and information for computational analysis. "We are exploring agile online learning, different from the early adopted emergency remote instruction," explains Perbellini. "We revised the lengths of our programs with accelerated overlapping between graduate and undergraduate courses reducing costs and graduation rates. Micro and nano-credentials in partnership with the industry, eventually stackable into courses, can lead to the obtainment of degrees."
Prior to her deanship at NYIT, Perbellini held roles at the College of Architecture at Texas Tech University (TTU) as associate dean for graduate programs and chair of instruction. A tenured professor of architecture at TTU, she also previously taught at the School of Architecture, University of Texas at Austin.
Monica Ponce de Leon, Dean and Professor, Princeton University School of Architecture
Known as a true educational force, Monica Ponce de Leon is the founding principal of MPdL Studio and dean and professor of Princeton University School of Architecture. From 2008 through 2015, she was the dean of University of Michigan's Taubman College, and for over 12 years she taught at Harvard Graduate School of Design, where she became a tenured professor, served as the Graduate Program coordinator, and was director of the Digital Fabrication Lab.
Ponce de Leon has been a strong voice in the debate surrounding the future of architectural education and the path to licensure. She asserts that architectural licensure's work-experience requirement and the ARE both "perpetuate discrimination and inequity," and argues that "architecture should follow the model of the legal profession and eliminate practical training from the process." She suggests that after graduating from an accredited architecture program, recent grads should be able to take the ARE exams and then become licensed. "Practical training is an exclusionary tactic that serves nothing but to maintain the power structures within the discipline," she adds.
Denise Rush, Dean and Faculty, School of Interior Architecture, Boston Architectural College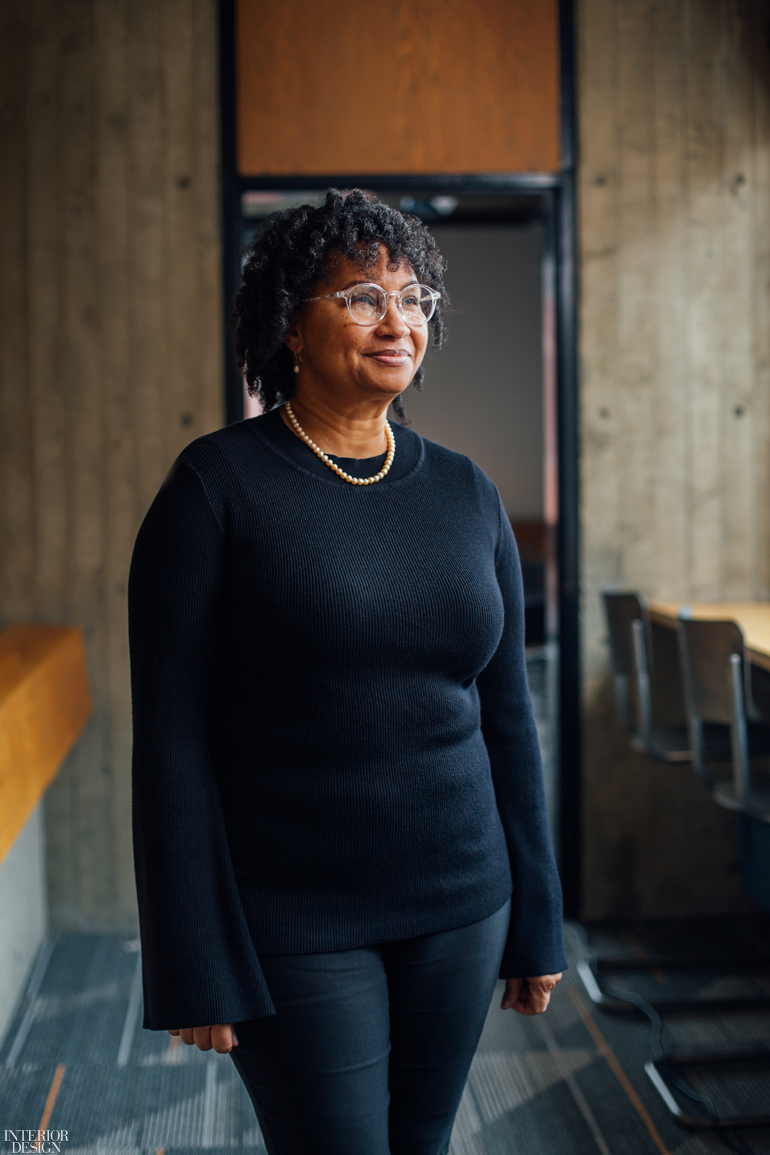 In describing the COVID-19 imposed shift from traditional, in-person design education to virtual learning, Denise Rush notes, "Design education is fluid and adaptable. We have been forced to find creative and innovative ways to deliver learning experiences that align with our pedagogy. Design education is as resilient as our students."
Prior to becoming dean and faculty of the School of Interior Architecture at Boston Architectural College, Rush was an adjunct professor of Interior Architecture in the Art + Design department of Columbia College Chicago, and adjunct faculty at Harrington College of Design, the International Academy of Design & Technology, and the Illinois Institute of Art. Outside of academia, Rush was interiors director at Perkins and Will in Chicago, interiors project manager at SmithGroup in Detroit, and head of interior design at TowerPinkster in Grand Rapids, Michigan.
Rush says that the expertise of interior designers faces high demand in the era of COVID-19. "Interior spaces need to be retrofitted and renovated to incorporate social distancing protocols," she explains. "As educators our studio projects are incorporating strategies for COVID-19 mitigation. Designers are problem solvers, so we are deep into fostering a virtual community to share, iterate, and explore a myriad of solutions in this new way of living in interior space."
Sarah Whiting, Dean and Josep Lluís Sert Professor of Architecture, Harvard Graduate School of Design
Architect Sarah Whiting, Assoc. AIA, became the first female dean of Harvard University Graduate School of Design in 2019. Treatment for non-Hodgkin's lymphoma meant that she had to step back temporarily from the role in the spring of 2020, yet Whiting remains decidedly optimistic. "As educators, we hold a responsibility to lead students toward illuminating and reasserting the public agency that design can hold," she says. "Design education is an exploration of ways of thinking and working—including some that we can't yet foresee—and therein lies my optimism for the future of design and its public impact."
Before beginning her tenure as dean of the GSD, Whiting served as dean of architecture at Rice University for nine and a half years, and she also taught for the Harvard program from 1999-2005 while earning her doctorate of philosophy in the history and theory of architecture at MIT.
Whiting is a guiding light and positive force in her field, known for the close ties she forges with students and her commitment to moving the school forward. As a marker of its commitment to diversifying the field of architecture, GSD has recently launched the The Black in Design Mentorship Program in collaboration with Perkins and Will, a 10-week curriculum that matches three-person teams composed of one practicing architect, one Harvard GSD student, and one high school student.
J. Meejin Yoon, Gale and Ira Drukier Dean of Architecture Art and Planning, Department of Architecture, Cornell University

J. Meejin Yoon. Photography courtesy of Cornell AAP.

J. Meejin Yoon became the first female dean of Cornell University's architecture school in 2018. Prior to joining the faculty at AAP, she was the head of the Department of Architecture at the Massachusetts Institute of Technology, where she was also a professor for 17 years. Yoon is a co-founder of Höweler and Yoon Architecture, a studio celebrated for work joining architecture, technology, and the public realm. She has an eye for the future.

"What we need next are real conversations about race and racism in our spaces and systems, about public health and access, and about fundamental shifts in thought that are carried over into a series of tangible, meaningful actions that shape tomorrow today," she told AIA New York in 2020, amid a summer of racial injustice and political unrest. Yoon champions AAP's Cornell Future Architect Award, a scholarship program for high school students that supports underrepresented minorities entering the school's introductory summer program. The hope is that the program's scholarship recipients can then continue on to successfully apply to architecture programs throughout the U.S.