6 Ingenious Offices Featuring Astek Wall Covering
Workplaces of all sizes are brimming with striking graphics courtesy of technological advances in digital printing. Not only do custom graphics solidify brand identity, they infuse corporate interiors with verve: a step up from the white-walled offices of the past. Astek Wallcovering, which uses UV digital prints and zero-VOC UV-cured inks, creates large-scale graphics—from initial design to final print—on window films and self-adhesive wallpaper among other media. This 360-degree approach has cemented the California-based company as an industry trailblazer with an extensive portfolio to match. Browse six new office projects enlivened by Astek's digital prints and custom murals.

IA Interior Architects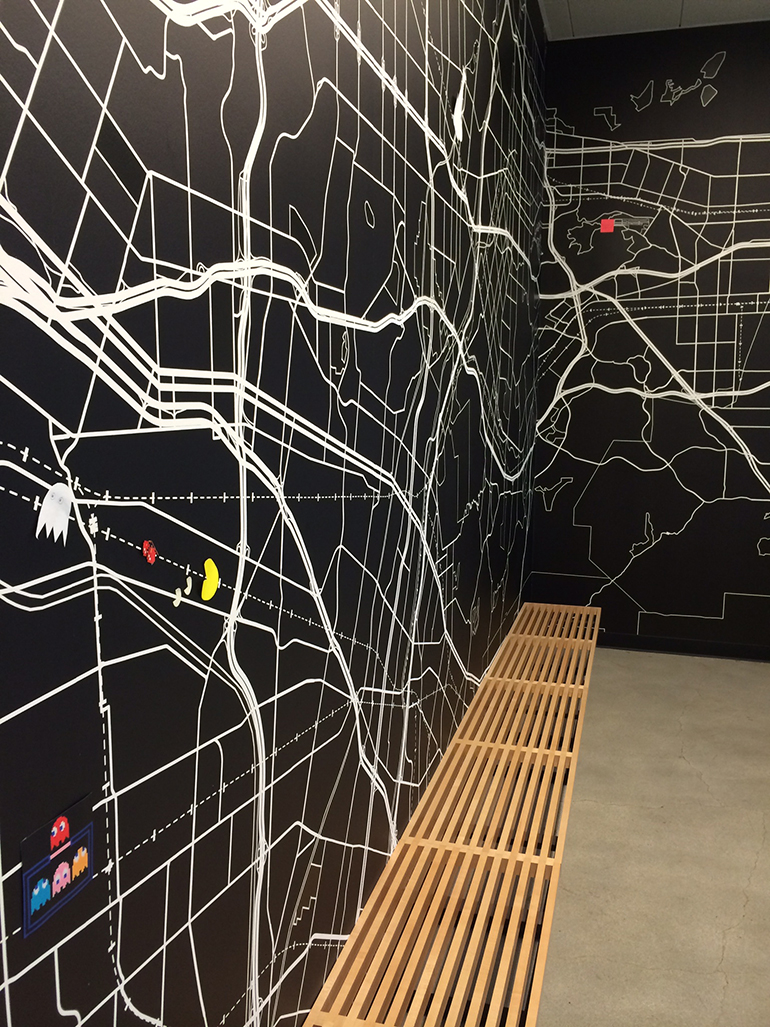 Astek printed the stairwell mural for IA's Downtown L.A. office. The mural, an abstract design that spans two floors, represents the city's serpentine freeway in bold duotone.
The Unique Space
This newly renovated co-working space has a distinctly modern style. Located in a historic building in Downtown L.A., the facility channels Southern California's desert roots, such as a Joshua Tree landscape that wraps elevator doors. In contrast, washrooms boast reflective geometrics.
Avery Dennison
HOK's redesign of Avery Dennison's L.A. headquarters was brought to life by Astek's faux koi pond digitally printed on acrylic and backlit by LEDs. Astek reverse-printed most of the image to the acrylic's underside, then printing additional lily pads and koi on top to add depth and dimension. Additionally, a printed portrait of the company's founder greets visitors in an elevator bank.
Dropbox
When Rapt Studios sought custom wall covering on a tight deadline for Dropbox, Astek used an original pattern, "Floral Evolution," that subtly incorporates the Dropbox eagle, raptor, and shark. The whimsical result lends impact to Dropbox's common area, known as the "intersection."
Rocket Fuel
The marketing agency's new El Segundo, California office features a custom color of Astek's Melrose pattern from the Surface collection, digitally printed and designed by Astek's in-house design studio.
Glu Mobile
For Glu Mobile's San Francisco headquarters, Astek created branded Mylar prints and used thousands of game play images to design and print mosaic wall covering.
See how Astek's custom digital printing capabilities can inject personality in your next office project.