8 Interesting and Innovative NYCxDesign 2019 Product Award Winners
As Interior Design gets ready to go digital with the NYCxDESIGN awards ceremony, we're highlighting eight of last year's product winners. Don't forget to submit yours by the April 9 deadline around the corner.
Tile + Stone Wallcovering

Billie Ombre by Artistic Tile
Ombre is no longer simply a trend, but a mainstay of chic design. Named for legendary singer Billie Holiday, this ombre design on colored glass takes inspiration from Holiday's range of melodic vocalizations, nearly mimicking sound-waves.
Made in the Boroughs
Cascade Mobile by Kin & Company
This mobile is an undulating composition of discs, rings, and half moons creating a hypnotic hanging sculpture. The surface textures are shimmery and illuminating, mimicking the cosmic glow of stars, comet tales, and dusty planet faces.
Kitchen Cabinetry
Combine by Boffi
Combine is a kitchen system made up of individual pieces that can achieve any design desire. Functional monoblocs come in a selection of different sizes, with worktops and extractable tables relative to the size of the kitchen.
Sconce
Della by Buoyant NYC
Although the design of the Della sconce was inspired by Japanese woodblock prints from the early 1900s, the carefully selected quartz gives the piece its sleek allure. The first of Buoyant NYC's collection of line-voltage fixtures, there is an easy mounting system that allows the sconce to practically float off the wall.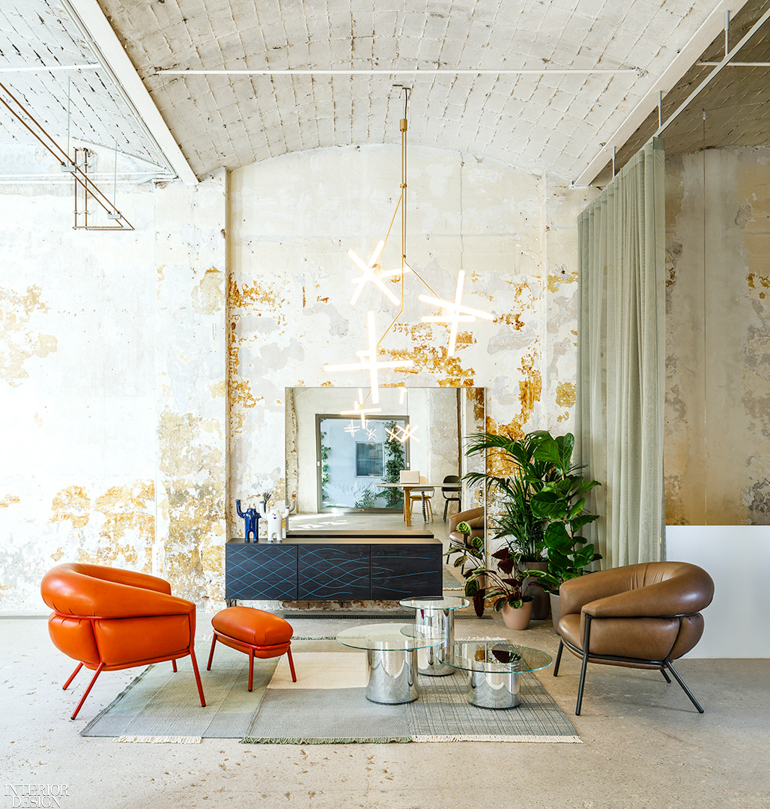 Residential Lounge Seating
Grasso by BD Barcelona
Stephen Burk, the designer behind the Grasso armchair, describes this work as "overflowing," wanting the chair to be a visual stand in for the feeling of "ultra-comfort." The luxurious leather upholstery overflows with from the iron structure that is left contrastingly bare.
Emerging Product Designer
Ikat Credenza by Indo-
Each slat on this low-rise tambour credenza is hand dyed and treated as a warp end before being assembled, using Ikat fabric that gives it a slightly textured appearance. The beauty of hand-made imperfection is reflected in the pattern's uneven lines giving this piece an enhanced sense of movement, like unrolling bolts of fabric when the door is slid open.
Contract Wall Covering
Re-Glazed by Astek
In their second collaboration, interior designer Jeff Andrews worked with Astek to create wall coverings that pay homage to his love of ceramics. The Re-Glazed collection comes in a variety of different colors and patterns, all of which are composites of different clay work, meticulously photographed by Astek's team.
Hardware
CeraMax™ Rainbeaux™ by Inox
CeraMax™ Rainbeaux™ offers designers a colorful yet durable hardware option, with 12 bold hues—each ceramic-coated making it resistant to scraping and scratching.
> See all winners and honorees from NYCxDESIGN Awards 2019
Read next: Interior Design to Host Virtual Ceremony for NYCxDESIGN Awards in May