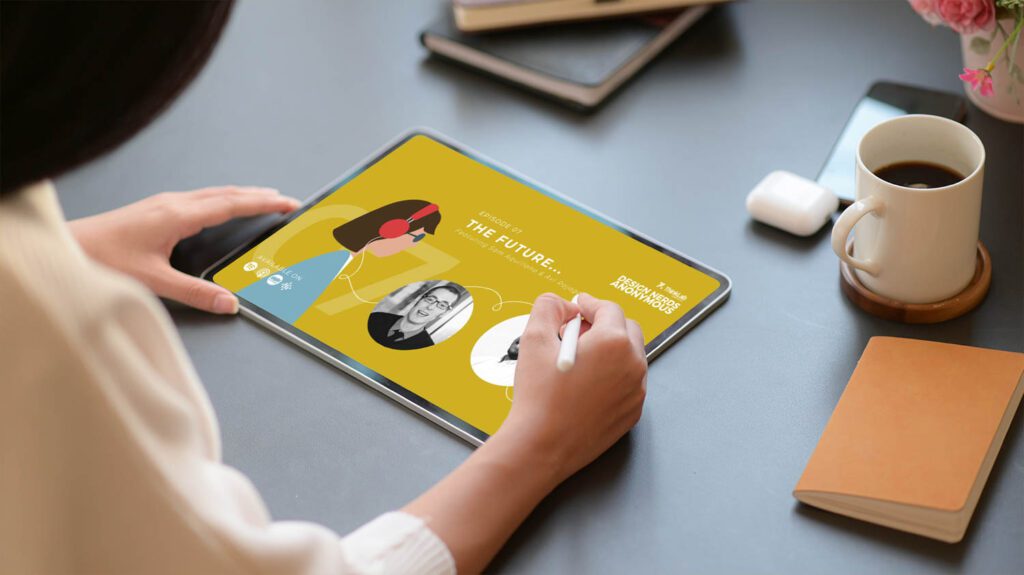 8 Resources to Prepare for the Future of the Design Industry
In his keynote speech for NeoCon 2021, Frans Johansson, author and CEO of The Medici Group, tells the story of Nokia, the leader in the cellular phone industry in 2007. The company was three times larger than its nearest competitor, and at that time, phones were prized for cool shapes, cool colors, and cool ringtones. Those were the "industry rules."
But then, a new player entered the market, and suddenly ringtones, shapes, and colors didn't matter. It became all about apps. "If the rules can change, then your ability to figure out what you need to do next actually drops," says Johansson. And we all know what happens next for Nokia when Apple enters the scene. This quote from former CEO of Nokia, Stephen Elop, sums it all up: "We missed big trends."
When we think about the future of design and its surrounding ecosystem, we often look at familiar topics starting to peek out over the horizon in the next five years or so—in other words, the near-term future. But we also must consider the far-term future, which can feel much more abstract and at times overwhelming. However, if it's true that "disruption itself is the new normal" (as Dennis Kirwan, CEO of marketing agency Dymic Digital, puts it), we're here to help you become the disruptor, not be the disrupted.

Below, we share resources on the future (in both the near- and far-term) for eight areas of the design industry from various perspectives:
The Future of Design Sectors. In their Hotel of Tomorrow project, the Gettys Group Companies collaborate with other experts on future concepts (both near- and far-term) for the hospitality industry. Design firm Perkins Eastman imagines what higher education could look like in 2025 with its Learning Futures Project. And in the workplace realm, the Future Forum is a consortium of companies researching hybrid work and tackling a variety of subjects around the future of work. Additionally, ThinkLab sat down with leaders from the Interior Design Giants of Design in a series of roundtable discussions to understand the near-term future of each major vertical market sector.
The Future of Real Estate. A Framework for the Future of Real Estate by the World Economic Forum outlines a vision for the real estate industry's need to transform. The framework includes four key pillars: affordability, livability, resilience, and sustainability. Delivering properties that include the four pillars require "enablers"—such as innovative use of technology and data, public policy and regulations, talent development, and stakeholder engagement. Contributors to the report include leaders from the real estate industry, such as JLL and Gensler.
The Future of Communication. ThinkLab data suggests B2B sales reps spent 80 percent of their time physically present, face-to-face with clients pre-pandemic. But now, that in-person time has plummeted to 10 percent. Designers lament that they struggle with inspiration and mentorship in a virtual setting, yet they recognize that they have been more productive in other ways. In season two of ThinkLab's own podcast Design Nerds Anonymous, we tackle a range of topics affecting the future of the commercial design industry. In the future of communication, we interview design industry experts and futurists to explore new ways to elevate communication, avoid burnout and increase creative output in digital interactions.
The Future of Geographic and Product Growth in the Design Industry. Every year, we identify "what's hot and what's not" in the form of our Hot Market Growth report. We unpack industry influences, geographic growth potential, and market demand influencing product development. Geographically, the South is leading recovery. From a vertical market perspective, the education, healthcare, and residential sectors show the strongest growth potential in the near-term.
The Future of Technology and Automation in the Design Industry. Economist Daniel Susskind was the keynote speaker for ThinkLab's most recent hackathon, where he challenged us to think bigger about the future of technology and automation in design. In his TED talk, Susskind describes three myths clouding our vision of technology's future impact on work. Spoiler: It's not about robots taking our jobs, but rather about systemizing and automating the routine parts of our jobs to create more space for creativity.
The Future of Sustainability. ThinkLab data suggests that the average designer has 26 times the specification power as the average American consumer has buying power. And, for Interior Design Giants of Design, that number can be as high as 111 times. That statistic should be empowering for architects and designers when considering how their decisions will shape the future. In fact, Metropolis recently estimated that by 2050, the interior design industry will have influence over nearly one-tenth of global carbon emissions. For the magazine's Climate Toolkit for Interior Design, a cross-functional group collaborated on a framework of strategies to help designers create low-carbon spaces.
The Future of CEUs. The lunch-and-learn CEU has long been a mainstay of the interiors industry. But what used to be a break in a designer's day—getting to step away from the computer for lunch and a presentation—can feel like (sigh) one more Zoom call to add to the list. In a world where designers are Zoom fatigued, yet connection starved, is there a better way? While we don't believe the classic CEU is going away­­ (see all of our tips for creating a compelling one), we think new formats are desperately needed. ThinkLab is pleased to be launching the first podcast where listeners can earn continuing education credit for both IDCEC and AIA. The Learning Objective will launch in 2022, and we'll be partnering with forward-thinking manufacturers to bring the design community content on the go. Take a listen to the trailer for more on why we're excited about this new format.
The Future of Showrooms. Another beloved staple of our industry is the showroom. We believe that the future of the showroom is "phygital"—both physical and digital. The digital component is intended to reduce lift and enhance the physical experience, not take the place of it. Testing out a physical product will remain important and ironically, it may even increase in importance, due to "missing" in-person experiences over the last year, according to our research. In this article, we interview experts inside and outside of our industry on how we can think about designing showrooms in the future.
In the words of writer Margaret Drabble: "When nothing is sure, everything is possible." Constant reframing is our new normal. In the future, we must reevaluate our tool kit by adopting new tools and using old tools in new ways.
Meredith Campbell is a member of the Research & Content Development team for ThinkLab, the research division of SANDOW. At ThinkLab, we combine SANDOW Media's incredible reach to the architecture and design community through brands like Interior Design Media, Metropolis, Luxe, and Material Bank with proven market research techniques to uncover relevant trends and opportunities for the design industry. Join in to explore what's next at thinklab.design/join-in.