9 Highlights From the Meca Art Fair in San Juan
The third edition of MECA (short for Mercado Caribeño), held November 21-24, drew crowds to Antiguo Arsenal de la Marina Española in Old San Juan, Puerto Rico. An international exhibitor list—featuring galleries from Detroit, Mexico City, Tokyo, and New York, in addition to the Caribbean—marked the fair's growing global profile and proved the island's ongoing restoration efforts after Hurricane Maria's devastating impact on tourism and local businesses in September 2017.
MECA's second iteration in 2018, which opened just over a year after Maria, raised hopes for a steady art market in the Caribbean. This year, the region's largest art fair presented an expanded and more inclusive program, including the inaugural Mecansimos section dedicated to emerging artists from the Americas who started their careers after 2010. Danny Baez, the fair's co-founder and galleries and external affairs director, was satisfied after a successful edition, which drew larger crowds than previous years. He told Interior Design that MECA will continue to be an influential force in promotion of contemporary art in the Caribbean. Here are nine highlights from the fair.
Rafael Delacruz at Reyes | Finn
Rafael Delacruz's psychedelic paintings of individuals situated in urban landscapes tap into the times' increasingly rapid order with humor and nuance. The 30-year-old Brooklyn painter, who holds a BFA in Film Theory from San Francisco State University, flexes his narrative-building muscles on canvas to chronicle everyday people's interactions with urban architecture and objects—figures blend into street corners or objects become body parts. In Handle with Care (2019), an otherwise naked man dons a wooden barrel in public; I Love My Key in My Head + Heart (2019) shows a surreal moment in which a key enters through a keyhole which substitutes for a man's nose. "Rafael manages to create deeply psychological portraits, brimming with magic," said Bridget Finn, co-owner of Detroit-based Reyes | Finn. "The subjects of each work possess a superhuman quality within their modest settings, surrounded by psychedelic baguettes, adorned in large lapels and funky hats actively harnessing their own internal energy."
Carlos Reyes at Bodega
Artist Carlos Reyes's keen eye leads him to overlooked and dispossessed objects to transform into artworks that maintain ghostly traces of their former lives. For his MECA presentation, the Lower East Side resident turned his attention to Sarah Jewelry, one of many enduring businesses in the rapidly gentrifying lower Manhattan neighborhood, and repurposed its elegant velvet jewelry displays hanging from aluminum armatures as sculptures of desire and absence. Reyes, who had formerly transported molding and chipped wooden panels from a bygone gay bathhouse into Bodega's Chinatown space in 2018, benefits from the imprints necklaces and earrings created during exposure to sun. The beauty and elegance these objects of desire once radiated on lush velvet "skins" is about "how time shapes the form," according to Reyes, who told Interior Design that "the sculptures are about how light finds its way to objects through interiors and architecture and how objects find their way to light like phototropism."
Adriano Costa at Mendes Wood DM
Mendes Wood DM, a São Paulo-based gallery with outposts in Brussels and New York, dedicated a solo booth to Brazilian artist Adriano Costa, whose mixed-media body of work draws on emblems of cultural production and socio-political unrest to build equally personal and public narratives, particularly about his hometown's tumultuous political landscape. Works that drew the most attention were BAILE 8 (2018), a wooden shelf occupied by six vinyl covers saluting pop culture memes, such has Mariah Carey's infamous "I don't know her" reaction about Jennifer Lopez, and Dior Ethiopia (2018), a shirt purchased in Addis Ababa and drenched in acrylic with the names of influential artistic and political figures including Beuys, Nietzsche, and Stalin.
Sarah Zapata at Deli Gallery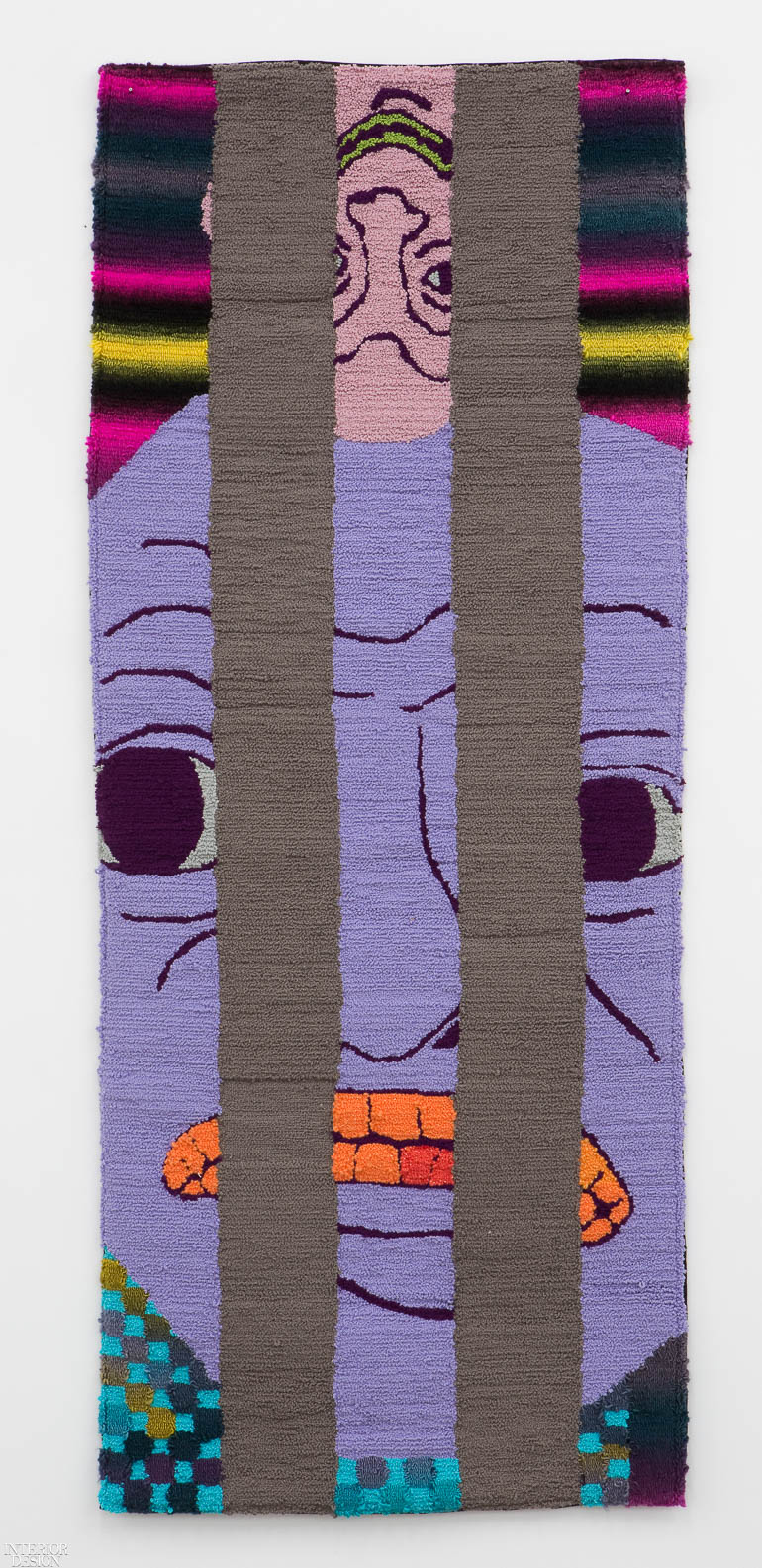 Sarah Zapata is one of the most exciting artists working at the intersection of textile and identity, using a meditative process of weaving, sewing, and stitching to deliver subtle commentary on bodies—as makers, sufferers, and pleasure-seekers. A handful of fiber and felt pieces shrouded the Deli Gallery booth's walls and expanded onto the floor to build a puzzle-like narrative of bright colors and subdued tales. A first-generation American with Peruvian roots, Zapata spans histories, borders, processes, and genders across woven surfaces that have long been associated with stereotypes on class, colors, and femininity. In What Great Conflict I Have for You VII (2019), a purple face with bulging eyes and orange teeth stares behind two grey bars, tying the mystery of folklore with the reality of the times. "Weaving is meditative, but also patient and durational," explained Zapata. "Tradition and textile practices relate to storytelling and oral histories as a way to access a different experience from a material everyone is familiar with."
Blanco y Negro at Embajada
One of the strongest statements in this year's fair came from, a San Juan-based Embajada, a gallery known for fostering contemporary art from the Caribbean in the global arena. True to the gallery's network of local and international artists, Embajada's booth brought together black-and-white art by 39 artists under an aptly titled theme: Blanco y Negro. The concept—to orchestrate works from Puerto Rico, Dominican Republic, Iran, Argentina, Italy, Mexico, Uruguay, and Cuba within one booth and two fundamental colors—was birthed from struggles around corruption and disenfranchisement; however, gallery co-founder Manuela Paz noted that "they are not after making overt political statements, but rather suggest a point of inspiration." The expansive list of contributors included Rebecca Adorno, Hector Arce-Espasas, Emilio Bianchic, Sam Borstein, Matteo Callegari, Guanina Cotto, Austin Eddy, Maggie Ellis, Mahsa Fard, Juan Fernández, Gabriella Torres Ferrer, Peter Fend, Radames Juni Figueroa, Leo Fitzpatrick, Franco Frontera, Marlene Frontera, Giovanni Fenech-García, and Desirée Garcés.
Clotilde Jimenez and Florine Démosthène at Mariane Ibrahim
Among the fair's newcomers was Mariane Ibrahim, a Chicago-based gallery known for a roster that champions emerging artists of African descent in the U.S. and abroad. The gallery's two-artist booth juxtaposed paintings by Mexico City-based artist Clotilde Jimenez and Haitian artist Florine Démosthène, who both utilize performativity and space to comment on the Black bodies' socio-political presence in public and private. Jimenez's triptych, Peekaboo (2019), furthers a mixed-media painting style for which the 29-year-old is rapidly gaining recognition, merging magazine cut-outs of face and body parts with a vibrant painterly fashion. The bodies in three paintings stand in front of various country flags and perform the namesake boxing technique made popular by Mike Tyson in the '80s.
Akira Ikezoe, Jorge de León, and Radamés "Juni" Figueroaat Proyectos Ultravioleta
Guatemala City's foremost gallery Proyectos Ultravioleta, founded by four art-educated locals a decade ago, functions both as a commercial gallery and art space, raising the city's lacking presence in international art platforms with artists, who often approach fair booths as mini museums. For MECA, the gallery presented Japanese artist Akira Ikezoe next to Puerto Rican Radamés "Juni" Figueroa and Guatemalan Jorge de León to orchestrate an interdisciplinary, cross-Atlantic statement on materials and objects. Figueroa's utilization of discarded objects, such as a light box that reads "Puerto Rico Traction Tires Manufacturers Inc" or heating grills, transformed into sculptural paintings were paired with Ikezoe and Leon'smodest-size paintings of individuals interacting with their surroundings in as disparate situations as street protests and nature.
Plataforma ArtBase
Puebla-based art platform Plataforma ArtBase was among the initiatives to join Mecansimos with a booth dedicated to four emerging talents from Puerto Rico, Denmark, and Mexico, using humor, tragedy and poetry within a diverse range of materials. Oaxaca-based Luis Canseco invested in his region's traditional materials and textures in his mixed-media wall installation Apopiación del paisaje (2019), which utilizes draped fabric alongside graphite drawings created with minerals from Sierrade las Minas as well as a metallurgical graphite bar. Artemio's glitter-covered text pieces contain mini poems, such as "Escuché palabras amables, entonces supe que había muerto (I heard kind words, then I knew he was dead)," written by the artist.
anonymous
Mexico City- and New York-based anonymous unveiled the 3rd edition of the exhibition 100 Sculptures during MECA and stood out with an inviting display of more than 100 objects presented in a charming retail-style fashion featuring festive red shelves and an awning in blue and white stripes. Curators Joseph Ian Henrikson and Todd von Ammon staged the series' former iterations at anonymous in Mexico City in 2018 and later in Paris in the spring of 2019. The common thread running through the modest-size sculptures is that no object is larger than a 5 x 5-inch footprint. "This traveling, regenerative, and celebratory exhibition is a meshwork… with the objective to create the most dynamic, non-hierarchical system that is possible within limited confines," noted the curators about their vision to bring together works by artists from diverse backgrounds and career points, including Cory Arcangel, Urs Fischer, Lizzi Bougatsos, Margaret Lee, and Donald Moffett. Upcoming versions are planned for New York and Los Angeles.