9 Sleek Products by Rising Designers
Rising stars impress with nine must-see new products.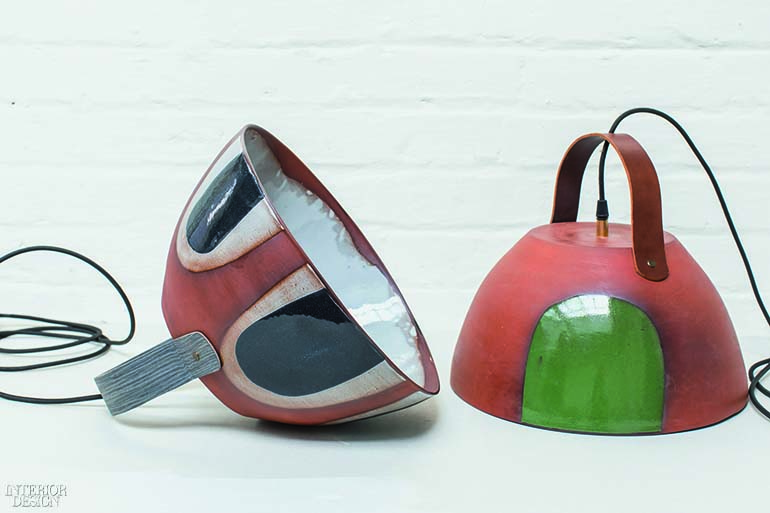 1. Silvia K of Silvia K Ceramics
Products: Autumn/Winter and Spring/Summer
Standout: Slip-cast and press-molded, the tin-glazed terra-cotta plates and pendants are inspired by the earthenware from the artist's native Slovakia.
2. Tammer Hijazi and Danny Giannella of Bower
Product: C-Light
Standout: Channeling the studio's namesake bird, which builds unique structures during courtship, cold-rolled oiled steel creates an eye-catching pendant fixture and lamp.
3. Christian and Heidi Batteau of Assemblage
Product: Lamina
Standout: At a repurposed seed mill in the Ozarks, this married couple produces environmentally responsible wallpaper, such as one with hand-applied plaster and mica.
4. Oliver Haslegrave of Home Studios
Product: Double Swing
Standout: The studio behind many buzzy restaurants segues into lighting with a playful pendant fixture in handblown glass and silver-plated brass.
5. Karen John of Heartwork
Product: Building Block Digital Locker 5H
Standout: Refined-looking yet commercial-grade steel lockers are the specialty of a company founded by a Stanford University and Design Within Reach alum.
6. Alissa Volchkova of Alissa Volchkova
Product: Liquid
Standout: Vessels that push the physicality and coloration of glazed porcelain can furthermore stack into graphic compositions.
7. Jon and Maša Kleinhample of Klein Agency
Product: Chaise
Standout: Leather just 1⁄5 inch thick, stretched over a frame of rolled, blackened steel, characterizes seating by Belgians recently turned Angelenos.
8. Lanette and Ryden Rizzo of Allied Maker
Product: Alabaster Totem
Standout: Shaped with lathe and chisel, alabaster globes are fitted with LEDs and stacked 7 feet high on a base in brass and bleached oak.
9. Riley McFerrin of Hinterland Design
Product: Oxbow
Standout: Fine-arts training is evident with this mirror in back-painted, hand-etched glass, framed with integral shelf in bent, oiled, waxed walnut.
> See more from the November 2017 issue of Interior Design