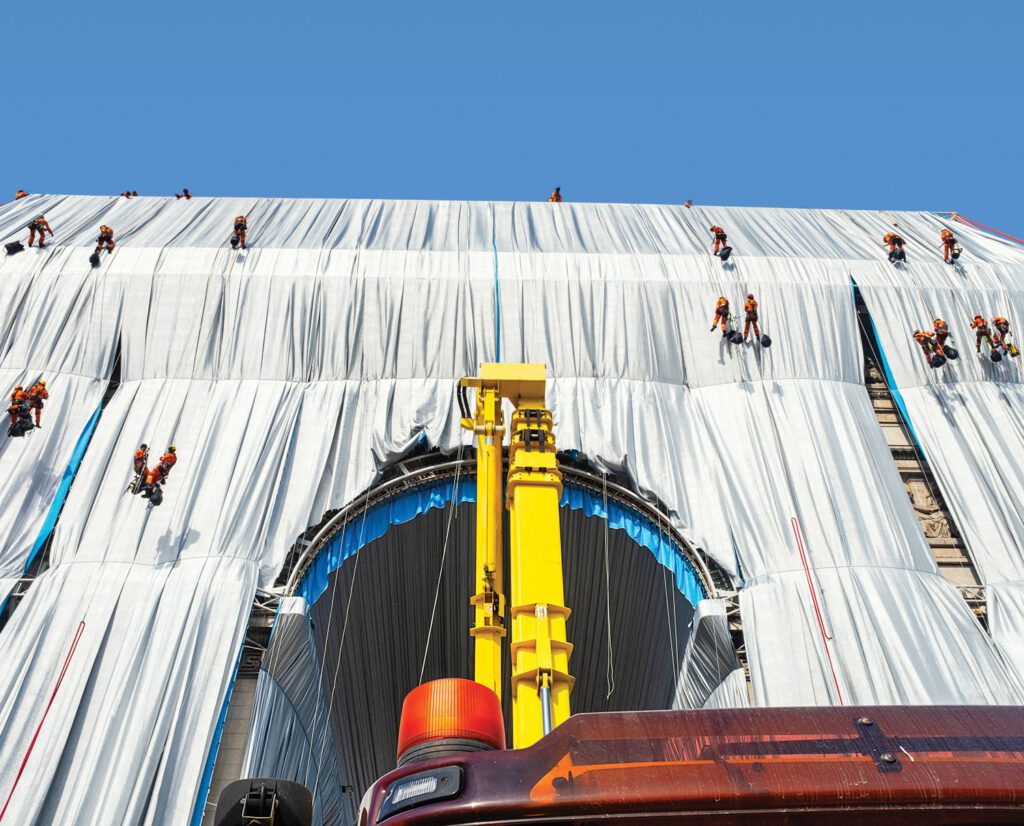 A Closer Look at the Posthumous Installation by Christo and Jeanne-Claude That Temporarily Obscured the Arc de Triomphe
Tens of thousands of yards of fabric temporarily obscured the Arc de Triomphe in Paris, a posthumous installation by Christo and Jeanne-Claude.
Christo and Jeanne-Claude met in Paris in 1958, and a few years later, Christo became fascinated with the iconic arch when he lived near the monument, which was designed in 1836 by Jean-François Chalgrin. Before his death in 2020, Christo requested that L'Arc de Triomphe, Wrapped be completed posthumously (Jeanne-Claude died in 2009); it was on view from September 18 to October 3, the streets around it closed to cars over the weekends to encourage pedestrian visitors. "I wanted to transform the arch, to turn it from an architectural object, an object of inspiration for artists, to an art object itself," he said.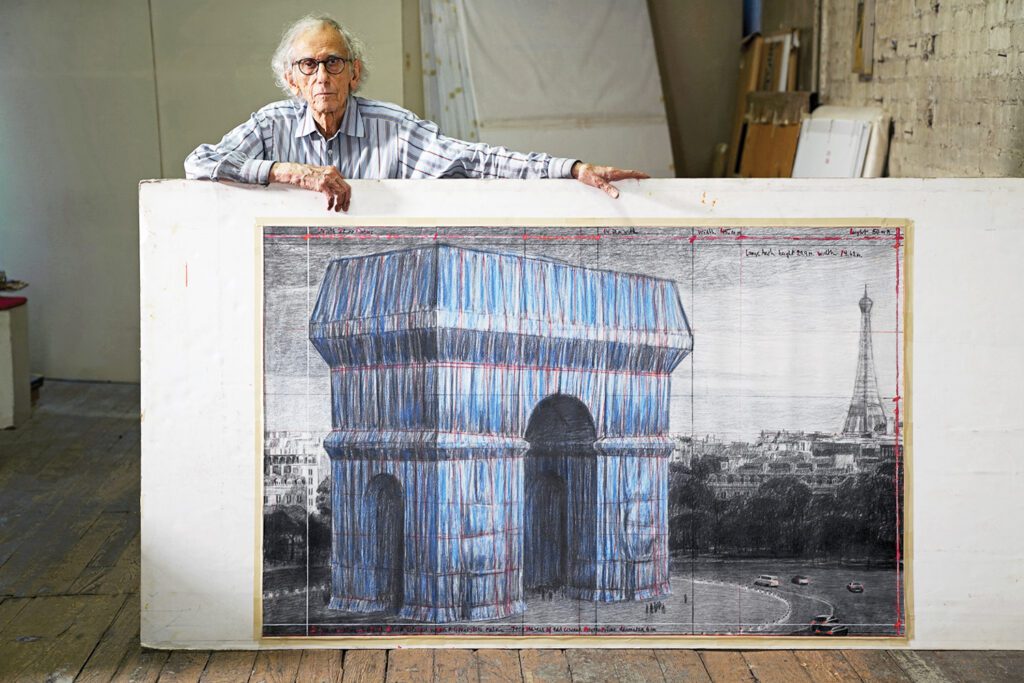 In 2019, Christo Vladimirov Javacheff stood with L'Arc de Triomphe, Wrapped (Project for Paris) Place de l'Etoile–Charles de Gaulle, which was among his works sold in a Sotheby's auction to raise funds to carry out L'Arc de Triomphe, Wrapped, a Paris installation conceived by and completed as a tribute to him and his late wife, Jeanne-Claude Denat de Guillebon.
Just months before he passed away, Christo worked in his New York studio on concept drawings for the massive project, which draped the 148-by-164-foot stone monument in the equivalent of 6 acres of silver-blue recyclable polypropylene fabric and thousands of feet of red rope.
After engineering tests on wind conditions and material permeability and flammability, and a trial run on a 65-foot-high arch mock-up, the fabric was sewn into panels at Geo–Die Luftwerker, a German company that manufactures hot-air balloons.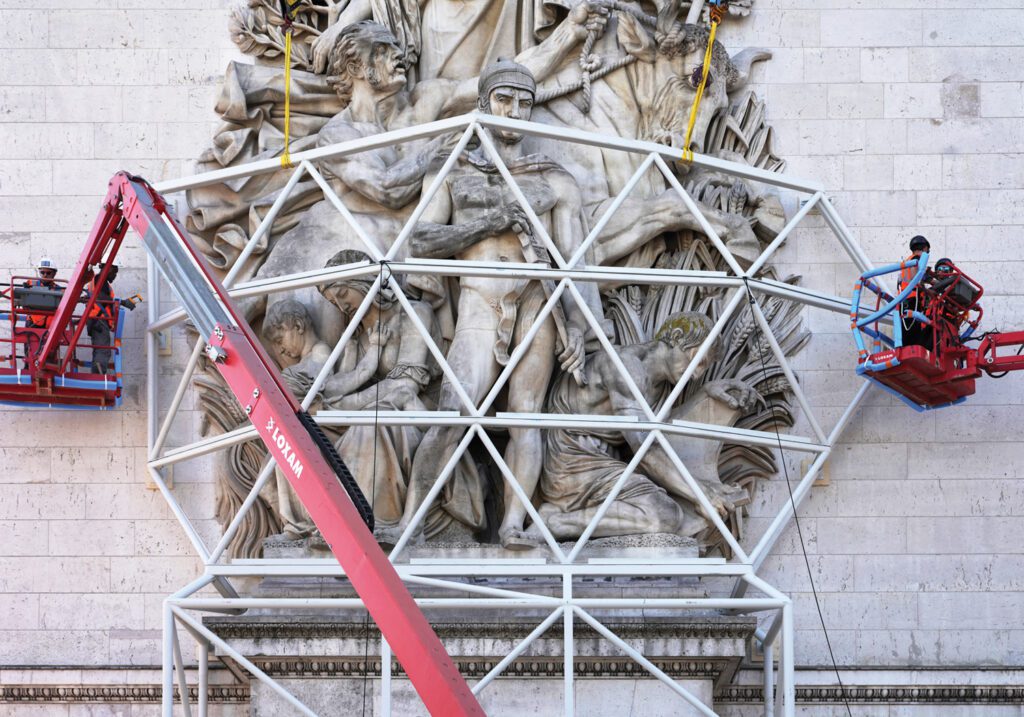 To protect the four relief sculptures at the base of the centuries-old monument, including La Paix de 1815 by Antoine Étex, workers on cherry pickers bolted steel cages into holes drilled into the stone.
They also belted rolled fabric to a counterweighted steel armature placed around the perimeter of the arch's roof.
The rolls, most 26 feet wide, were unfurled as climbers descended simultaneously to guide the fabric into place.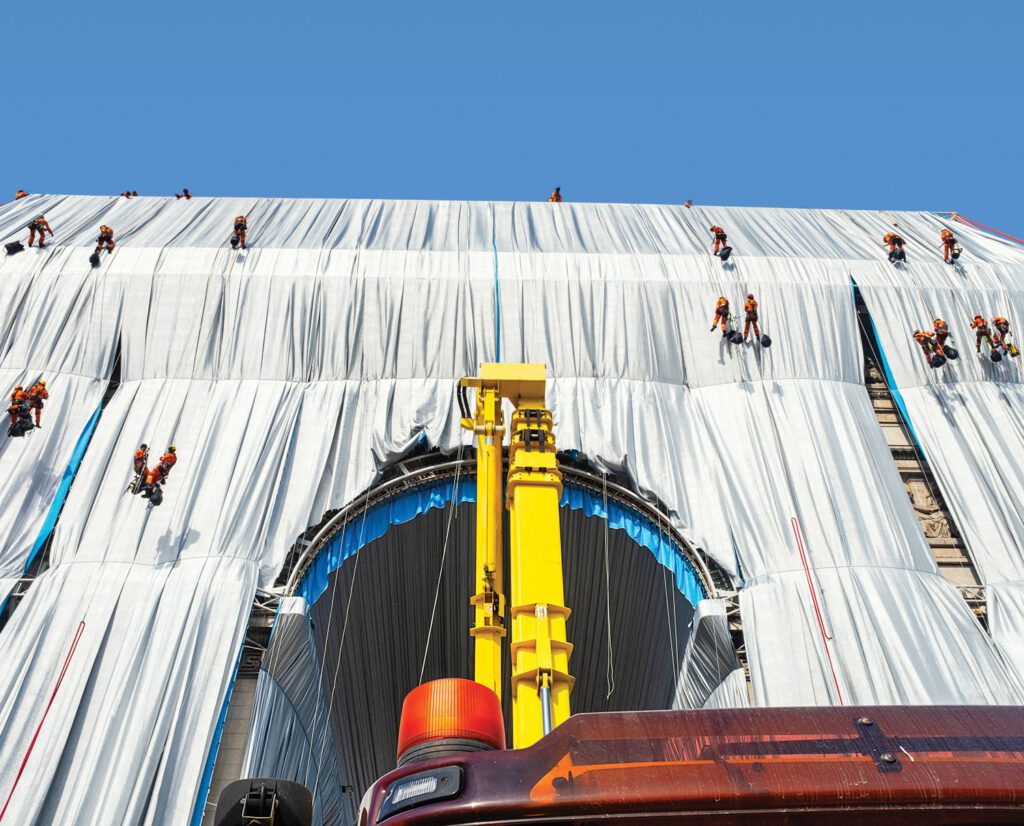 Utilizing technical information gleaned from the engineering tests, mock-up, and Christo and Jeanne-Claude's 1995 installation Wrapped Reichstag, the climbers installed the polypropylene rope to contour the draping specific to the artists' vision.