A New Way to Explore B+N's Versatile System 1224
Despite the popularity of digital platforms like Pinterest and Instagram, designers still love and rely on good design books for finding inspiration. Reading books provides designers with a moment for slower, more contemplative searches for inspiration and can become prized design items in and of themselves. Of course, it's always nice to have both a physical and digital copy of a valued resource and B+N Industries will be doing just that with their upcoming publication B+N In Situ: Installation Inspirations. Designed to showcase the adaptability and strong aesthetics of various B+N systems, B+N In Situ will feature 240 pages of rich images and in-depth written explorations of the component parts comprising various B+N systems. Designers can expect to learn how a B+N system can enhance functionality without sacrificing looks in spaces across design sectors, from hospitality to workplace to residential. B+N In Situ will be released digitally and in a limited edition book in Spring 2019.
One of the systems that B+N In Situ highlights is the International Style-inspired System 1224. Comprised of 15 to 20 basic parts, the 1224 system can be reconfigured dramatically and quickly without the use of tools (it was recently used in Everlane's SoHo retail store). B+N recently added two additional finishes, matte black and brushed brass, and plug-and-play illuminated LED accessories to round out System 1224's offerings.
Scroll below to see how fluid System 1224 can be.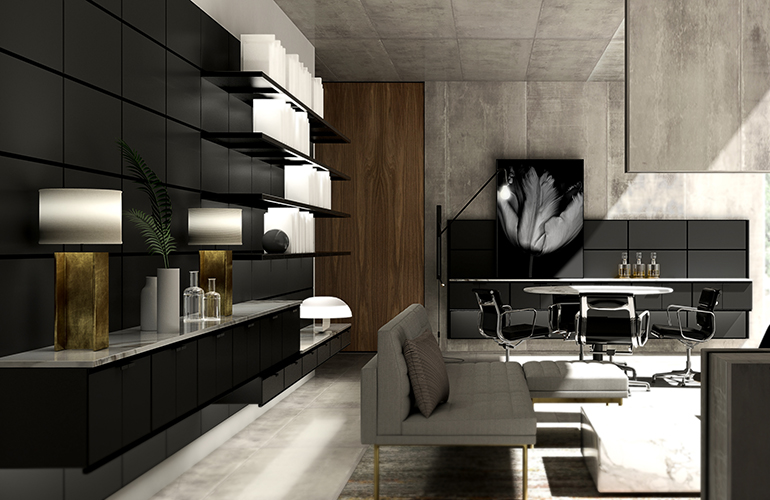 In this residential living room, System 1224 is used to construct the large feature library and display wall, while a
more restrained configuration creates the dining credenza. The matte black finish is offset with white marble cabinet tops and is elevated with
illuminated cabinets and shelves. In this example, 1224 makes a simple and elegant backdrop for artwork, special objects, or high-design lamps.
A soaring hotel entrance gleams in rich golden notes of burnished brass and deep jewel-toned oriental carpets on the floor and covering the reception desk. Oversized aged brass lampshades throw an ambient glow on the seating areas. A playful collage of cropped paintings peer through System 1224 on the reception wall. To the left, System 1224 is also used for the reading library; the lit flat shelves provide focal and atmospheric illumination.
Simple and elegant material choices and a monolithic treatment of System 1224's gridbreaking panels create a calming and ordered space in this hotel suite. The tall 1224 upholstered panels in the background create an expansive headboard, outfitted with a dimmable lit shelf. Dark bronze powder-coated steel panels and accessories can be re-imagined for any room in the hotel.
System 1224 divides this suite into private areas for sleeping and dressing/bathing. Behind the tall 1224 panels of walnut and channel-quilted fabric are cabinets for hanging and folded items. Lit flat shelves become bedside tables with a soothing glow below. System 1224 is modular, so it can be adapted to the size of each room and width of different bed sizes.
Electrified System 1224 in matte white powder coat is outfitted with illuminated flat shelves and metal cabinets, creating a perfectly organized and adjustable kitchen.
System 1224 panels are available in a wide variety of finishes, including a color-infused veneer. This process penetrates the wood surface with imagery, and allows the warmth of the grain to come through. Extremely durable and UV-stable, this technique can enhance a space that will be appreciated for years to come.