AIA Debuts Top Ten Plus Award Program, Chooses Winner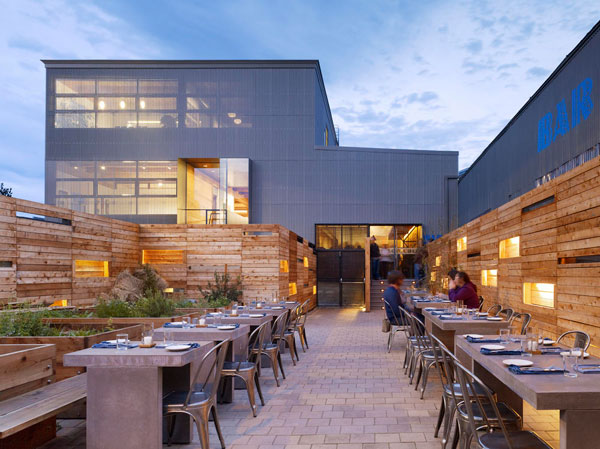 The American Institute of Architects (AIA) has named the winners of the 2013 COTE Top Ten Green Projects. Now in its 17th year, the program sets the standard for recognizing sustainable design excellence within the A&D community.
This year the AIA added a new element to the program: the Top Ten Plus Program, in which a team of jurors chose a single project from a pool of previous winners for its outstanding achievement in sustainable design. The winner of this inaugural award is 355 11th Street: The Matarozzi/Pelsinger Multi-Use Building located in San Francisco.
The LEED-NC Gold adaptive building is a reuse of a turn-of-the-century industrial building and is the work of Aidlin Darling Design . The building, which now serves as a multi-tenant office building, houses a LEED-CI Platinum restaurant on the ground floor and boasts a living roof, passive cooling, and ample bicycle parking for the building's occupants.
The selection process to decide the winner of the new program was rigorous and, according to juror Gail Vittori, co-director of the Center for Maximum Potential Building Systems , was based on a number of quantifiable metrics, such as the percentage of space that could be lit during daylight hours, the percentage of usable outdoor space, the amount of rainwater collected to offset total water usage, and how much energy was used per square foot of space.
"The winner represents a non-traditional green building. It's important to stretch the sense of green so that it spans to many different sectors and buildings," Vittori says. "I think green building is becoming the new normal."
All of the winners will be recognized at the 2013 National Convention and Design Exposition in Denver June 20 through 22. See slideshows of all the winners here:
Related:
The Myths and Facts of Building Locally
Adobe's New Mega Office: Green Facts
Snapshot of the Industry: Recent and Future Green Builds
Seattle's Bullitt Center: The World's Greenest Office Building