Alexandra Champalimaud: 2012 Hall of Fame Inductee
Alexandra Champalimaud will never forget the day she touched down in Montreal. It was January 5, let's not bother with the year, but say the soundtrack was disco. The city proved unwelcomingly foreign and freezing to the young refugee who, due to political unrest, had pulled up roots from her native Portugal at 2:00 in the morning with her 1-year-old son in tow.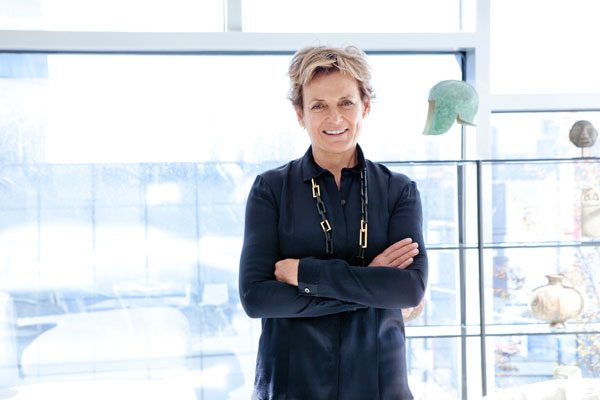 The designer didn't know a soul in her new hometown and, despite fluency in both English and French, professional success was at first elusive. "I don't mean to make it sound weepy, but my life was a lot of work and not that much fun," she says of the time. "But I am a survivor." So, in survival mode, she cracked open the Canadian phonebook, made some cold calls, and joined a firm decorating houses for the local rich and famous. That job led to a solo commission for prime minister Pierre Trudeau. "I am a pretty lucky person and have had an amazing life," she says. (Indeed. We all know how the story ends.)
Born into an Anglo-Portuguese family, she was raised near Lisbon, in a posh coastal town with a Riviera vibe. Champalimaud attended Swiss and English boarding schools, studying classical architecture and interior design at Portugal's Fundação Ricardodo Espirito Santo Silva. She learned the secrets of lighting, proportion, and detail—along with period styles and how they evolved. Classicism informed residences she designed after founding Alexandra Champalimaud & Associates in 1994, but her historical study also deserves credit as a springboard for things not visible on the horizon at the time— things like product design."The evolution of the chair has significance when I am designing a contemporary chair," she says. "With that background, I'm even more creative because I have the confidence to fire away."
Branching into hospitality, Champalimaud remade a rumored brothel in Montreal as a legitimate, yet amusing hotel. Next, was her stem-to-stern transformation at Quebec City's landmark Le Château Frontenac (now a Fairmont Hotels & Resorts holding). On a family vacation, she met her current husband, Bruce Schnitzer, who encouraged her to move to his native Manhattan. The designer's New York firm took flight on the strength of the commission to renovate the legendary Algonquin Hotel.
This fall, the Dorchester hotel in London revealed Champalimaud's 22 deluxe suites. Embroidered bed linens are the work of her London–based daughter in-law, Sandrine. Champalimaud fancies herself a design instigator and takes pleasure in empowering others. "I'm not controlling by nature, and I don't consider myself entirely in control now," the stylish designer says. "But I am a lot of fun when I lose it."
Prowling her sun-splashed Union Square offices in a Stella McCartney Hawaiian-print minidress, Alexander McQueen leather flats, and a chunky skull bracelet, she spots a hard cover portfolio displaying projects by her firm, rechristened Champalimaud. After leafing through it, she turns to her iPad for new pictures of the guest suites she remodeled at the Waldorf Astoria 40 blocks uptown.
"I love drawing out the soul of an old building or even layering in a story," she says. New construction at the Hotel Bel-Air in Los Angeles demanded the latter for spa suites with floors of wide plank cerused oak. Their character profile reads: laid-back California imbued with contemporary European luxury. Other ventures to which she brings her signature opulence include a carpet collection for the Rug Company and, with cult English cloth house Holland & Sherry, outdoor fabrics and a hospitality line. "Of course, they're expressive," she says, "but built on wisdom and the knowledge of what can be a catalyst in people's lives." Sounds like foddet for several more chapters of an already charmed life.