An Insider Pass to the Be Original Americas Summer Fellowship
This summer, two undergraduate students in design have been given the opportunity of a lifetime. Be Original Americas has awarded Sarah Ahart of Virginia Tech and Karina Campos of Syracuse University as the first-ever fellows in its new summer fellowship program for taking students behind the scenes at leading design companies and Be Original Americas members across the U.S.—including Bernhardt Design, Carnegie, Chilewich, Design Within Reach, Emeco, Herman Miller, Ligne Roset, and Vitra. Interior Design is along for the ride, bringing you a series of insider looks at Ahart's and Campos's experiences throughout the eight-week program, running June 13 – August 2. Here is our first post, courtesy of Campos—stay tuned for more updates from both fellows!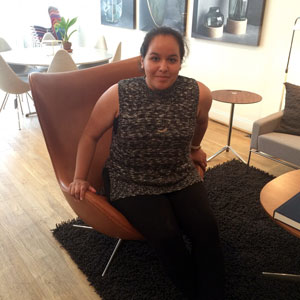 Can you imagine walking through the offices of leading design companies as your young permeable mind is imbued with spectacular design knowledge from innovators and designers that inspire you? Neither can I! The Be Original Americas Fellowship has been undeniably spectacular, inspiring, and dreamlike. From understanding a reinterpretation of a B to C design business model at Othr, to the ingenious mind and design process of Sandy Chilewhich at Chilewhich, to the artisanal integrity at Fritz Hansen, these are only a few of the design minds my co-fellow Sarah and I have had the pleasure to interact with—and it's only been five days!
Already, it seems like I have been in New York for much longer! Every day Sarah and I find ourselves exclaiming, "I am so excited!" or "this is so exciting!" or "can you believe we get to do this!?" So much has happened that hours seem like days, and days seem like weeks; to anyone else, this might be frustrating but I am seriously hoping this experience goes by as slowly as possible. Why, you ask? To quote my favorite Broadway musical, Hamilton, "There's nothin' like summer in the city"—especially when you are hopping from one design company to another, are surrounded by endless activities, and are enjoying the succulent smells of amazing food (special shoutout to the amazing falafel I had in the West Village a few days ago).
This experience is just getting started and New York, and these inspiring design industry savants have begun redefining my personal design process and thinking, while opening possibilities to my future career path. If I can experience emotional design transcendence in just a few days, I am eager to discover how my life and personal design philosophy will evolve as I dive deeper into the world of design. Follow my design journey as it takes me into the hidden nuances of this ingenious industry.—Karina Campos
About the Fellow
Karina Campos is an award-winning industrial and interaction design student from Syracuse University. Campos brings a service design background to the Be Original Americas fellowship, working with Syracuse-based Connective Corridor to create public billboards highlighting local people, organizations, and programs that have a positive impact on the city. More recently, the Madison, CT native worked on a healthcare project to design possible solutions for alleviating stress and creating emotionally-healthy working environments for health professionals. Campos was recently named "Outstanding 4th Year Industrial Design Student" by the faculty of the Industrial and Interaction Design Program (School of Design) at Syracuse University.