Ancient History: Orley Shabahang Revives Iranian Rugs
Geoffrey Orley and Bahram Shabahang—both descended from along line of textile experts—met in the bazaars of Isfahan, Iran, and bonded over their mutual fascination with the art of Persian weaving. Passion ultimately gave way to patronage. With the launch of

Orley Shabahang

, the pair became, in essence, custodians of the country's rug-making heritage. Sheep and silkworms are bred specifically for the line; the resulting wool and silk are hand-spun using 2,400-year-old techniques to produce uneven diameters and variable densities that absorb pigment differently. The yarns are submerged in dyes extracted from fruits and plants, then river-rinsed and sun-cured.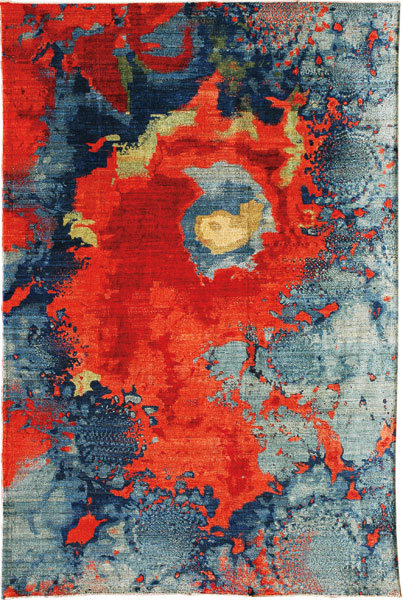 While the production methods are ancient, the line's aesthetic sensibility is distinctly today. Inspirations for the 2013 collection are wildly diverse, ranging from New York's Chrysler Building to baskets found in Panama and Colombia. Fractal geometry sparked wool Magma, a 10-by-14-foot pattern that depicts the depths of the ocean.