ASD Among Winners in IIDA Dressed Competition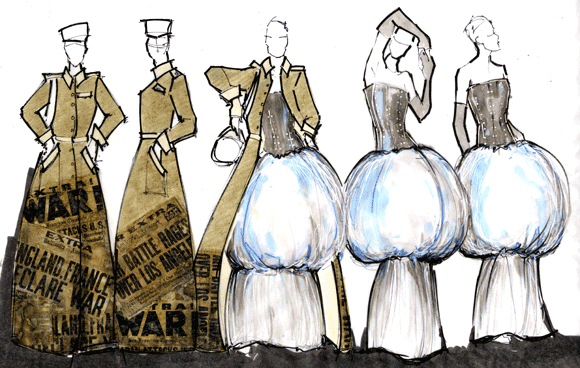 A final sketch of the design concept. Image by Josye Utick.



Twenty teams of interior designers and manufacturers fashioned couture items from contract materials to compete in the

International Interior Design Association Georgia Chapter

's fourth annual Dressed competition. Over five hundred members of Georgia's interior design community attended the event on September 26, a fundraiser for

Dressed for Success

, the not-for-profit that provides career advice and professional clothing for low-income women in 75 cities around the world.

Design firm ASD

created a stunning gown and military-inspired jacket ensemble, which won the Best in Spring award.

Lamin-Art

provided five different wood print laminates in Velva-Tex finishes for the jacket's embellishment, while

Metal-Art's 623 Classic Brushed Bronze

appears on the gown's bodice and provided structural support for the coat's shoulders and hat. Team members Katie Bruckner, Tiffany Chen, Joanne Jurich, Kaitlyn Pahel, Pam Robinson, Josye Utick (model), Jennifer Wilkinson, and Tara Williams used the veneers to decorate the coat and bodice. ASD also employed materials from event sponsors

Steelcase

,

Designtex

, and

Hansgrohe

for its look, inspired by the women who helped the Allies win World War II.
"The shedding of the military-styled winter coat," says Jennifer Wilkinson of ASD, "represented the way women of the war shed their roles as homemakers to become the pillars of strength on the American home front. The bodice evoked the start of the new industrial era with the riveted bomber plane, and the base of the dress 'pops open' to recall the ever iconic image of the atomic bomb.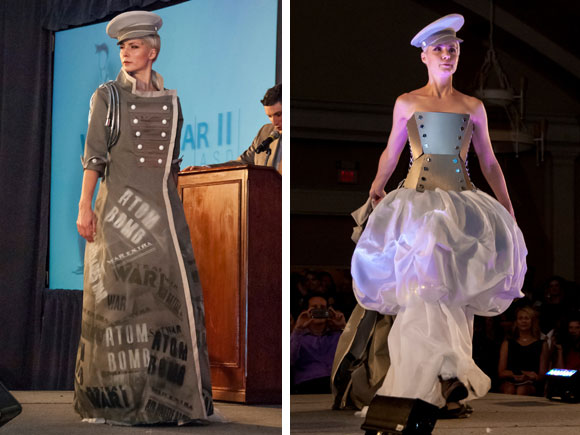 From left: ASD's winning look utilized materials from Lamin-Art. Model Josye Utick reveals the gown underneath. Photos by David Smith.



Other winners included

idea|span

(Best in Winter),

WB Interiors

(Best in Summer),

Perkins+Will

(Best in Fall) and

Harris+Smith

(Best in Show). Winners were selected by a panel of five distinguished designers based on criteria including creativity, craftsmanship, detailing within the garment, use of materials and wearability. Full list of winners:
The Judges' Choice Award:

Winter | Creation of the Printing Press | SRSS
Best Interpretation of Event:

Fall | Fall of the Berlin Wall | Heery International
Most Creative Use of Materials:

Spring | Electricity | Interior Architects
Most Wearable:

Summer | September 11th | Casablanca Design Group
Best Accessory Package:

Fall | Stock Market Crash | Smith Carter
Best in Winter:

DNA Discovery | idea|span
Best in Spring:

World War II | ASD
Best in Summer:

Women's Rights | WB Interiors
Best in Fall:

Reformation | Perkins + Will
Best in Show:

Spring | Go Green | Harris + Smith