Atelier Courbet Opens with Exclusive Domeau & Pérès Designs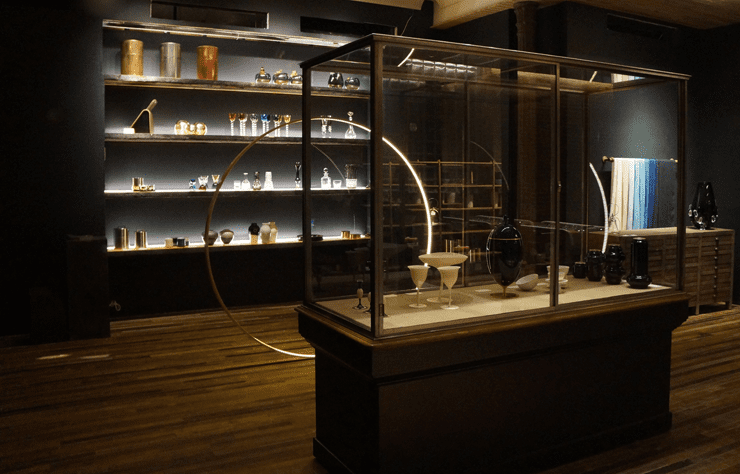 Anna Karlin's LED Light Ring at the recently opened Atelier Courbet gallery in New York.



Recently opened in downtown New York,

Atelier Courbet

sells limited-edition contemporary designs by master craftsmen using techniques that date back several centuries. Housed in the Brewster Carriage House, a restored 19th century building, the items for sale range from a yellow bicycle by Pharrell Williams, a bumper bed by Marc Newson, and crystal by Sanit-Louis.
The gallery is celebrating its launch by offering exclusive pieces from the revered French master craftsmen

Domeau & Pérès

, known in Parisian design, art, and fashion circles for producing exquisite leather finishes and for creating products in collaboration with some of the most lauded contemporary designers. Their first New York showing is an eclectic collection made in collaboration with Ronan & Erwan Bouroullec, Eric Jourdan, Marc Newson, Martin Szekely (designer of the iconic Perrier glass), and renaissance man Pharrell Williams.
Shoppers with a discerning eye for luxury will find museum-quality silver from Puiforcat, crystal from Saint Louis and plush cashmeres from Oyuna. Standout items from Japan's institutions include Hosoo's handwoven textiles, tea ceremony ceramics made by Asahiyak, and Nakagawa Mokkougei's wooden vessels.
Founder Melanie Courbet aims to "give master craftsmen center stage," a natural extension of her former curatorial role and as a publicist for the likes of star designers Thom Mayne and Dror Benshetrit and high-end retailers Louis Vuitton and Moet Hennessey. Courbet's future plans are to scourge the globe, buying directly from artisan workshops that sell unique pieces made of exceptional materials and, of course, executed with a masterful hand.



Bumper Bed by Marc Newson made from polyurenthane, foam blocks, and elastic webbing.