4U From Brazil at Avenue Road Celebrates Brazilian Design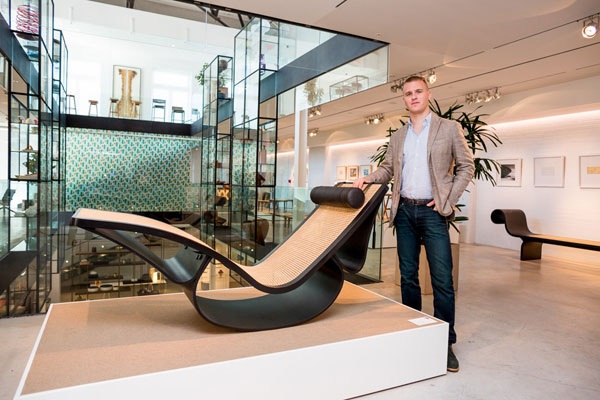 Stephan Weishaupt, owner and curator of Avenue Road, with Oscar Niemeyer's 1978 Rio Chaise in ebonized wood with a seat of cane.




For the second time ever, furniture company

Avenue Road

is showcasing a selection of works by some of the greatest designers in Brazilian history at its showroom in Toronto through March 2014. Called "4U from Brazil," the exhibition is a sequel to a much successful event produced by Avenue Road five years ago. This year's showcase features more than 40 pieces of furniture that span five decades by notable Brazilian designers Oscar Niemeyer, Paulo Werneck, Jorge Zalszupin, and Carlos Motta.
Stephen Weishaupt, president of Avenue Road, curated the collection as a way to introduce Canada to an exclusive selection of designs seen for the first time in the country, while also sharing how each designer's origin, lifestyle, and experience influence his work. Rather then intersperse each piece throughout the showroom, Avenue Road is housing them in a more gallery-like setting.



A bench by Oscar Niemeyer, originally designed in 1974 and newly re-issued as Marquesa with a frame of ebonized wood and seat of cane

.



"I wanted to show some designers that I haven't shown in the past," says Weishaupt, who featured pieces by Isay Weinfeld, Ricardo Fasanello, Sergio Rodrigues, and Simone at Avenue Road five years ago. "Carlos Motta is the only designer [we're showing] that's still alive. He grew up surfing, so his lifestyle is translated into his furniture design."

Rather than tap into new resources, the environmentally conscious designer uses reclaimed woods from telephone poles and recycled canvases from trucks in his creations. Notable pieces on display include a chaise lounge by Niemeyer made of cane and ebonized wood and a coffee table by Motta made of solid guaranta wood.



Manso chairs by Carlos Motta in a variety of Brazilian woods and finishes. On the wall is a Fold sculpture by Moss & Lam.