Bang on a Can: Vibrazioni Art Design Converts Old Oil Drums into Furniture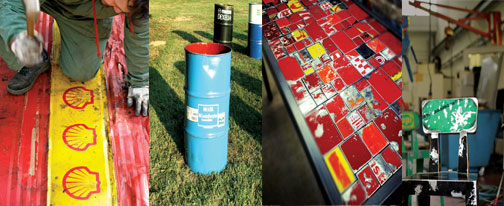 To Alberto Dassasso, everything has a personality—even a junkyard oil barrel. Turning conviction into commerce, the artist and designer launched

Vibrazioni Art Design

, a design-build firm that converts drums into furniture. The castoffs are sourced from around the globe, then opened and flattened by hand. The sheets are welded and riveted into self supporting forms with particular attention paid to the placement of a brand's bright colors and vivid graphics and the preservation of every dent and scratch. No internal supports are necessary, but an antioxidant clear-coat is applied for protection. Among the 13 seating options is Dora, modeled after the archetypal Italian tavern chair. Playing off the same silhouette, the Adorobiles tool is available in varying heights. Occasional pieces include the Rubik table, its top composed of small sheets arranged into a mosaic. As a completely on-demand line, dimensions are up for grabs. Clients can even request barrels with specific logos. Esso, anyone?

vibrazioniartdesign.com

.