Benjamin Moore®'s Color Portfolio™ App & ColorReader Transforms Rooms With One Touch
Translating dreams into reality is what designers do best. With help from an ever-expanding toolbox that now includes digital devices, solutions for any space can be found in the palm of a hand. Removing the guesswork from the color selection process and giving users instant results, Benjamin Moore®'s Color Portfolio™ App is the latest addition to the kit.
Designers and clients alike can fully connect with Benjamin Moore colors from anywhere with the Color Portfolio app that supplements physical color tools by using augmented reality. Color Portfolio features virtual fan decks, accurate photo and video visualizers, and renderings. Intuitive technology applies a selected Benjamin Moore color to surfaces in real–time, allowing users to "try on" colors, save selections, and share images instantly.
"We frequently hear that visualization of color and a means to remove guesswork from the color selection process are extremely important to reach confident color decisions and save time during the design process," Andrea Magno, director of color marketing & development at Benjamin Moore, explains. Easily scroll through Benjamin Moore's collections of over 3,000 trusted colors with the virtual fan deck feature. By simply "tapping" on a wall, the photo visualizing technology applies a selected color to the surface. Plus, there is a built-in gallery of beautiful rooms to help designers envision how each color looks when applied to a given space.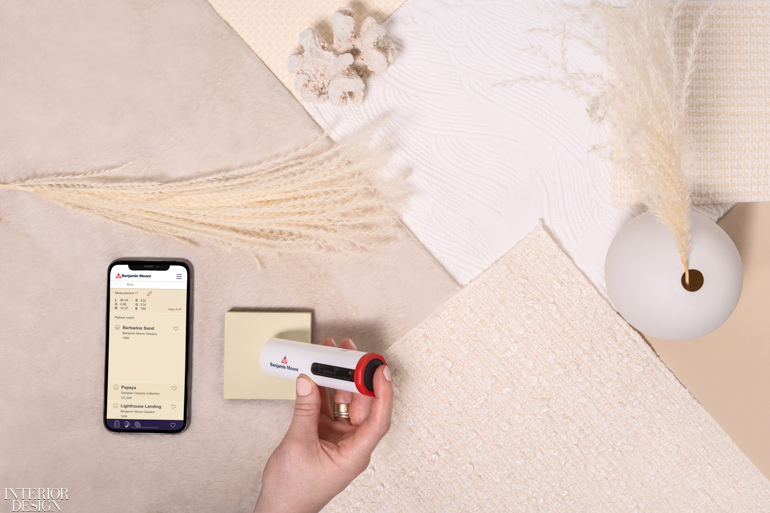 Designers also have the option of connecting the Benjamin Moore Color Portfolio app to the ColorReader Device from Datacolor to identify matching colors for any surface, including fabrics and wall coverings. Together, the Benjamin Moore Color Portfolio and ColorReader ease the specification process, providing immediate and precise results to achieve the perfect palette for every interior.