Big Ideas: Gluck+ Completes a Prefab Residential Project in Manhattan



For the Stack apartment building in New York, Gluck+ bolted together 56 prefabricated modules. Photography courtesy of Gluck+.





Heralded as the world's tallest prefabricated building,

SHoP Architects

's 32-story apart

ment tower in Brooklyn, New York, is still on hold due to legal hiccups. In its shadow, meanwhile,


the prefab trend has been picking up steam, as witnessed by this successfully completed middle-income residential project in Manhattan.

Gluck+

assembled the Stack from modules framed with steel and concrete. Each measures roughly 12 feet wide by 45 feet long but varies slightly to accommodate the seven-story building's C shape and stepped facade. "Unlike in the 1960's, today's modular construction is flexible," Thomas Gluck says. Apartments span multiple modules. No cookie-cutter boxes here. Where the modules' polished concrete floors meet, Gluck+ even left the lines visible. It took a mere four weeks from the day the modules left their mile-long Pennsylvania factory, through the stack-and-bolt assembly process, to turnkey ready.



The 28,000-square-foot completed structure. Photography by Barkow Photo

.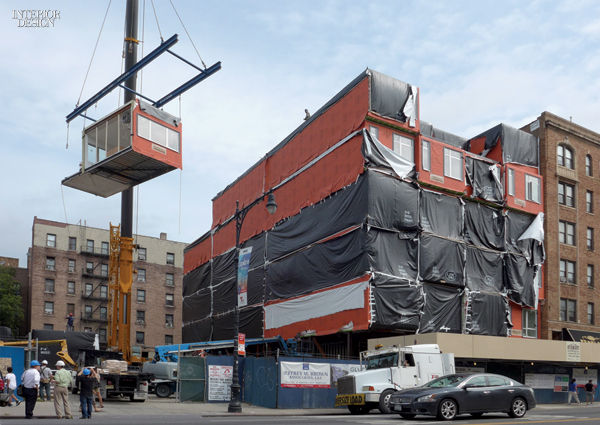 A crane hoisting a kitchen module constructed at Pennsylvania's DeLuxe Building Systems. Photography courtesy of Gluck+.


A Jens Risom chair and an Eileen Gray side table in a model apartment's living area. Photography by Barkow Photo.

>>See more Big Ideas

>>See more from the March 2015 issue of

Interior Design