Bittertang and Michael Bastian Team for BOFFO Building Fashion



Bittertang and Michael Bastian's Building Fashion for BOFFO at SuperPier, New York. Photography by Evan Joseph.





An imaginative collaboration between fashion designer

Michael Bastian

and whimsical design firm

Bittertang

takes center stage at this year's Building Fashion event at New York's Hudson River Park. Developed by

BOFFO

, a non-profit public arts organization known for their creative matchmaking between interdisciplinary artists and designers, Building Fashion celebrates the relationship between fashion and architecture through a conceptual pop-up shop.
"The BOFFO Building Fashion installation allowed us to approach retail in a radically new way," says Michael Loverich of Bittertang. "Retail in this scheme is all about mood and experience. . .It's about playfully choreographing the visitor's experience and bringing them closer to Michael Bastian's vision for the fall collection."

Shipping containers at SuperPier house what at first glance appears to be a large haystack. A tentlike opening leads to a glowing wax room, which terminates in an inner chamber featuring Michael Bastian's Fall/Winter 2013 collection, inspired by the American Gothic paintings of Andrew Wyeth, as well as custom furniture and several collaborations with G. Frost and Josh Bennett.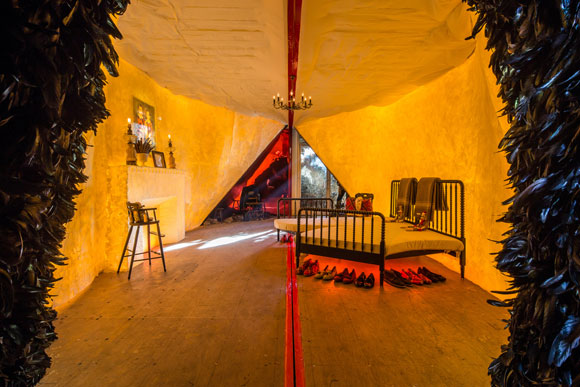 Inside Bittertang's structure with walls of beeswax. Photography by Evan Joseph.



The experience is highly sensory. The light and smells change as visitors move inward toward the center of the space. The smell of hay is prevalent from outside the installation, while the inside smells of warm beeswax. Bastian says, "The beauty of a collaboration like this is how ephemeral it is and how you can take risks you usually wouldn't with a permanent retail space. . .[I]t allows everyone to focus on creating a beautiful moment."







BOFFO co-founder Faris Al Shathir says, "We select fashion designers that are ready to step into retail and Michael is at that point. Bittertang submitted a strong proposal with innovative use of materials and bold forms that we knew would intrigue people keen to Michael's aesthetic and FW13 Collection."




The back room featuring Michael Bastian's Fall/Winter 2013 collection. Photography by Evan Joseph.